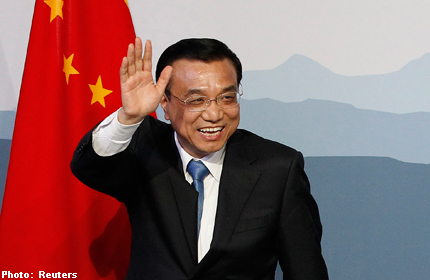 BEIJING - China's trade with Southeast Asia could more than double to US$1 trillion (S$1.27 trillion) by 2020, Premier Li Keqiang has told regional leaders, downplaying simmering territorial disputes and stressing their "common destiny", state media reported Wednesday.
Li called for an upgraded version of the free trade deal between the two sides and insisted that "disruptive factors" should not get in the way of regional cooperation, the official Xinhua news agency reported.
Trade has grown sixfold over the past decade to US$400 billion in 2012 between China and the 10-member Association of Southeast Nations (ASEAN), it said.
But Beijing claims almost all of the South China Sea - believed to sit atop vast deposits of oil and natural gas - even waters close to the coasts of its neighbours, and has been increasingly assertive over the issue in recent years.
Li downplayed the disputes while addressing the 10th China-ASEAN Expo and business and investment summit in the southern city of Nanning, reiterating Chinese calls for dialogue.
"We have also noticed that there exist some disruptive factors in the region that are against stability and development, but they are not mainstream," he said according to a transcript of his speech carried by Xinhua.
"The Chinese side maintains that the South China Sea disputes are not an issue between China and the ASEAN, and they should not and will not affect the overall China-ASEAN cooperation."
"China's new government will... more firmly and effectively build a community of common destiny to share peace and prosperity," he said, adding that China and ASEAN "have the power to create a 'diamond decade' in the future".
ASEAN members Vietnam, the Philippines, Malaysia and Brunei have often overlapping claims to parts of the South China Sea, and Taiwan also claims it all.
The dispute has rumbled on for decades, but Beijing's actions to support its claim in recent years have raised concerns with its neighbours, particularly Hanoi and Manila.
China rejects international arbitration, preferring to deal with the issue on a one-to-one basis while maintaining it has sole territorial rights.
Vietnamese prime minister Nguyen Tan Dung was present at the trade fair, but Philippines president Benigno Aquino did not attend after Chinese authorities imposed conditions on the trip, Manila said, signalling they were related to the territorial row.
The Philippines accused China on Tuesday of laying concrete blocks on Scarborough Shoal, a small group of reefs and rocky outcrops within its territory in the sea.
Beijing's foreign ministry spokesman Hong Lei said Wednesday the accusation was "not true". "Huangyan island is China's inherent territory," he told reporters at a regular briefing, using the area's Chinese name.
After years of resistance China has agreed to meet ASEAN members later this month in the eastern city of Suzhou to discuss a "code of conduct" for the waters, meant as an upgrade from a 2002 non-binding "declaration of conduct".
In Nanning, Li also briefly expressed willingness to discuss the Trans-Pacific Partnership (TPP) as a way to boost trade.
Beijing has not supported the US-led initiative - which is seen as a trade framework meant to exclude China - but the state-run China Daily reported in July that authorities were becoming "positive" to it.
China is willing to "discuss exchanges and interactions with frameworks such as the Trans-Pacific Partnership Agreement," Li said in his speech Tuesday.
ASEAN includes Brunei, Cambodia, Indonesia, Laos, Malaysia, Myanmar, the Philippines, Singapore, Thailand and Vietnam.