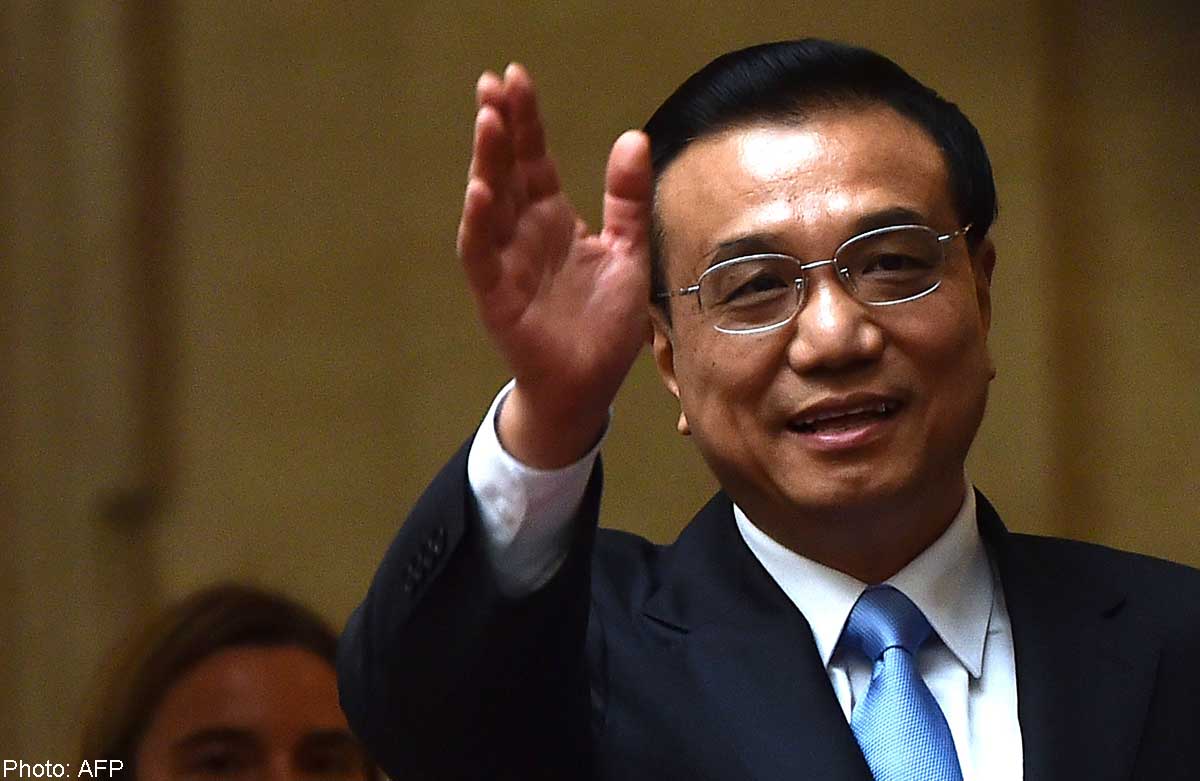 Premier suggests Beijing and Moscow move beyond 'mere trading partnership'
Premier Li Keqiang called for "innovative cooperation" between China and Russia on large projects in areas such as research and development, manufacturing and marketing.
His comments on Tuesday followed agreement on deals worth $10 billion (S$13 billion) the day before.
"We'd like to see energy companies take stakes in enterprises from the other country," Li said in an address at the opening ceremony of the Open Innovations forum.
Sino-Russian energy cooperation - which saw the signing of a $400 billion pact in May to transport natural gas from Russia to China - should "go beyond a mere trading partnership", the premier said.
He said China has substantial experience in high-speed railway manufacturing and maintenance and is willing to take part in the construction of high-speed rail lines and the upgrade of standard rail lines in Russia.
Also on Tuesday, while meeting Russian President Vladimir Putin, Li proposed that Beijing and Moscow beef up cooperation on major projects.
"China and Russia are highly complementary in economic cooperation," Li told Putin, and he hopes trade will continue to increase, especially in energy, finance and high-speed rail cooperation.
Putin said he was glad to see the signing of so many agreements on Monday, and, as the Chinese saying goes, "one should move upstairs to take a broader view."
The countries signed 39 agreements and deals on Monday after talks between Li and Russian Prime Minister Dmitry Medvedev.
Agreements to work together on a Moscow-Kazan high-speed railway while tapping potential for another gas pipeline topped the agenda.
Li said financial support should be provided to companies of all sizes.
Li Jianmin, a researcher at the Chinese Academy of Social Sciences, said the cooperation in the energy sector had moved beyond a simple buyer-seller relationship.
"China needs to participate in exploration and exploitation of oil and gas with Russia," she said.
Yang Cheng, deputy director of the Center for Russian Studies at East China Normal University, said the meeting is important in boosting the relationship between the countries.
"As the second-largest economy and a neighbouring country of Russia, China has played a significant role in Russian foreign policy," Yang said.
Speaking of future Sino-Russia cooperation, Li called for more regional and grassroots exchanges, adding that China welcomes investment from Russia, and the Chinese government encourages its companies to invest in Russian economic special zones.
Gauri Khandekar, a researcher at the Brussels office of think tank FRIDE, said China and Russia will strengthen their relations.
"Trade is an area where we will see expansion. Security cooperation is another area where China and Russia could cooperate, especially in terms of Islamist terrorism.
It is not surprising that both countries are to further diversify cooperation to space and aviation," she said.
The premier landed in Italy on Tuesday following a three-day visit to Russia. Li will visit the headquarters of the Food and Agriculture Organisation of the United Nations in Rome on Wednesday and attend the 10th Asia-Europe Meeting in Milan from Thursday to Friday.
Ren Qi contributed to this story.