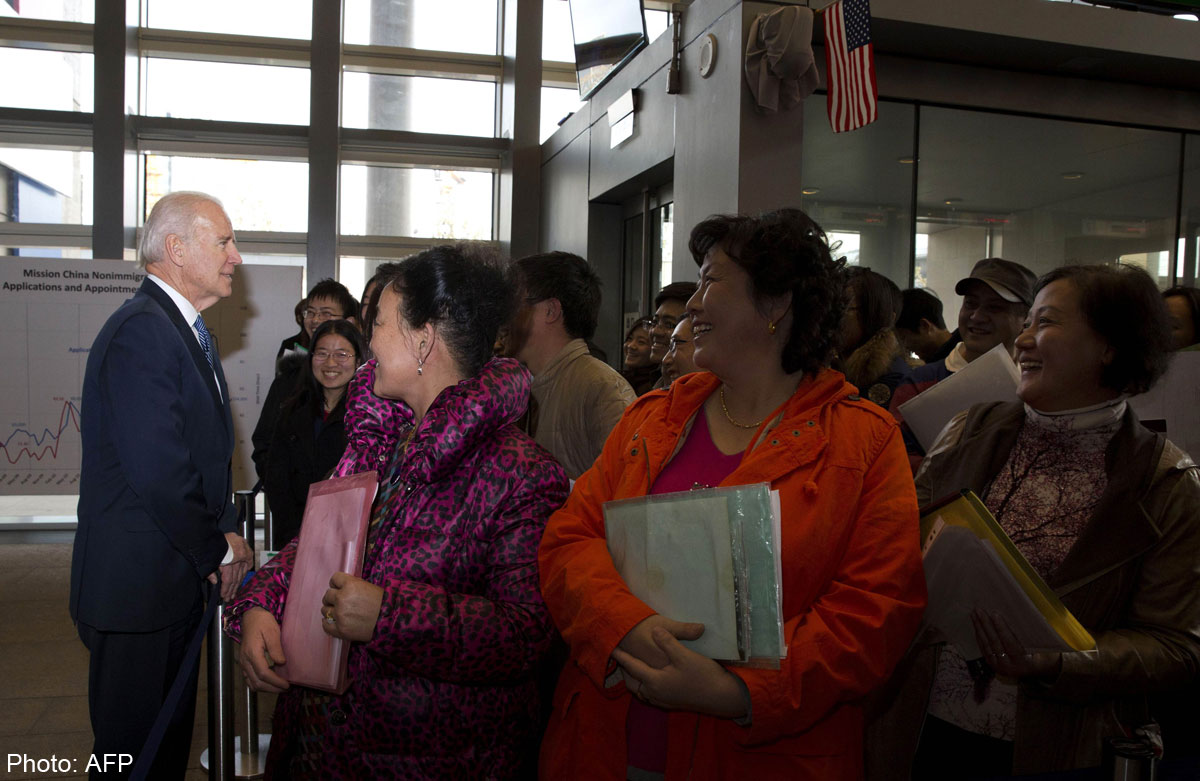 For four years, Mr Luo Yong, 44, dreamt of migrating to Canada.
His hopes were dashed last Wednesday when news emerged that Canada had decided to scrap its 28-year-old investor visa scheme due to a huge number of applications from Chinese millionaires.
The scheme had been frozen since 2012 to clear the backlog. The latest development meant that an estimated 46,000 applications from Chinese citizens could be dumped, according to the Hong Kong-based South China Morning Post (SCMP) daily.
"My mind went blank at the news," said Mr Luo, who makes about half a million yuan (S$103,300) a year as manager of a Beijing-based firm. He had sent his 16-year-old son to a high school in Canada two years ago in preparation for the whole family's move there. "I couldn't believe it that I had waited so long for nothing."
Affluent Chinese like Mr Luo have made international headlines over the past few years for dominating investment-for-immigration schemes. They leave mainly because of China's food safety, and air and water quality problems, as well as its stressful education system.
The exodus of rich Chinese could accelerate further this year, as China's pollution woes deepen and the government cracks down on corruption and proposes to raise taxes on the rich to close a yawning income gap.
The proportion of wealthy Chinese who are planning to migrate abroad - or who have already done so - surged to 64 per cent from 60 per cent a year ago, a survey of over 393 millionaires released last month showed.
In fact, one-third of the 41 super-rich Chinese respondents - who have at least 100 million yuan in assets - have already migrated abroad, according to the survey by the Hurun Research Institute, which compiles an annual list of China's richest people.
The lure of foreign citizenship has seen almost 10 million Chinese leave their home country over the past quarter-century, said Centre for China and Globalisation (CCD) professor Wang Huiyao.
And wealthy Chinese have stashed away a cumulative US$658 billion (S$830 billion) offshore, estimated London-based consultancy WealthInsight.
For this year, the top-most popular destinations cited by respondents to the Hurun survey were the United States, Europe, Canada and Australia, in descending order. Singapore was at No. 5, added Hurun.
The Lion City has slipped down the rankings - in 2011, it had been the third most popular country after the US and Canada.
The slide came after Singapore raised the investment threshold for migration in 2011, according to Shenzhen-based firm China Business Immigration (CBIEC).
On its website, which lists the number of visa approvals for various countries, CBIEC stated it facilitated just five individuals in obtaining Singapore permanent residency, compared with over 130 cases - most of them for families - in 2010.
While previous waves of migrating rich Chinese had concentrated on mature and stable countries like the US, Canada and Singapore, the nouveau riche these days are diversifying into other places like Europe, Australia and even South Africa, said Ms Nancy Zhang, an immigration middleman for millionaires in China's prosperous eastern provinces.
Nine in 10 applications for Australia's one-year-old millionaire visa scheme are from China, SCMP reported last week.
Meanwhile, some debt-ridden European Union states such as Greece and Cyprus have raised eyebrows at home for allegedly offering their citizenship too cheaply to the Chinese in exchange for investment and loans to local governments.
Chinese entrepreneurs - and some officials - are apparently eager to bite.
"In China, it's not easy to be 100 per cent clean when doing business. So some Chinese who have made their fortunes are eager to get citizenship abroad quickly," said Ms Zhang, who declined to give the name of her agency.
"Getting a foreign passport is an exit strategy in case the corruption probes that (the government of President Xi Jinping) have been expanding over the past year target them."
Portugal, in particular, has been a hot spot, noted Mr Xiao Ming, a CBIEC marketing manager.
The agency has facilitated about 400 successful applications for migration to Portugal - a 100 per cent success rate - as of end-2013, he said.
"The rich Chinese's attention has shifted to Europe, especially Portugal where the immigration policy is clear-cut and without risk."
China's outflow of wealthy Chinese is likely to continue in the coming years, predicts Prof Wang.
Countries like the US and Singapore have launched schemes in the past year to attract more investment and high-level talent to their shores, and more Chinese are likely to respond, he added.
The CCD is among Chinese think-tanks urging Beijing to act to reverse this wealth and brain drain.
Suggested solutions range from cleaning up the environment to opening up more sectors to private investment so rich Chinese would keep more money at home, and schemes to attract foreign talent.
Meanwhile, the queue to leave is long.
Ms Lucy Fang, in her 30s, whose family applied to a few countries including the US and Britain early last year, is splitting her spare time between watching American sitcom Two Broke Girls and British hit serial Downton Abbey as part of her preparation for the move.
"I'll go to whichever country gives me residency first," said Ms Fang, who works in her family's interior lighting company in the eastern Zhejiang province.
Cost of immigration
Some investment-for-immigration schemes, in which for a certain amount of investment, investors get residency visas, which could pave the way for them to get citizenship later on:
1. United States: EB-5
US$500,000 (S$630,500) for investments in a high unemployment or rural area; US$1 million for investments not in these areas.
This grants a two-year conditional permanent residency visa; person can get a permanent green card after a review of the investment. Other conditions*:
- Investment must create or preserve at least 10 full-time jobs for US workers within two years.
- Investment must be in a new commercial enterprise established after Nov 29, 1990. If the enterprise was established before that date, it must be reorganised such that a new enterprise results or expanded so that a 40 per cent increase in net worth or number of employees occurs.
2. Australia: Subclass 188
- A$5 million (S$5.7 million) investment in items such as government bonds, managed funds and Australian companies for four years.
- This grants a permanent residency visa; person can apply for citizenship after six years.
Other conditions*:
- Clean criminal record.
3. Portugal - "Golden Visa" scheme
- Purchase of a property in Portugal worth at least 500,000 euros (S$864,000).
- This grants a permanent residency visa; person can apply for citizenship after six years.
Other conditions*:
- Must live in Portugal for at least seven days a year to maintain residency visa.
4. Singapore: Global Investor Programme (GIP)
- Must invest at least S$2.5 million in a new business entity or to expand an existing business operation, or in a GIP fund that invests in Singapore-based companies.
- This grants permanent residency status and a re-entry permit will be issued for five years. After the five years, the permit will be renewed for either three years or five years if certain conditions are met.
Other conditions*:
- Applicant must have at least three years of entrepreneurial and business track record. If the company is in the real estate or construction-related sectors, its turnover must be at least S$200 million in the most recent year, or at least S$200 million a year on average for the last three years.
- For a company in other sectors, its turnover must be at least S$50 million in the most recent year, and at least $50 million a year on average for the past three years.
*Not comprehensive
Sources: News reports; US, Portuguese and Australian immigration authorities' websites; Singapore Economic Development Board

Get a copy of The Straits Times or go to straitstimes.com for more stories.