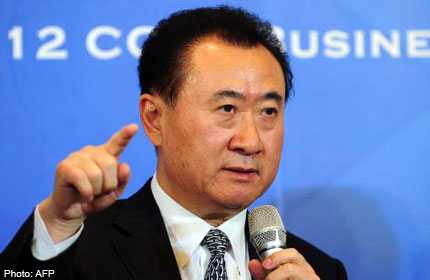 Shanghai - China's richest man is under fire after his company spent US$28 million (S$35 million) on a painting by the Spanish artist Pablo Picasso, with people questioning the extravagant purchase and his patriotism.
Tycoon Wang Jianlin's Wanda Group bought the 1950 painting "Claude and Paloma", depicting Picasso's two youngest children, at auction last week for more than double the high estimate of US$12 million.
"With that money, how many sick people could receive treatment? Why not give something back to society first?" said one person posting on China's hugely popular microblogs, adding: "China's nouveau riche are short of nothing except conscience."
The manager of Wanda Group's corporate art collection defended the purchase, the Global Times newspaper reported.
"Only an enterprise with culture can understand art and collect the best art work in the world," Guo Qingxiang was quoted as saying.
"Chinese people should be proud rather than focus on how much money was spent."
Mr Wang, whose personal wealth is estimated by Forbes magazine at US$14 billion, has recently sought to make a splash in cultural circles.
Last year, he bought US cinema chain AMC Entertainment, while in September he hosted a Hollywood star-studded gala to announce a planned entertainment complex in China.
But others questioned why the firm bought a Western painting, saying Mr Wang should spend more on Chinese works.
Some Chinese companies and individuals have sought to buy up Chinese art and antiques overseas to repatriate them, and one microblog user asked: "Why not purchase Chinese paintings? What happened to passing on our own heritage?" Another added: "You can buy back China's lost treasures first if you have so much money to burn."