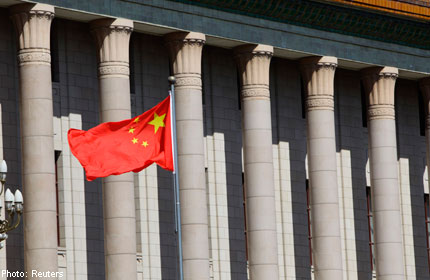 CHINA - China's fourth-ranked leader Yu Zhengsheng has urged Chinese businessmen worldwide to play a more active role in its economic restructuring efforts.
Speaking to a gathering of more than 3,000 Chinese businessmen from 100 countries and territories, including Singapore, he noted that they should leverage their linguistic skills and cultural affinity with China to play a bigger economic role in the country's modernisation.
They should also continue to "care about and support China", he added.
By being more involved in China's economic developments, Chinese entrepreneurs will benefit, too, from progress in the world's second-largest economy, said Mr Yu, a member of the Communist Party's apex Politburo Standing Committee.
"China is undergoing industrialisation... urbanisation and agricultural modernisation that create development opportunities at a faster pace. With a huge market and strong demand, it provides greater growth potential for Chinese businesses," he said.
Mr Yu, who chairs China's top political advisory body, was speaking at the opening of the 12th World Chinese Entrepreneurs Convention in south-western Chengdu city yesterday. It is the second time China is hosting the biennial event since 2001 in eastern Nanjing city.
In a letter released at the event, President Xi Jinping acknowledged the contributions of overseas Chinese businessmen towards China's progress by imparting their expertise in areas such as management know-how and business networking.
"They have invested in various parts of China... effectively promoting China's social and economic development and helped to facilitate China's cooperation with the world," wrote President Xi.
Mr Thomas Chua, Singapore Chinese Chamber of Commerce and Industry (SCCCI) president, said its members are keen to share their experiences in venturing overseas with their Chinese counterparts. The SCCCI led a 127-strong delegation to the event that it co-founded in 1991 with the Chinese chambers in Hong Kong and Thailand.
"This internationalisation strategy can also be shared with China in its aspiration (to go) overseas," he told The Straits Times.
esthert@sph.com.sg

Get a copy of The Straits Times or go to straitstimes.com for more stories.