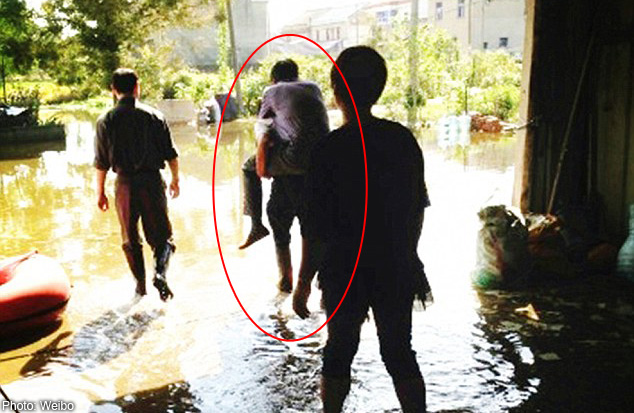 BEIJING - An official in eastern China has been sacked after a picture of him being given a piggyback across a flooded path during a search for missing children went viral online, sparking outrage.
The photo showed the official from Guixi in Jiangxi province being carried on another man's back through ankle-deep water, keeping his leather shoes dry, the official Xinhua news agency reported.
He was caught on camera on Saturday during a search for three children who had fallen into a swollen river, Xinhua added.
"Wang, vice director of a government office, was about to cross a flooded path when Ding, a low level clerk, offered him the ride. The inappropriate act had a negative social impact and tarnished the image of party officials," the report said.
Last year, an official in neighbouring Zhejiang province was fired after pictures of him being carried across flood waters by a villager while visiting flood victims also caused anger online.
China's ruling Communist Party has been engaged in a sweeping crackdown on official corruption, excess and abuse of power. Greater access to the Internet has given Chinese people a forum to publicise such cases.