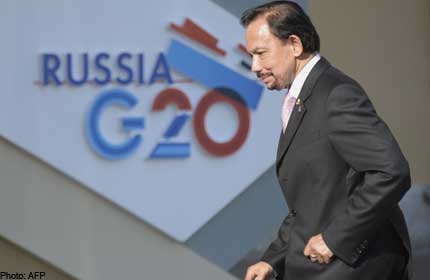 BRUNEI - The Association of Southeast Asian Nations (ASEAN) has made its voice heard at the G20 Leaders' Summit in St Petersburg recently.
The summit saw His Majesty the Sultan and Yang Di-Pertuan of Brunei Darussalam, delivering a titah in his capacity as ASEAN 2013 Chair in which the monarch lauded the G20's support for ASEAN objectives, and added that "much" of the G20's work complemented the Southeast Asian grouping's own efforts.
The G20 Leaders' Summit, among others, discussed issues related to overall priorities outlined by the core objectives presented by Russia as the president of G20, which include growth through quality jobs and investment; growth through trust and transparency, and growth through effective regulation.
His Majesty has also pointed out that achieving inclusive growth was at the core of ASEAN's goals, "especially given the varying levels of income that exist within both its regional and national borders".
Despite the varying levels of development among ASEAN economies, His Majesty noted the Southeast Asian region continued to progress in the face of global economic uncertainties.
ASEAN, as it is, remains concerned with the persistent global economic challenges that have undermined the region's efforts in job creation, ensuring access to food and energy, and poverty alleviation for millions in the region.
According to analysts, the G20 has outlined three "key objectives" to strengthen economic growth and deal with the financial crisis: restoring global economic growth, strengthening the international financial system and reforming international financial institutions.
Under Brunei's chairmanship, the regional bloc is working very hard to ensure that the ASEAN community will become a more economically competitive region of balanced, sustainable and equitable economic development. We have to remember that ASEAN's prosperity is dependent on the entire region working together as one.