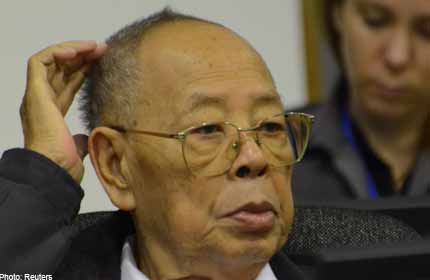 PHNOM PENH - Prosecutors at Cambodia's war crimes court on Thursday accused two ex-Khmer Rouge leaders of playing a "critical role" in a regime that left millions dead in the late 1970s.
Delivering closing statements prosecutors alleged "Brother Number Two" Nuon Chea, 87, and ex-head of state Khieu Samphan, 82, helped orchestrate one of the worst horrors of the 20th century.
More than three decades after the country's "Killing Fields" era, the UN-backed court is moving closer to a verdict in their complex case, which has been split into a series of smaller trials.
The first trial has focused on the forced evacuation of people into rural labour camps and the related charges of crimes against humanity.
"Nuon Chea and Khieu Samphan each played a unique and critical role in a criminal enterprise that persecuted, tortured, and killed their fellow Cambodians," co-prosecutor Chea Leang told the court.
"They intended those crimes," she said, adding that there is sufficient evidence to find them guilty of "crimes that shock the conscience of humanity".
The evacuation of Phnom Penh in April 1975 reduced the city to a ghost town in a matter of days. It was one of the largest forced migrations in modern history.
More than two million people were expelled from the capital at gunpoint and marched to rural labour camps as part of the regime's plan to forge an agrarian utopia.
No mercy was shown to those too weak to make the journey - patients were forced to walk carrying their IV drips while pregnant women gave birth at the roadside.
The octogenarian defendants deny charges of war crimes, crimes against humanity and genocide.
Chea Leang accused Nuon Chea of "lying" when he said he did not know the aim of the evacuating the city.
"It was a punitive act against people considered as enemies," she added.
The trial, which began hearing evidence in late 2011, is widely seen as a landmark in the nation's quest for justice.
Closing statements are scheduled to be completed by the end of the month, with a verdict expected in the first half of next year.
Other allegations, including genocide and war crimes, are due to be heard in later hearings although no date has yet been set.
Observers and survivors have long raised fears about the speed of proceedings and the advanced age of the accused.
Led by Pol Pot, who died in 1998, the communist regime wiped out up to two million people - nearly a quarter of the population - through starvation, overwork and execution between 1975-79.