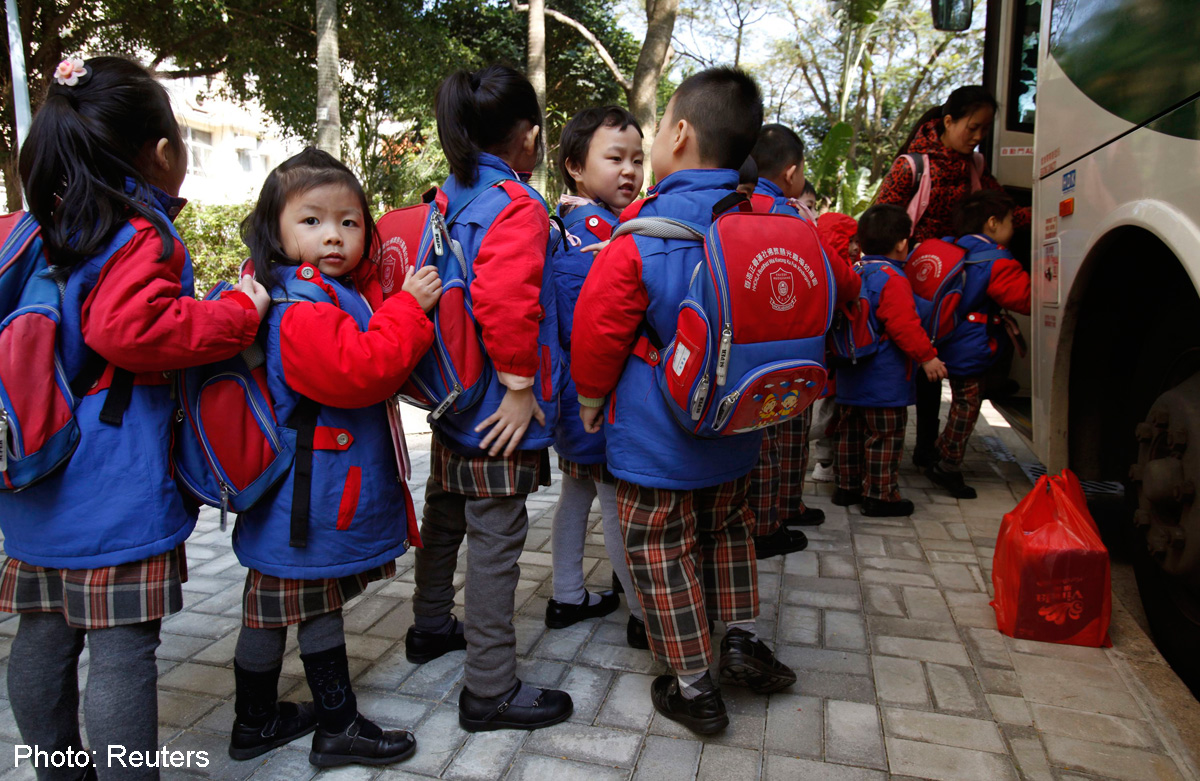 HONG KONG - One recent winter dawn, more than 100 mainland Chinese parents started lining up outside a primary school in Hong Kong, to try to clinch Grade One places for their children.
They were among 700 parents competing for 550 school spots in an area near the border with the mainland that has become a magnet for people in Shenzhen and nearby cities who want their Hong Kong-born children educated in the Asian financial hub.
"It was totally unexpected. We had to start another queue,"said the school's principal, Siu May-cheuk. "Parents are just afraid that the school will be filled with mainland children."
The allure is a better, more liberal education and international opportunities in Hong Kong. Every day, around 20,000 students are shuttled across the border from the mainland, dressed in neat Hong Kong school uniforms and lugging their bags on trains and chartered buses.
Since the former British colony returned to Chinese rule in 1997, both sides have integrated more closely, with a flood of Chinese visitors bringing economic benefits to Hong Kong.
But the influx has also caused resentment and strains in the city of 7 million people, from crowded maternity wards to soaring apartment prices, besides the scramble for schools.
Roughly a quarter of births in Hong Kong between 2002 and 2012 - or more than 200,000 babies - were to couples who both came from mainland China.
Birth in Hong Kong secured residency for the children and accompanying benefits, including free education. Some mothers chose to give birth in Hong Kong to avoid fines for breaching China's one-child policy.
As more of these children reached school age, their numbers in schools in Hong Kong's northern districts jumped 27 per cent in 2012 from the previous year, to 16,000, upsetting some local parents.
"Hong Kong children should have priority. The cross-border kids live far away in Shenzhen," said Tong Kwan-fu, the father of a six-year-old at a school where half of the pupils commute from the mainland.
"My friends all agree that the system is unfair."
Housing prices have also risen sharply in school catchment areas as Chinese parents snap up apartments to avoid long journeys. Some property agents say one in five flats in such border zones are now bought by mainland Chinese.
Prices in Hong Kong's North and Yuen Long districts soared 50 per cent and 44 per cent, respectively, in the nearly three years to November 2013, outstripping a rise of 31 per cent rise for Hong Kong overall, according to Midland Research.
"Many mainland families prefer to buy first-hand homes in preparation for their kids coming to schools in Hong Kong," said Ken Chan, an agent with Centaline Property in the northern Fanling area near the border.
"REAL HONG KONGERS"
Last year, the trend prompted Hong Kong to implement a "zero delivery quota" policy to keep mainland mothers without a Hong Kong husband from giving birth in the territory.
Authorities will "strive to alleviate the pressure arising from the demand for local school places by children born to non-local parents", Hong Kong leader Leung Chun-ying said recently.
The new policy has slashed to fewer than 300 the number of births to mainland parents in Hong Kong's hospitals last year, from a peak of around 35,000 in 2011, official figures show. In 2012, 359 mainland women were jailed for up to eight months for overstaying to give birth in Hong Kong.
While the moves have eased pressure, the influx of children is building all the way up the education system.
"There will be tough competition for university entry if you do not provide additional places," said Jianfa Shen, a demographer at the Chinese University in Hong Kong.
In the next decade, an extra 20,000 students a year are likely to vie for limited Hong Kong university spots, he said.
With mainland parents looking to Hong Kong as the most liberal city in China, the educational aspirations seem unlikely to fade.
"The atmosphere in Hong Kong is completely different," said Christina Wong, who runs a fleet of 35 buses taking about 4,000 children across the border daily, including two of her own.
"They want their child to grow up to be a person with integrity and understand the rule of law ... They want their kids to be real Hong Kongers."