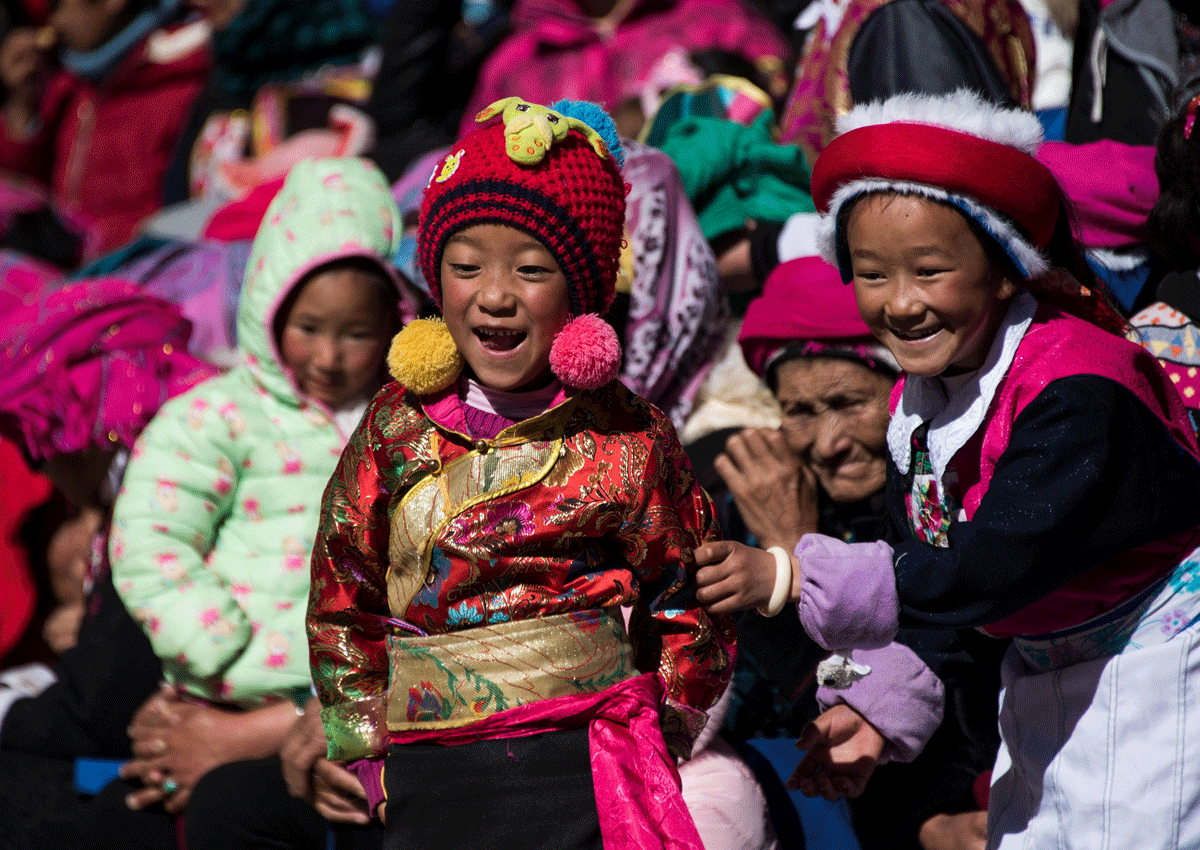 Thousands of metres above sea level, high on the Tibetan plateau, hundreds of Tibetan Buddhist devotees in brilliant hues of pink and blue gathered for the Gedong festival.
Lamas young and old mixed with festival-goers wearing traditional garb to watch the religious Cham dances at the Ganden Sumtseling monastery in Shangri-La.
Masked, costumed monks portrayed a host of ghosts and deities from the pantheon of Tibetan Buddhist mythology, to the sounds of lamas playing traditional instruments -- crashing cymbals, drums and deep, vibrating ceremonial horns.
Tsering Choetso, a 52-year-old farmer, said the true meaning of the festival was hard to explain in a language other than Tibetan, but described it as a chance to "pay our respects to our deities as well as our departed ancestors".
"A ghost is a lesser deity in a world that resembles hell," he said. "We believe that if we come here and watch and dance, we won't be afraid of them if we encounter them in our afterlife."
Though Buddhism is one of China's five officially sanctioned religions, the country's ruling Communist Party accuses the exiled Tibetan spiritual leader the Dalai Lama of trying to split the country, calling him a "wolf in sheep's clothing".
China, which has ruled Tibet since the 1950s, has been accused of trying to eradicate the region's Buddhist-based culture through political and religious repression and large-scale immigration by Han Chinese.
But Beijing insists that Tibetans enjoy extensive freedoms and that it has brought economic growth to the region.
During the Cultural Revolution expressions of ethnic identity, such as religious activity or local festivals, were brutally suppressed.
The 17th century Ganden Sumtseling monastery -- often called "Little Potala" for its resemblance to Lhasa's iconic palace -- was itself heavily damaged.
Now it has been extensively renovated, rebuilt and developed into a commercial tourist attraction, complete with hefty entrance fees, with the festival promoted as a key opportunity to visit.
The town in which it sits, in an ethnically Tibetan area of China's Yunnan province, was previously known as Zhongdian. But it was renamed in 2001 as a tourism strategy seeking to capitalise on the fictional mountain paradise described in James Hilton's 1933 novel "Lost Horizon".
Chinese security forces, which have sometimes put on huge shows of strength at temple events, appeared to be entirely absent from the festival.
For one of the monastery's lamas, who gave his Chinese name as Lurongzhuxi, the event was a way of bringing the cosmology of his religion to life.
"In our daily lives, few have the experience of witnessing deities," he said.
"Nevertheless, we strongly believe they exist and are everywhere. Today's Cham dance could be interpreted as a reminder of their existence."