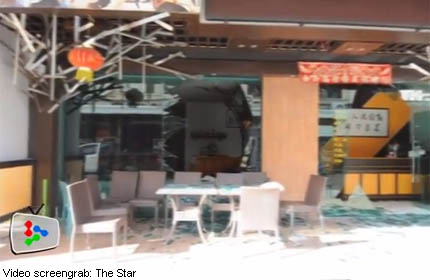 DANOK - This border town, known for parties that go on until the wee hours of the morning had been preparing for the mother of all parties on Christmas eve.
But with the explosions rocking Danok and two other nearby towns, it was soon reduced to being a ghost town with thousands of Malaysians fleeing back across the border into Malaysia.
At Oliver Hotel, which saw the biggest explosion, the Christmas tree in the lobby was badly damaged and its ornaments strewn everywhere.
As frightened Malaysians fled the border towns of Danok, Padang Besar and Sadao, there was a more than 1.5km long bumper-to-bumper crawl at the Malaysia-Thai border of Bukit Kayu Hitam.
Malaysian Johar Jaafar, 41, a staff member at the duty free zone outlet near the Bukit Kayu Hitam Immigration Complex, said he heard a loud explosion at about 11.30am yesterday.
"I rushed over the border to the scene. It was chaotic.
"I have never seen anything like this before. It was terrifying.
"I helped pull out some of those injured to safety and waited for the ambulance to arrive," he said, relating his experience.
Another Malaysian seen leaving the Firatel Hotel, about 50m away from the blast scene, said he and his family had gone to Danok to celebrate Christmas.
"We didn't expect this to happen at all. We had planned to celebrate Christmas here.
"Our festive mood is gone. The whole place is like hell," said the businessman, who declined to be named.
He said he would be driving back to Perak with his wife and two sons.
Danok deputy mayor Amornrat Srisatitwong said there are currently 24 injured - two Malaysians, a Myanmar national and 21 Thais. Two Thais were also confirmed dead.
She said police still did not know the motive behind the blasts.