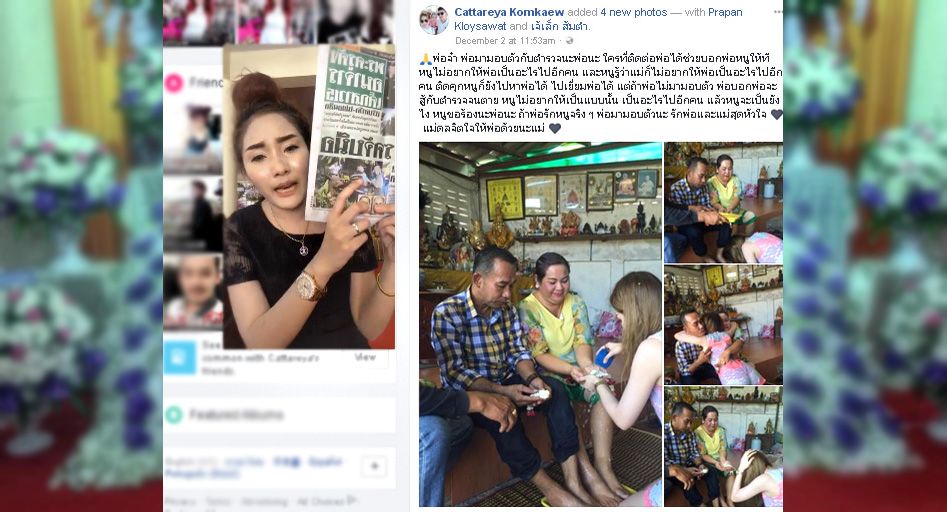 A 28-year-old daughter begged her fugitive 52-year-old father Samart Komkaew, who was accused of shooting dead his wife Supaporn at their Ratchaburi home on Tuesday night, via a Facebook Live post on Wednesday to surrender to police.
Cattareya Komkaew claimed that her father, who stayed at home and had no job, had been under stress and had a paranoid suspicion that her mother might be having an affair.
More than a month before the shooting, Cattareya said, the family had been having a hard time and Samart reportedly pawned a gold necklace bought as a gift for him by his wife and used the cash to buy a gun, which he carried all the time.
She said she had arranged for his relatives to have him stay with them, as she and Supaporn were living in fear and Cattareya could not stand seeing her parents fighting anymore.
But Samart returned to "talk to his wife about separation", suddenly pulled out the gun and shot Supaporn dead in front of Cattareya before he fled on a motorcycle, the young woman claimed.
"I posted a Facebook Live appeal so people who know him can take him to the authorities," Cattareya said tearfully. "I have already lost my mother, I don't want to lose my father too. Even if he goes to jail, at least I can still visit him, so I want him to surrender to police."