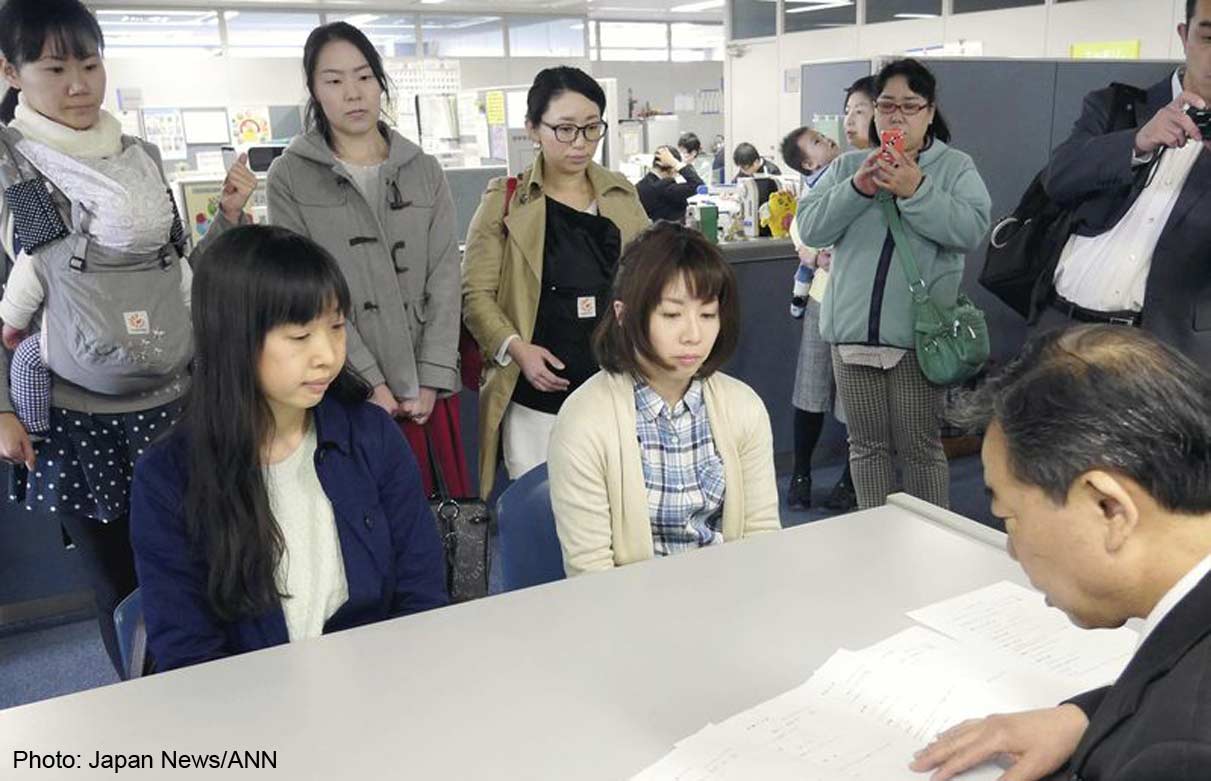 A new system to support children and child rearing was launched this month, aiming to reduce the number of children on waiting lists for day care centres to zero by fiscal 2017.
According to a Yomiuri Shimbun survey, applications for admission greatly exceeded the capacity of these facilities in municipalities with many children on waiting lists for fiscal 2015.
The new system requires municipalities to prepare enough facilities to cover all day care seekers. Capacity has been increasing year by year, but urban areas are still failing to keep up with demand, the survey showed.
On March 23, five individuals in Adachi Ward, Tokyo, who could not get their children into any certified day care centres (See below) submitted a written objection to the ward government, saying it was a "breach of duty on the side of the ward that we cannot receive child rearing service."
In spring 2014, the ward had the eighth-largest number of children on waiting lists in the country. Applications this year exceeded capacity by 1,600.
"Lots of parents are in trouble because of this," said a 37-year-old woman who could not get her two children aged 2 and 1 into certified day care centres.
In mid-March, The Yomiuri Shimbun asked 10 municipalities, including Adachi Ward, which had the most wait-listed children in the nation last spring, about the situation for the new fiscal year.
In five Tokyo wards and a city whose figures could be compared with last year's, the number of new applications rose to about 26,000 children, or 2,300 more than the previous year, the survey found. Day care centres increased their capacity by about 3,200 to around 17,200, meaning about 9,000 children will not be admitted to the facility of their choice.
Not all of them are counted as wait-listed children, but the acceptance rate stood at 66 per cent. While this is an improvement from last year's 59 per cent, the situation is still grim. There were about 3,500 wait-listed children last spring among the six municipalities, which accounted for 16 per cent of the total of 21,000 children nationwide.
More working women
The growing need for child rearing stems from the rising population in central parts of Tokyo, with many of its 23 wards seeing increasing numbers of children. In Setagaya Ward, for example, there were about 900 more preschool children in January than predicted.
Another factor is more working women. According to a labour force survey by the Internal Affairs and Communications Ministry, the number of workers has been increasing since 2012, despite the decreasing population of women aged 15 or older. The issue is further compounded by more dual-income households seeking houses in central Tokyo, which is closer to their workplaces.
Some have already given up amid these circumstances. A 47-year-old company employee from Ota Ward who reluctantly sends her 5-year-old daughter to an unlicensed day care centre did not apply for admission to a certified centre for the new fiscal year.
"I've applied a few times before but we could never get in, so I gave up," she said.
50,000 spots short
In its plan to promote women's active participation in society, the government intends to increase the capacity of day care centres by 400,000 over five years starting in fiscal 2013, aiming to bring the number of wait-listed children to zero by the end of 2017.
However, according to municipalities' child rearing plans compiled by the Health, Labor, and Welfare Ministry, the capacity of facilities for children aged 2 and younger - an especially large group among those on waiting lists - will be 50,000 fewer than needed in fiscal 2017, indicating that the government needs to take additional measures to solve the problem.
'Selfish' interpretations
The waiting list figures announced by the Health, Labor and Welfare Ministry exclude various cases of people who could not get into certified day care centres, drawing criticism that the numbers are lower than the reality.
In January, the ministry notified municipalities nationwide of a new definition for "children on waiting lists for day care centres." Municipalities will calculate the official number of wait-listed children based on that definition starting this month.
According to the new criteria, municipalities do not need to include those who only apply to one day care centre and fail to be admitted there. The new measure is based on the idea that they are considered to be "picky."
A 39-year-old woman from Tokyo only applied to one licensed day care centre nearby for her 1-year-old son, and was not admitted.
"That was the only centre within commuting distance. I was told by a local government official that I would be at a disadvantage next time I apply if I turn down a facility far away from my house, so I narrowed down the choices to one. It's unreasonable that my son doesn't count as a wait-listed child," she said.
In addition, the new definition says that children whose parents extend their child care leave after being rejected from day care centres are not regarded as wait-listed children, even if they are waiting for admission into a licensed centre.
Setagaya and Bunkyo wards, which had previously counted people extending child care leave as wait-listed, stated that the number of wait-listed children would substantially decrease if they exclude such numbers.
"It's unfortunate that the national government decided to validate the selfish interpretations of the municipalities. Parents and guardians need to have a good grasp of the actual situation and not be misled by the announced figures," said Aki Fukoin, a representative of an association of parents concerned with nursing schools.
Certified day care centres
Facilities that meet national standards, such as the required number of workers, and have obtained licenses from prefectural governments. There are about 25,000 such facilities throughout the country. Compared to unlicensed day care centres, many licensed centres have more workers and better facilities and are more popular with parents and guardians.Speech