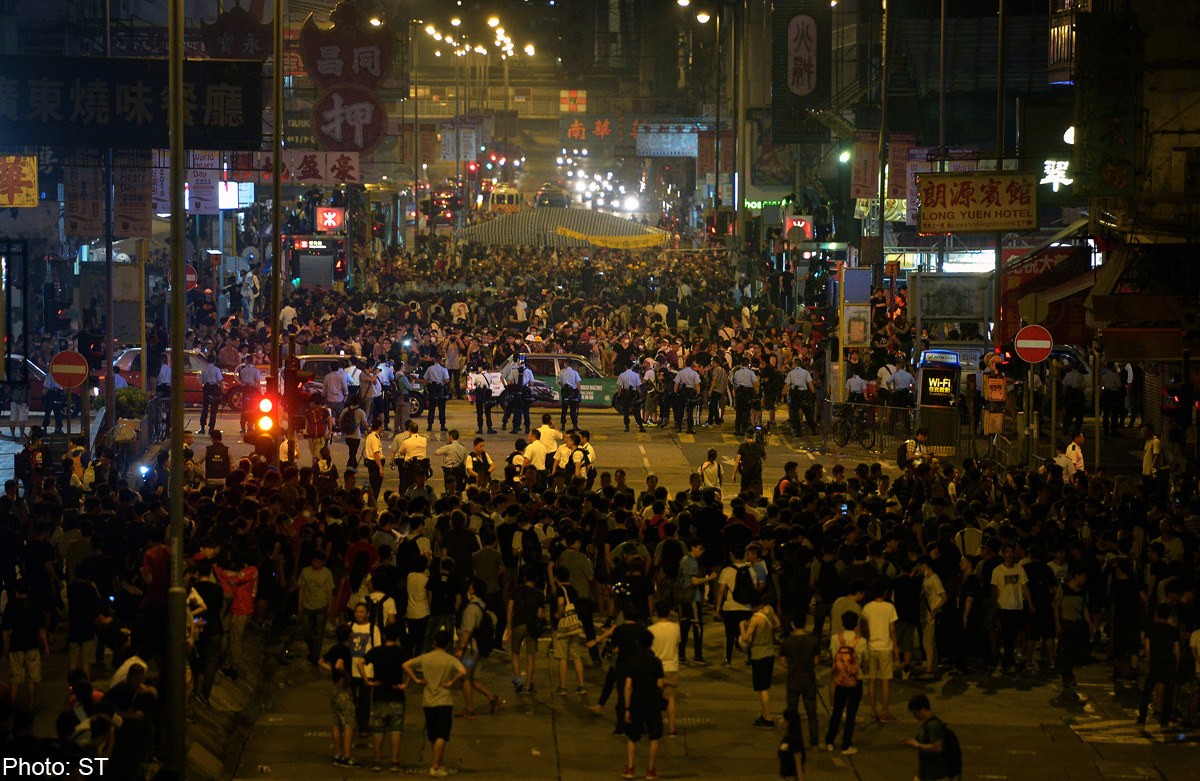 HONG KONG - A deadline for pro-democracy demonstrators to clear Hong Kong's streets fast approached Sunday, but the government said the door to dialogue was open after its Beijing-backed leader claimed the disorder now risked "serious consequences" for public safety.
On the mainland, Communist Party mouthpiece the People's Daily newspaper said in an editorial that the image of Hong Kong as a ruly city had been "ruined" as protests entered its eighth day.
University staff made an impassioned plea for students to head home as embattled Chief Executive Leung Chun-ying said his administration was determined to "take all necessary actions to restore social order".
In particular he pointed to the need to allow government staff to resume work by Monday morning.
But with a few hundred on the streets it remained to be seen whether protesters had heeded the call or merely headed home for some rest before protesting again, which has been the pattern all week.
Leung said he was determined to clear the streets near the government offices in downtown Admiralty after two public holidays cut short the working week last week.
"We have to ensure the safety of government premises and restore their operation," Leung said in a televised address late Saturday.
"The most pressing task for the government is to reopen access to the CGO (Central Government Offices) on Monday so that some 3,000 CGO staff can return to their workplace and continue to provide services to the public."
Leung, who was voted into office by 689 people on a pro-Beijing committee numbering just 1,200 two years ago, issued an ominous warning if the protests are not ended.
"The situation may probably evolve into a state beyond control, and will have serious consequences to public safety and social order," he said.
Tens of thousands turned out on Saturday night in the biggest gathering yet of the week-long protest. Those few who were back on the streets Sunday said they had no intention of leaving.
'I'm not going to leave'
"I'm worried about the threat from CY, but I'm not going to leave because we are fighting for our values and genuine universal suffrage," Nixon Leung, a 22-year-old masters student at HKU, said.
"We must continue our fight. The government has not responded to our demands for civil nomination and for CY to step down, but have constantly asked us to retreat. We simply cannot accept that." Fears that the police were getting ready to move in sparked calls from university administrators urging students to leave protest sites for their own safety.
But many were not to be deterred.
"I saw police transporting bags of supplies that looked like riot gear into government headquarters," said Ivan Ha, a psychology student.
"But despite that, I'm going to stay until real dialogue happens, hopefully with CY," the 20-year-old added.
The protesters are demanding the right to nominate who can run as Hong Kong's next leader in 2017 elections.
The Communist government of China, which regained sovereignty over Hong Kong from Britain in 1997, insists that only pre-approved candidates will be able to stand and has repeatedly said the protests are doomed to fail.
Sunday marked exactly a week since police fired tear gas on protesters in an effort to disperse them, but only adding sympathy to their cause and boosting numbers.
'Door open to dialogue'
Student leaders and the government both said they were willing to enter talks with each other but stressed certain conditions.
The government in a statement said "the door to dialogue is always open, if the (main student union) HKFS is willing", calling on them to help clear protesters from the areas around Admiralty.
HKFS, the Hong Kong Federation of Students, said the regime must investigate allegations that police had failed to protect them from violence before agreeing to talks.
Sporadic clashes have broken out, mainly in the Kowloon district of Mongkok, with democracy activists claiming that agitators from the city's triad mobs are being paid to attack peaceful demonstrators.
Violence flared anew in the early hours of Sunday in densely-populated Mongkok district as riot police used batons and pepper spray to fight back demonstrators who accused officers of cooperating with gangsters.
Police Senior Superintendent Patrick Kwok defended the use of the spray while Financial Secretary John Tsang admitted Sunday the government had "no experience and psychological preparation" for the extent of the Occupy movement.
The number of injured people sent to hospitals from Occupy protests since last Sunday rose to 165, the South China Morning Post said, citing health authorities.
While drawing many sympathisers to the streets, the protest campaign has also caused wide-scale disruption and taken a heavy toll on local businesses.
Small rallies by crowds sporting blue ribbons have been held by people who say they support the police and the government.
The People's Daily newspaper, a Communist Party mouthpiece, said in an editorial on Sunday, that the image of Hong Kong as a ruly, incident-free city had been "ruined".