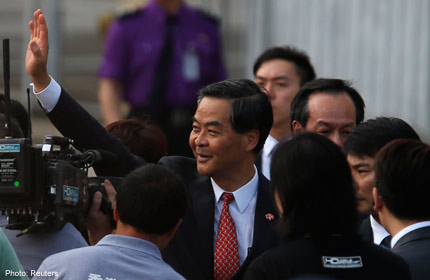 HONG KONG - Pro-democracy lawmakers demanded an investigation into Hong Kong's embattled leader Leung Chun-ying on Thursday over a US$6.4 million (about S$8.17 million) payment he received from an Australian engineering firm while in office.
The controversy ratchets up the pressure on the pro-Beijing leader just days after tens of thousands of people occupied the streets of the Asian financial centre to demand greater democracy and call for Leung to step down.
The campaign against Leung has now extended from the streets to the former British colony's legislative chambers where democrats have the power to veto any major decisions, potentially causing policy paralysis.
A report by Australia's Fairfax Media said UGL paid Leung the fees in 2012 and 2013 in relation to its acquisition of DTZ Holdings, a property consultant that employed Leung as its Asia Pacific director before he took office.
Leung's has office denied any wrongdoing.
As part of the contract Leung signed with UGL in December 2011, he agreed to promote the "UGL Group and the DTZ Group as UGL may reasonably require, including but not limited to acting as a referee and adviser from time to time", according to a copy seen by Reuters.
"We would welcome an investigation, invoking the powers and privileges ordinance so that we can summon witnesses (including Leung) and papers and other evidence," Emily Lau, the head of the Democratic Party, told Reuters.
"We have to proceed very cautiously. It's a very serious allegation and we need to look into it more carefully before deciding on any impeachment action ... though we won't rule it out."
Leung's office said the payments arose from his resignation from DTZ, not any future service to be provided by him.
"The arrangement was a standard non-poach, non-compete arrangement. It was entered solely to ensure CY Leung did not move to a competitor or set up or promote any business in competition with DTZ, or poach any people from DTZ, and hence to ensure the business retained its value after UGL acquisition," Leung's office said in a statement on Thursday.