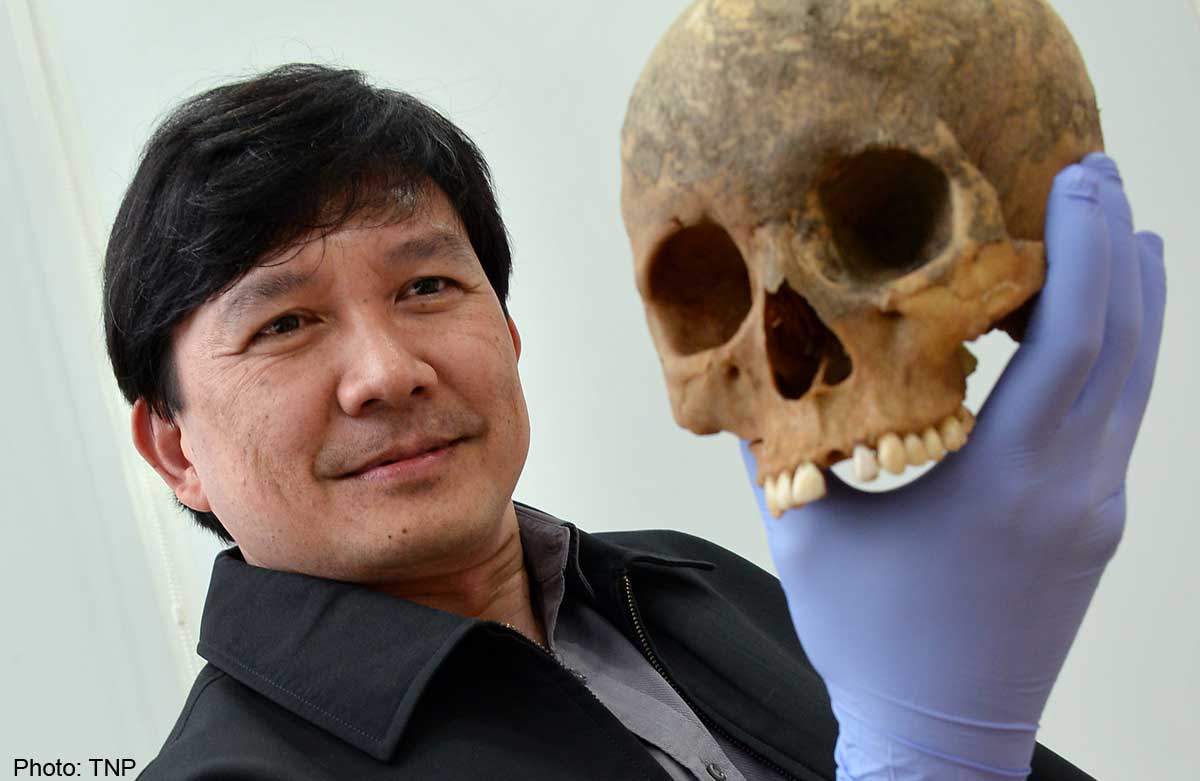 Although he was no stranger to dead bodies, forensic dentist Tan Peng Hui admitted to being numb with shock when he entered the makeshift mortuary in Khao Lak in Thailand, days after the 2004 tsunami, which took place on Boxing Day.
"There were countless rows of bloated, decomposing bodies caked with mud, coupled with the humidity."
The holding place for the corpses had been a temple.  
"The sight, smell and sound of death and chaos attacked all my senses. It was traumatising," he said, speaking softly and pausing between words.
Dr Tan, 50, spoke to The New Paper about the five weeks he spent working after the disaster that killed more than 226,000 people in South-east Asia. 
In January 2005, Dr Tan, who was then with the Singapore Armed Forces Medical Corps, was part of the 20-man team that Singapore sent to Thailand to help identify the bodies of the victims.
It was a challenging task. He had to examine each victim's mouth, identify the treatment that had been done, take an X-ray on both sides of the jaw, and extract two teeth as a source of DNA.
Forensic dental records are considered one of the most promising ways to help narrow down the search for an identity because they can be easily cross-referenced against the victim's existing dental records.
Dr Tan said his work lasted from dawn to dusk every day, as about 5,000 bodies had been found in the area.
SMELL
"When we arrived, we were immediately assigned jobs. It was helpful as it gave us little time to sit around and dwell on the sights and smell of death," he said.
He said that it took him and an assigned partner an hour or two to examine each body.
"One of us would make the recordings and the other would check his work. But there were thousands of bodies. We worked non-stop during our eight-hour shifts," he said.
The team from Singapore stayed at a resort about a three-hour drive away.
"We would leave our accommodation before sunrise and get back only after the sun had set. Every night, I would go back to my room and the fatigue would just knock me out," he said.
Although he tried not to let his emotions overwhelm him, he said he was most affected when he worked on the bodies of children. "It reminded me of my three sons, who were still very young then," he said.
He and his wife, a housewife, have a pair of twin boys, who were then five. His youngest son was then only two years old.
He flew back to Singapore after two weeks of working in Thailand, but was approached six months later to return to Thailand to help out again.
"At that time, no Singaporean had been identified yet, although 13 had been reported missing in that area. So I went back in July 2005 for another three weeks," he said.
BREAKTHROUGH
By that time, the forensics team had obtained the dental records of most of the missing people, he said. "My second trip focused more on victim-identification work, where I matched the autopsy results with the dental records," he said.
He identified the first Singaporean victim just a day into his second stint.
"It was like a breakthrough. Before long I was getting more hits. Matches of more Singapore victims were popping up," he said. Of the 13 reported missing, he said 11 were eventually identified.
Eight were identified through dental records, and most of them were handled by Dr Tan.
"I was glad because being able to identify the victims meant we were able to help their families find closure," he said. He also spoke fondly of the friendships made during the trips.
"The three-hour ride from our accommodation to the mortuary was vital in keeping us sane. We shared about our work to one another and talking about it was a form of catharsis," he said.
When asked if it was difficult to leave what he saw behind, Dr Tan said: "I tried to continue with my normal work routine when I got back. We were told that it is the best way to leave behind a traumatic experience."
For the past three years, Dr Tan has been in private practice at Novena Medical Centre as an endodontist, a dentist who specialises in conditions that affect the tooth root, dental pulp and surrounding tissue.
He still takes on the occasional forensic case for the Health Sciences Authority and the police, such as autopsies for the female victim of the fatal gang rape in India who was flown here for treatment. He was also involved in examining the Kovan murder victims.
Said Dr Tan: "Sometimes I discuss my work with my sons to teach them of how tough life can be for these victims and their families.
"I also learnt over these years that life is precious, and how blessed we are. There are many out there who have it worse."
rloh@sph.com.sg
This article was first published on Dec 26, 2014. Get The New Paper for more stories.