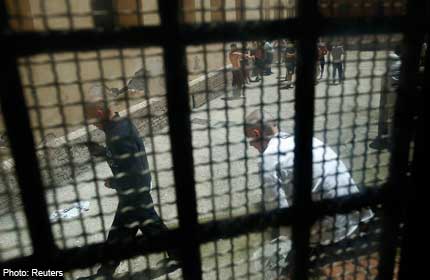 BATAM - Less than a week after hundreds of detainees escaped from Tanjung Gusta Penitentiary in Medan, North Sumatra, another jail break occurred in Batam, Riau Islands, where 12 inmates escaped from Batam detention centre on Wednesday morning.
The detainees gained access to the gate after they assaulted two prison guards identified as Andi, otherwise known as Jimson, and Bachtiar.
"Andi was attacked when he was about to lock the cell door at around 7 a.m," Riau Islands Police chief Brig. Gen. Endjang Sudrajat said.
After attacking Andi, the inmates grabbed the cell keys from him before running into a gate which separates the cells and the office. They then attacked another officer named Bachtiar.
They later broke into the office and smashed the windows before escaping. Andi said the police had distributed photographs of the fugitives to all possible exit points in Batam. Teams of field officers, he added, had already been deployed to recapture them.
He said the fugitives were police detainees, mostly drug suspects, who were awaiting trial while in Batam prison.
"We have deployed officers to hunt them down, checking the ports and other potential hiding places," said Endjang, adding that the police were also investigating whether they had inside help in their escape.
The escapees have been identified as Heryawan, Edi Priyanto, Ismail Pilliang, Riki Hidayat, M Darman, Yusnardi, Indra Kumar, Sufyan, Hendro Gunawan, Achyar, Aguan and Mulyadi Bin Saparudin.
Batam Detention Center head Anak Agung Gde Krisna said that the detention centre was overcrowded as it currently accommodated around 400 detainees, while ideally it had a capacity of 250 people.
The incident has forced the detention centre management to temporary close the prison for visitors.
The police have beefed up security and conducted raids in a number of areas as an attempt to capture the fugitives.
A detainee, identified as Heryawan, was arrested while he was waiting for a bus, while the other eleven inmates are still on the run.
This is not the first jail break at the Batam detention centre. On September 2003, as many as 52 detainees escaped from the prison after sawing off their cell bars. Out of the total number, the police only managed to recapture a few of them.
Earlier this week, a deadly riot took place at Tanjung Gusta Penitentiary in Medan; resulting in more than 200 prisoners, including nine terrorism suspects, fleeing from the prison. The inmates set fire to the prison and five people, two prison guards and three inmates, died after being trapped in the blaze.