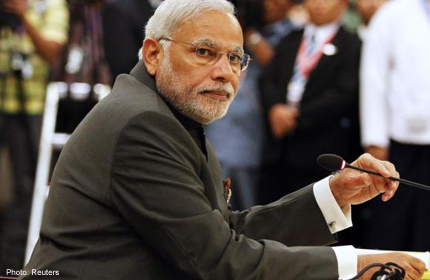 SYDNEY - Since migrating to Sydney from Mumbai in 2000, Praful Desai has maintained economic as well as family ties with his homeland by investing in real estate in Gujarat, the business-friendly state that grew in prominence under then chief minister Narendra Modi.
With Modi now prime minister, Desai says he has the confidence to invest elsewhere in India.
He is betting on Modi's upcoming visit to Australia to strengthen ties with the near 300,000-strong Indian diaspora in the country, with a friendly tax regime for non-residents and options for dual citizenship on the wish list.
"Expat Indians want to connect more with India," said Desai, who works in advertising and is the vice president of the Council of Indian Australians Inc.
"Modi will probably give us an assurance that the India growth story is intact. That's the kind of thing people want to hear that will drive a lot of money back home."
Modi came to office in May with a mandate to create jobs and kickstart the Indian economy after a long period of sluggish growth. His signature 'Make in India' and 'Clean India' initiatives include targeting expats for investment.
Modi's popularity with non-resident Indians was underscored on a recent visit to the United States, where he received a rockstar reception and sold out Madison Square Garden.
He is expected to draw 16,000 people to his rally in Sydney on Monday, while 270 people have booked on the "Modi Express" train for fans, which will run from Melbourne to Sydney.
Modi is also expected to meet 200 prominent Indian businessmen and entrepreneurs and students in Sydney.
Modi "wants every Indian living in Australia to feel that their leader has come to meet them, he wants to know them and even seek their support for projects back home," an Indian foreign ministry official said.
TRADE, INTELLIGENCE, SECURITY
Modi wants a more comprehensive security and intelligence dialogue with Australia, which is looking at India to buy more minerals in particular.
But progress on trade has been slow, with Australian exports to India falling 22 per cent in 2013 to A$12 billion ($10.2 billion). That's a far cry from Australia's A$150 billion two-way trade with China and the A$40 billion goal by 2015 set two years ago by former Prime Minister Julia Gillard.
However, a recently sealed civil nuclear deal to sell uranium to India is seen as a sign of growing trust between the two nations, along with Modi's visit, the first by an Indian leader since 1986.
"Exports have fallen but expectations are that this will bounce back," said Rory Medcalf, senior research fellow on India Strategic Affairs at the University of New South Wales.
"The India-Australia relationship is reaching a new maturity and it's reaching a tipping point where it will become a much more comprehensive and trusting relationship."
After Australia, Modi is due to visit Fiji, which has a large ethnic Indian community.