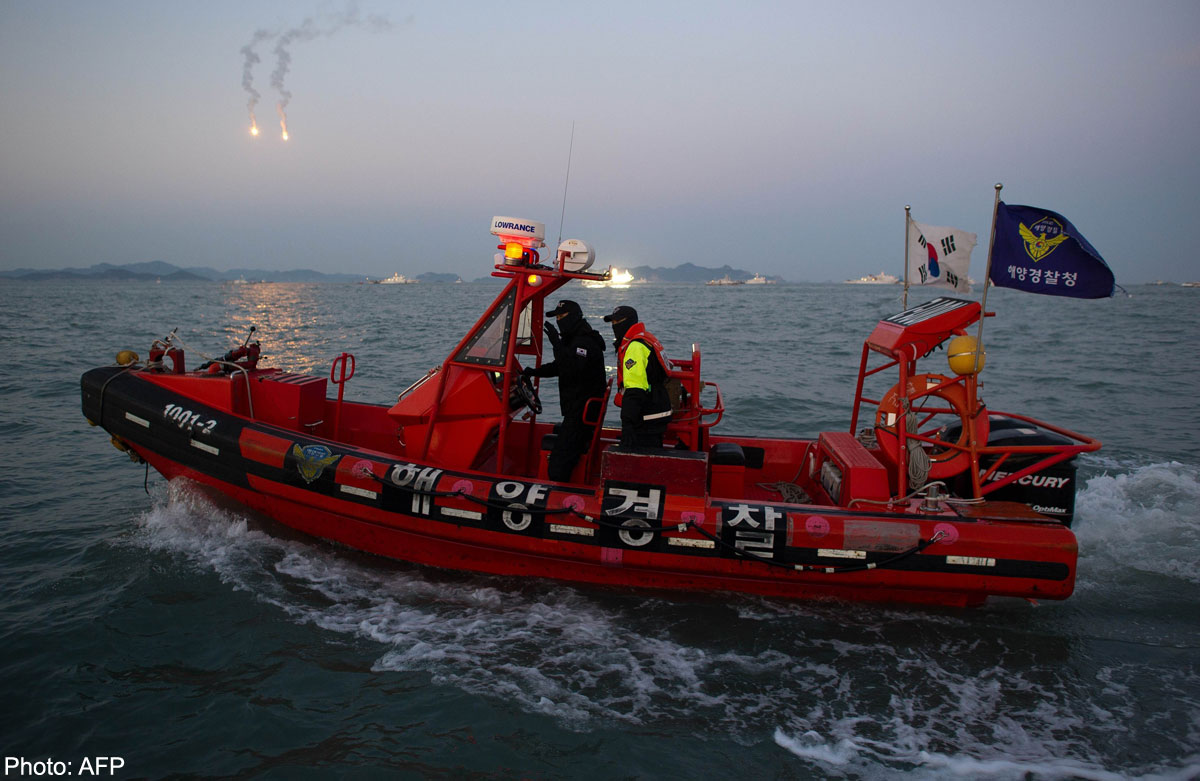 SOUTH KOREA - South Korean divers searching for missing passengers in the sunken ferry Sewol are suffering from health problems, according to a rescue center.
Ten divers from a joint rescue team of civilian and state organizations were treated in decompression chambers on two Navy ships Wednesday, after showing symptoms of paralysis and severe headaches. One has been confirmed as having decompression sickness, the emergency center said Thursday.
"Divers are suffering from more fatigue as the rescue operation is being extended. We're seeking safety measures (to prevent their health risks)," Kim Min-seok, spokesman for the Ministry of Defense, said in a briefing.
About 700 divers from the Underwater Demolition Team, Ship Salvage Unit and Coast Guard were dispatched on the ninth day since the accident.
Experts worry that more divers could be affected by the sickness, which is caused when divers surface too quickly or stay in cold water for a long time.
When serious, it can cause vomiting, paralysis, pain in different parts of the body and even heart attacks.
"We will thoroughly check the divers' health conditions and allow enough rest after operations," the Defense Ministry said.
Divers go into water with communication and oxygen lines attached. They break windows with customized axes to enter the ferry and search for passengers' bodies.
As the rescue speeds up, divers are bringing up more bodies from the wreckage, using one hand to hold them and the other hand to grab a guide line to swim back up.
Strong currents and poor visibility remain challenges, they said, causing more exhaustion than average rescue operations.
The underwater visibility remained at about 30-40 centimeters on Wednesday, the Coast Guard said.
"We are trained for hostile environments, but it's hard to be brave when we meet bodies in dark water," Hwang Dae-sik, director of the Maritime Rescue and Salvage Operation, told media.
Many are voicing concerns that the pressure from victims' families on the divers could marginalize the safety of the rescuers. In 2010, South Koreans were saddened by the news of a veteran diver who died during a rescue operation after the sinking of the corvette Cheonan.
"There should not be any more victims in the ferry accident. Finding the bodies of the missing people is important, but the incident has already warned us that safety comes first," a Twitter user wrote on his account.
(monicasuk@heraldcorp.com)