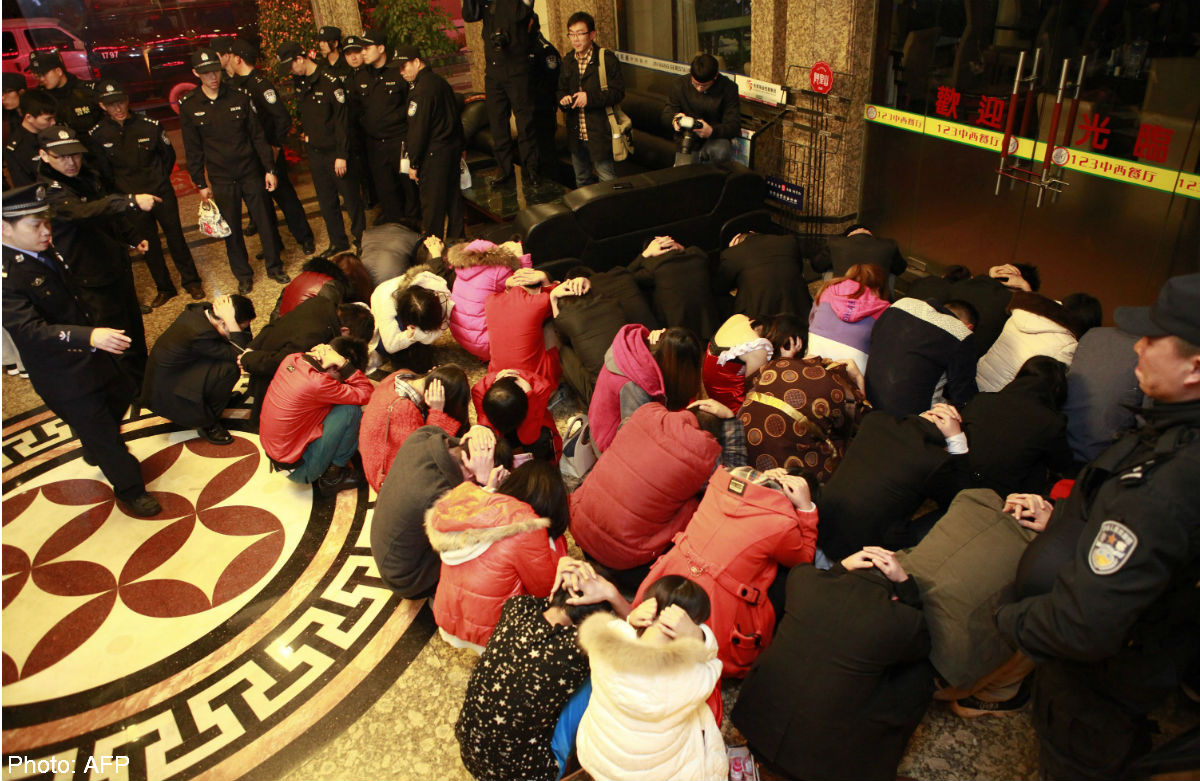 China has moved to sack the police chief of Dongguan in the wake of large-scale raids on prostitution in the city that has become infamous as the country's "sex capital".
Analysts believe this is a prelude to a new wave of anti-corruption campaigns in the southern Guangdong province.
Mr Yan Xiaokang, 50, was stripped of his posts as Dongguan's police chief and deputy mayor last Friday, five days after state broadcaster China Central Television (CCTV) aired a half-hour report revealing extensive prostitution in the city.
"Yan Xiaokang failed to properly perform his duties during his tenure as Dongguan's deputy mayor and public security bureau chief, which led to rampant illegal activities of prostitution despite a continual crackdown and created a damaging impact at home and abroad," reported state news agency Xinhua, citing an official statement from the Guangdong authorities who oversee Dongguan.
Mr Long Yuanfu, a Dongguanbased lawyer, told The Straits Times last Saturday that Mr Yan's removal is "undoubtedly part of the recent anti-corruption drive, but it will take time to get a full picture of what's really going on".
"But I have a feeling that it's a harbinger of a massive anti-graft movement aimed at cleaning up the Guangdong government," he said.
Dongguan has earned a reputation as China's "sex capital" over the last two decades. It is believed that the trade began to take shape in the 1990s, when a large number of Hong Kong businessmen flocked to the industrial hub for investment, reported iRead, a bimonthly magazine.
Conveniently located between Hong Kong and the provincial capital of Guangzhou, Dongguan boasts vast tracts of land that could be leased at low prices for the construction of high-end brothels, which attract affluent Hong Kong investors who usually leave their spouses behind, said the magazine last week.
Another boon to the sex trade was the influx of millions of migrant workers seeking jobs in Dongguan, which topped the list of China's 20 wealthiest cities last year, reported The Beijing News.
"The sex hunger from this tremendous number of migrant workers fed into the expansion of Dongguan's sex market, the benefits of which grossed 40 billion yuan (S$8.3 billion) a year," said political commentator Li Hainian on his blog.
Only 1.7 million of Dongguan's 10 million residents were born and grew up there.
Mr Yan's downfall came after Guangdong Communist Party boss Hu Chunhua's pledge to leave no stone unturned in the prostitution crackdown in the city.
Mr Hu, 50, is a rising political star, who took over as Guangdong's party chief in late 2012 and is tipped for future national leadership.
He endorsed what are believed to be Dongguan's biggest prostitution raids last week. These saw 6,525 police officers swooping in on hundreds of suspected venues and 67 people arrested.
Besides Mr Yan, another seven municipal officials were sacked last Friday, while four party secretaries of the towns featured in the CCTV report were ordered to make public apologies, according to the statement issued by the Guangdong government.
Some Internet users called Mr Yan, who took charge of the police force from 2012, a "scapegoat" in the latest anti-corruption drive launched by President Xi Jinping.
They argued that an extensive collusion network giving free rein to prostitution in Dongguan has yet to be brought to light.
"After striking down the pimps, the government is digging up the tigers' den, in which the police chief is just a little cub," said Professor Han Fuling from Central University of Finance and Economics.
Despite the rare strong force and determination displayed in the crackdown last week, some observers remained sceptical about the outcome.
"Without an overhaul of the current political system, any crackdown can just scratch the surface," said Mr Long, who is also a political commentator. "One day, the sex industry in Dongguan may rear its head again."
jihongou@sph.com.sg

Get a copy of The Straits Times or go to straitstimes.com for more stories.