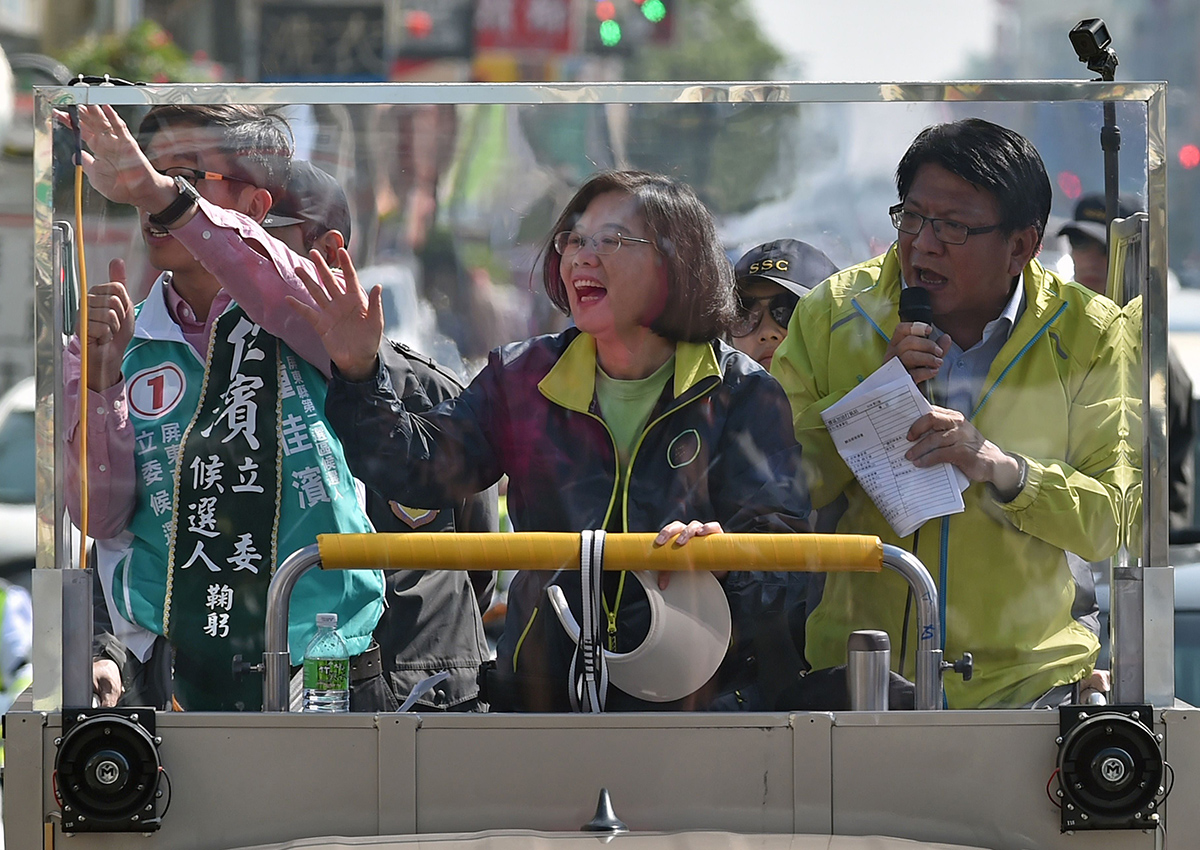 As temperatures in Taiwan dip this week, its denizens are musing over just how "cool" the election atmosphere is.
With only seven days to go before the island heads to the polls to pick a new president and Parliament, there is an unprecedented dearth of public interest.
Sales of campaign scarves - habitually looped around supporters' necks - are down, report local media. Doctors and psychiatrists are seeing fewer visits from patients suffering from the so-called "election syndrome" - insomnia and anxiety caused by election fever.
Just 2,300 overseas Taiwanese have registered to fly home to vote - a historic low since Taiwan began direct presidential elections two decades ago.
The reason is that the outcome appears indubitable.
Polls have Democratic Progressive Party (DPP) chairman Tsai Ing-wen consistently leading her rivals - Mr Eric Chu of Kuomintang (KMT) and Mr James Soong of People First Party - by such a wide margin that she has already been crowned by various domestic and overseas media as Taiwan's first female president, never mind that Election Day is next Saturday.
Meanwhile, the DPP seems on track to win a majority in the legislative polls to be held on the same day.
A perfect storm of factors is propelling Taiwanese voters into the 30-year-old party's arms.
Relations with China are a key reason. Under KMT's President Ma Ying-jeou, Taiwan's ties with China warmed rapidly in the past eight years, culminating in a historic summit with Chinese President Xi Jinping in Singapore on Nov 7 last year.
But this has created unease among the Taiwanese, wary that their de facto independence will be compromised by growing dependence on the Chinese behemoth. In 2013, university students occupied Parliament in what became known as the Sunflower Movement, successfully blocking a trade pact that they argue would increase China's hold over Taiwan.
Meanwhile, KMT's traditional fortes, its experience in managing the economy, for instance, are being decimated by stubbornly stagnant growth, as the island labours to resolve a 15-year-old hollowing out of its economy as manufacturers exit.
It is expected to grow less than 1 per cent in 2015 , with a jobless rate at over 3.9 per cent.
Professor Norman Yin, who is with the department of money and banking at the National Chengchi University, said: "It seems that we are heading for a recession."
Meanwhile, the income gap is widening with wages for the lower- and middle-income groups hovering at levels of 14 years ago, he noted.
"The Taiwanese people are concerned about their future," he said.
Even more fundamental is the inexorable rise of the Taiwanese identity which started in the mid-1990s. By 2010, those who viewed themselves purely as Taiwanese had become the largest group, while those who saw themselves as both Taiwanese and Chinese, or simply Chinese, shrank, according to surveys.
With this confluence of factors, Dr Tsai, whose DPP advocates formal independence, looks set to handily win Taiwan's sixth direct presidential election.
Such an outcome will mark a turning point in Taiwan's political landscape.
If elected, Dr Tsai will be the second president from the DPP after Mr Chen Shui-bian (2000 to 2008). Taiwan, which was ruled by the KMT under martial law for 38 years until 1987 and held its first direct presidential election in 1996, will then have gone through four rotations of power since it democratised: KMT, DPP, KMT and now DPP.
"If that happens, Taiwan seems to be firmly on track towards a two-party system with power alternating between them," said Professor Wu Yu-shan, director of the Institute of Political Science at Academia Sinica.
This has long-term implications for Taiwan and the world.
With the pendulum swinging regularly between the KMT, party of former Republic of China strongman Chiang Kai Shek who retreated to Taiwan in 1949 after being defeated by the Communists in China, and the DPP, which began life as a party for political dissidents and intellectuals championing civil liberties and freedoms, relations across the Taiwan Strait, viewed as one of the world's flashpoints, will become more uncertain.
China regards Taiwan as its territory, and has a law that mandates the use of force against the latter should it declare independence.
This in turn will affect the most important relationship in the world - between China and the United States. The latter is committed to defend Taiwan should it come under attack.
Taiwan, said Mr Richard Bush, director of the Centre for East Asia Policy Studies at think tank Brookings Institution, is "a point of key contention in US-China relations".
"And the main variable setting the level of tension and danger has repeatedly been presidential elections in Taiwan because they produce new leaders, and often, new policies towards China," said Mr Bush, who used to chair the American Institute in Taiwan, the de facto American embassy, in an article.
Dr Tsai has said she wants to maintain the "status quo" in cross-strait relations.
However, she has declined to specify if she accepts the so-called 1992 Consensus which the KMT accepts and which Beijing insists is the only framework under which cross-strait talks can occur.
The 1992 Consensus states that there is one China but both sides are free to interpret this as they wish.
It is "an option, but not the only option", said Dr Tsai last month, without elaborating what the other options are.
Relations must unfold in accordance with the will of the Taiwanese people, she has said.
It is clear what this is, said former vice-president Annette Lu, who was Mr Chen's deputy and remains a DPP member.
"We are not looking to declare war, but we are saying that we recognise one China, and we ask China to recognise that there is Taiwan," she told The Straits Times.
Some, including possibly Dr Tsai herself, are betting that Beijing, though furious at this, will not want to jeopardise the gains of the past eight years by upending relations.
But others, including Prof Wu, believe a political storm is brewing. Beijing, he said, will have to respond if Taiwan rescinds the 1992 Consensus.
"Inaction will be seen as Beijing acquiescing in Taiwan's slide towards de jure separation.
"Beijing will make a statement - the nature, extent and timing of which cannot be predicted at this stage."
With Mr Xi looking to consolidate his power at the Chinese Communist Party's 19th congress next year, Prof Wu warned: "Taiwan would be wise not to provoke him when he cannot afford to appear weak on issues as sensitive as Taiwan."
So as much as the outcome next Saturday seems a foregone conclusion, its ramifications are anything but. That said, a consensus is clear.
Said Ms Lu: "A new Taiwan will emerge."

This article was first published on January 9, 2016.
Get a copy of The Straits Times or go to straitstimes.com for more stories.