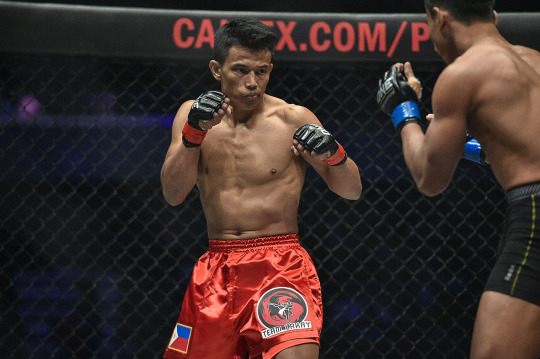 Edward "The Ferocious" Kelly (9-3) is riding a three-bout win streak, and will attempt to score his fourth consecutive victory on Friday, 18 August.
The 33-year-old Filipino is scheduled to meet Emilio "The Honeybadger" Urrutia (9-4) at ONE: QUEST FOR GREATNESS, live from the Stadium Negara in Kuala Lumpur, Malaysia.
Both competitors are motivated, and have a skill set that compliments the other, and that could ultimately help the two steal the show.
"I know is he is a well-rounded athlete," the Baguio City native says. "I checked his record and we are about the same, so I think this is a good match, and will be exciting to watch."
Unfortunately, injury forced Kelly's proposed April bout to fall through, but will finally get his chance to step back in the cage for the first time in 2017. "The Ferocious" is not only riding a wave of momentum in his professional career, but so is everyone over at Team Lakay.
ONE Lightweight World Champion Eduard Folayang has led the way with a successful title win and title defense. Also, Honorio "The Rock" Banario is experiencing a resurgence, and Kevin Belingon, Gina Iniong, and Danny Kingad are rising up the ranks as top contenders.
"For now, we are motivated to train hard for our matches, as we think we can compete for titles," Kelly explains. "Once Eduard (Folayang) got the belt, we all thought that we could do it too. We just need to focus more on training and follow in his footsteps."
When teammates get to go through training camps together, it seems to push them a little bit further. This is the case for Kelly, as the aforementioned Belingon will meet Australia's Reece McLaren on the same card.
"It is a good thing, and good timing, because me and Kevin (Belingon) are training together, so I have company every time we train, to focus and develop our techniques," he says.
"I stopped training for four years, and in that four years they continued. Kevin continued to improve, and I got left behind," he continues, in reference to his hiatus from competition back in 2009. "So I admit that his knowledge in martial arts is ahead of mine, and that is good for me. I can ask him about techniques and what to do, and ask him about certain positions."
Kelly has won three in a row, with all three victories coming by stoppage. Despite having his own set of fantastic skills, the humble Filipino gives credit where credit is due.
With Folayang holding that world championship around his waist, targets have been set for Kelly. However, he knows that the focus for now has to be directly on Urrutia.
"I returned to be a martial artist in 2013, and I just wanted that feeling again, and to be on a big show on television," Kelly says, explaining why he ended his hiatus.
"Now, I am improving in my matches and I have a three-bout win streak. I think if ONE gave me a chance to challenge for the belt, I wourld train hard for it. That is my goal before retiring. In my mind, I think I can achieve that belt soon."
For Kelly to fulfill his dream, winning is a must. Still, he treats his opponent with dignity and respect, and will let everything play out in the cage.
"I think every martial artist wants to finish the fight in the first round, but we do not know," he says. "Emilio (Urrutia) is training hard for our match. We can only see what will happen on 18 August."