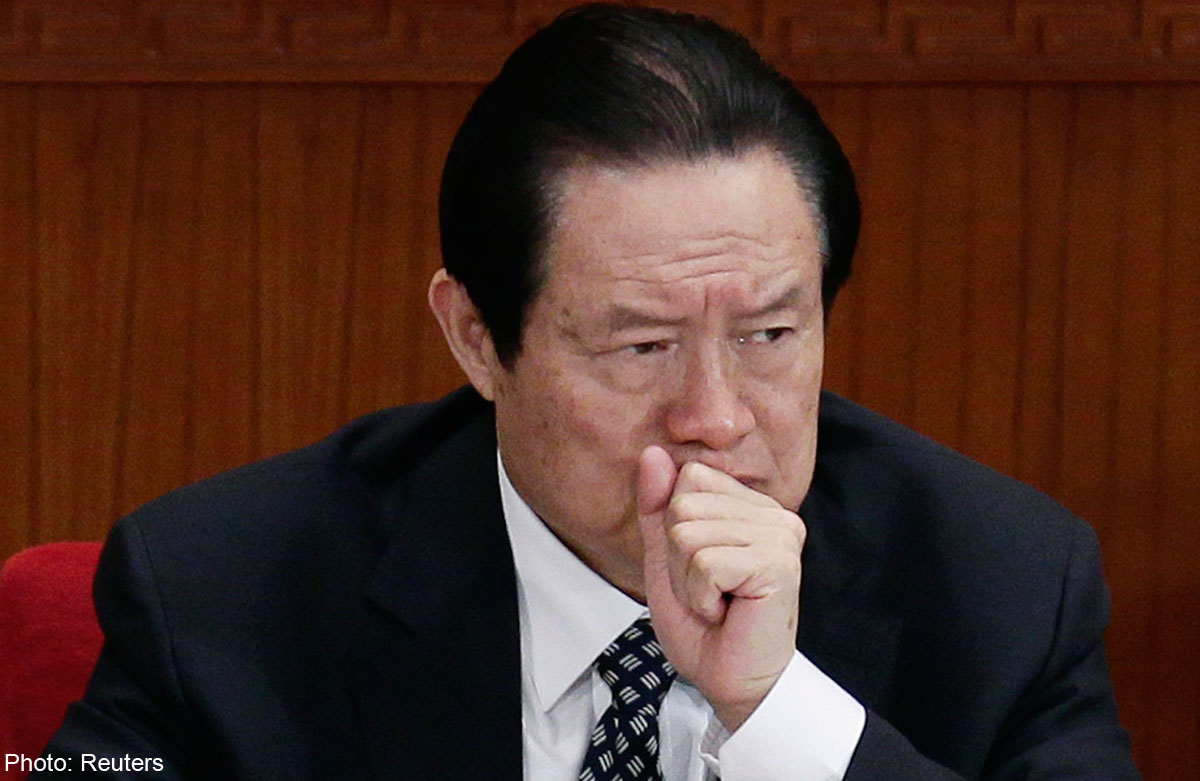 BEIJING - Damning editorials in China's state media and a noticeable step-up in the dragnet against former aides of former security czar Zhou Yongkang suggest that the endgame is near for him, say analysts.
Some believe the Chinese Communist Party (CCP) might even take the unprecedented step of announcing disciplinary actions against the retired member of its apex Politburo Standing Committee (PSC), before China enters a two-week-long political season.
The Chinese People's Political Consultative Conference kicks off its annual meetings on Monday, followed by the National People's Congress two days later.
"Taking action before the meetings will show the public and the delegates that the party means business by nabbing a big tiger," said Singapore-based observer Bo Zhiyue, citing President Xi Jinping's vow to target tigers and flies - senior and low-ranking officials, respectively - in his anti-graft campaign.
"The goal is to underscore how the party will be as serious in addressing other issues, such as deepening wide-ranging reforms, as it is in tackling corruption."
Talk of an imminent announcement over Mr Zhou's fate grew after the CCP intensified its efforts of late in dismantling his power bases in the oil industry, the south-western Sichuan province and the security apparatus.
Party disciplinary and legal actions have been taken in the past two weeks against his former aides and associates, such as Beijing's state security chief Liang Ke, Hainan's vice-governor Ji Wenlin, senior state enterprise oil executive Shen Dingguang and Sichuan mining tycoon Liu Han.
In a telling sign of the growing momentum against Mr Zhou, who reportedly ran foul of the ruling elite because of his support for disgraced Chongqing boss Bo Xilai in 2012, state media like the People's Daily have also made connections between him and his former aides.
Last Wednesday, the Beijing News daily even named Mr Zhou in its report about Mr Ji's fall by citing their boss-subordinate relationship in the Land Resources Ministry in the 1990s.
"Chinese media is tightly controlled, so its ability to cite links to Zhou Yongkang is a strong sign the end is near," said anti-corruption expert Ren Jianming.
But while he does not rule out the possibility of a pre-event announcement, Professor Ren thinks it is more likely that Mr Zhou's fate will be revealed after the meetings, which are known as "liang hui", literally, two meetings.
Expected to end around March 13, the meetings will discuss the government's work over the past year and lay out its goals ahead.
"Announcing Zhou Yongkang's fate may cause the media to focus only on him and the anti-corruption work, which is only one of the many things the leadership is doing," said Prof Ren of Beihang University in Beijing.
But Nottingham University analyst Steve Tsang said Mr Xi is under pressure to bring closure to the Zhou saga, which began in end-August last year, with the launch of investigations into senior oil executives like former PetroChina chairman Jiang Jiemin. He said it was not realistic to expect action taken against Mr Zhou in the past few months, given the complexity.
China observes an unspoken rule of not investigating PSC members - current or retired - as a form of immunity privilege for the ruling elite.
"As far as I can see, the biggest problem allowing Xi to fix Zhou is the implication of the end of de facto immunity from prosecution for PSC members. Unless and until Xi can devise a formula to reassure such members, he cannot bring the Zhou case to a close," said Prof Tsang.
"Still, not being able to seek an agreement among the top leaders, present and retired, does not put Xi in the light that he would like to be under."
kianbeng@sph.com.sg
Get a copy of The Straits Times or go to straitstimes.com for more stories.