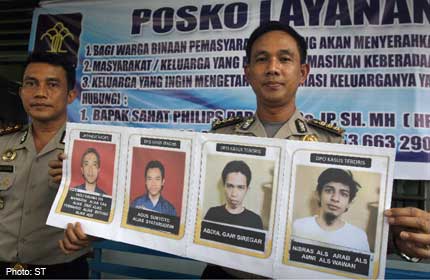 INDONESIA - Indonesia has issued photos of four terrorist inmates who fled a Medan prison during a riot and ensuing blaze last week, as its National Counter-Terrorism Agency (BNPT) chief warns they will likely renew contact with their old networks to plan attacks.
Mr Muji Raharjo, head of the Tanjung Gusta penitentiary from where the four escaped, said the images will be distributed widely across Sumatra and Java, Antara News Agency reported.
BNPT chief Ansyaad Mbai also warned on Monday night that if the escaped men do not surrender and end up in a stand-off shooting officers trying to arrest them, police will return fire.
On Tuesday, he told The Straits Times: "The four who escaped are dangerous. They can reconnect with their group and plan terrorist acts with other networks."
All four men were part of a cell that robbed a CIMB Niaga Bank branch in Medan in August 2010 to fund terror activities, and officers from counter-terror unit Densus 88 have been deployed to track them down.
Malaysian border authorities have also raised their alert.
"There is a possibility that these men might slip back into the country through illegal entry points along the coast," Malaysia's Special Task Force (Operations and Counter-Terrorism) director Mohamad Fuzi Harun told The Star newspaper.
"We are monitoring the situation closely and are in contact with our counterparts on the latest developments there."
The men include Fadli Sadama, in his early 30s, who was arrested in Malaysia two months after the bank heist, on a bus bound for Johor Baru with two handguns. He is serving an 11-year jail term.
The others are Agus Sunyoto and Nibras alias Arab, both serving six-year sentences, and Abdul Gani Siregar, who is serving a 10-year sentence.
Indonesian police are also stepping up the hunt for some 100 other convicts still at large, especially at ports.
The manhunt comes as Mr Ansyaad says radicals may again take the opportunity to strike in the lead up to Hari Raya Aidilfitri on Aug 8 and Indonesia's independence day on Aug 17.
"There are indications that they will take action," he said.
As for the four inmates, Mr Muh Taufiqurrohman, a senior analyst at the Abdurrahman Wahid Centre, says it is very possible they will rejoin their old network, especially the Medan cell of Sabar alias Pak Boss, whom they met at the house of Wak Geng to plan the 2010 heist.
Wak Geng, also known as Marwan alias Nano, is serving a 12- year term at the prison for terror but did not flee during the blaze.
Instead, local news websites said he played a role in calming inmates down and representing them in talks with Law Minister Amir Syamsuddin on Saturday.
But terrorism observer Mardigu Wowiek Prasantyo said the four "will take any chance they have to strike again".
He added: "Their targets are national events and symbols, as they want to uphold their version of an Islamic state.
"So it doesn't matter if it's a religious occasion, they want to strike fear."
The challenge, Mr Ansyaad said, was that many viewed the job of fighting terrorism as that of Densus 88 alone.
"Everyone has to be united in opposing them," he said.
"We shouldn't view the issue through narrow lenses, that's our weakness."