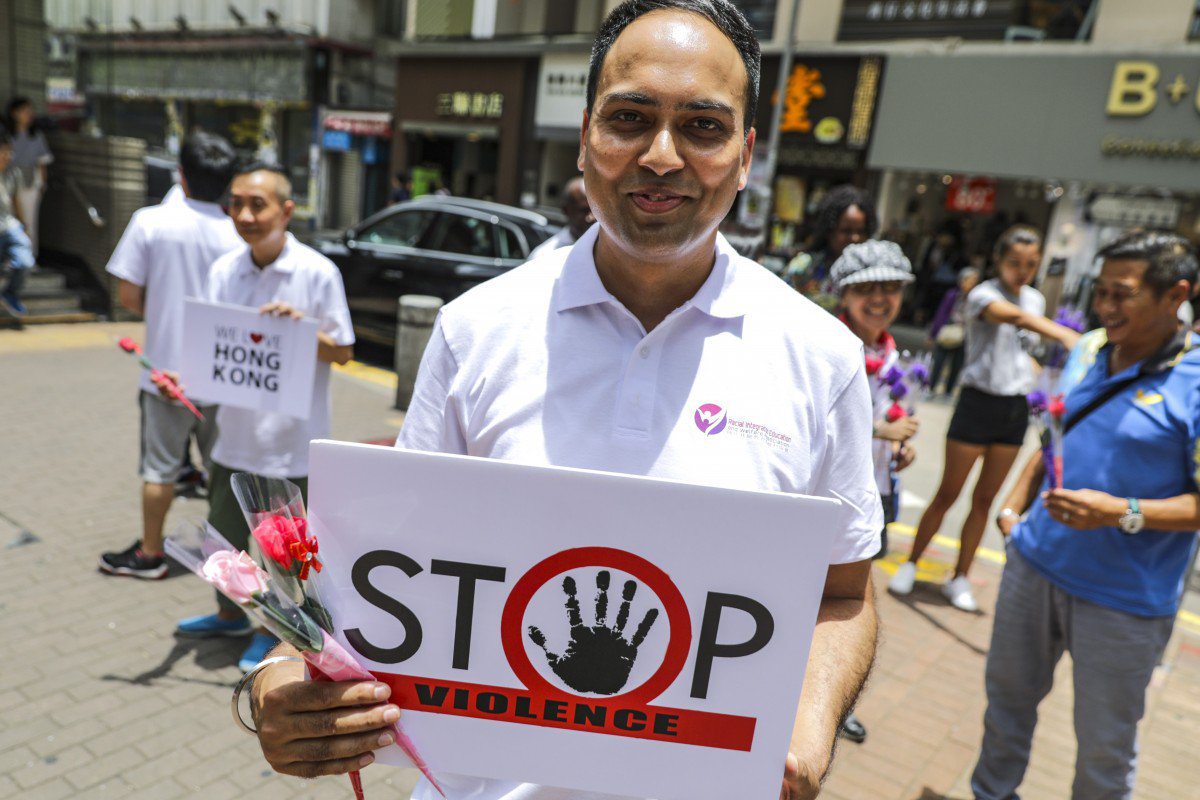 Ethnic minority groups in Hong Kong have become the target of harassment and discrimination with some forced to close businesses and stay home after internet users suggested members of the community were behind the vicious Yuen Long attack last week.
In one case, a group of Nepali men living in Yuen Long suddenly found themselves being confronted by locals on the street on the night of July 21, just an hour after a white-clad mob beat up passengers at the MTR station.
The Nepali group was sworn at, pushed and also accused of attacking civilians, according to community leader Jimmy Singh Baljinder.
He said the misunderstanding was directed particularly towards Indian, Pakistani and Nepali residents who live in Yuen Long and New Territories West. In fear of being targeted, many of them did not show up for work, cancelled their social appointments and barely left home.
"Many ethnic minority members are living in fear recently," said Singh, co-founder of the Racial Integration Education and Welfare Association, an NGO.
A 44-year-old security guard, who does not want to reveal his real name, said he took a few days off work to avoid harassment in public. He lives with his wife and two children in Yuen Long, and said he would try to stay indoors as much as possible until tensions subsided.
"I only go to the supermarket nearby to buy food, and even there I got odd stares from people," he said.
"I feel scared because you can never tell what they are thinking - are they trying to hit you, kick you or are they just angrily looking at you? I tell my children not to go out and play too."
A week ago, violence broke out in the northern town when a group of men with sticks and metal rods stormed Yuen Long MTR station and attacked commuters, seeming to target protesters in black who were returning from an earlier march in the city centre.
At least 45 people were injured and 12 have been arrested over the incident, which further deepened rifts in society.
Hong Kong has been rocked by weeks of protests against the now-suspended extradition bill, which would have allowed the transfer of suspects to jurisdictions with which the city has no such agreement, including mainland China.
The July 21 attack in Yuen Long, suspected to be by triad gangs, was seen as a retaliation against protesters who had occupied streets and disrupted businesses.
On the internet, messages circulated that ethnic minority members were involved in the assault, with one user on popular forum HKGolden claiming: "Sources say South Asians ambushed protesters returning home at Yuen Long MTR station".
On Sunday, police arrested a 30-year-old man of Nepali origin in Yuen Long on the charge of "possession of offensive weapons".
Singh said of the masked attackers: "[They] are unfamiliar to us too. But people may tar us with the same brush and stereotype all dark-skinned people as gangsters."
As for the group of targeted Nepalis, Singh said they were only chatting and having a few beers at a basketball court when some Chinese men showed up and hurled verbal abuse at them.
The Nepalis tried to answer in English that they had nothing to do with the attacks, but were asked: "Why did you beat up Hong Kong people?"
Singh said the confrontational group continued to push and yell at the men.
Singh, who is a fifth-generation Indian resident in Hong Kong, said he worried that recent events have heightened racial tensions in the city.
His NGO had spread the word among ethnic minority communities to warn them against engaging in violent acts, even if they were offered money by triads to do so. Singh added that he hoped Hong Kong would remain a tolerant, inclusive society that welcomed people of all ethnicities.
Rizwan Ullah, joint secretary of the Pakistan Association of Hong Kong, said so far he had only heard of some isolated incidents of discrimination, but he feared the situation would get worse as social divisions in Hong Kong continued to deepen.
"Racial discrimination would get a lot worse if ethnic minorities are actually found and pictured beating up protesters," he said.
"Right now I am still confident that Hongkongers would be able to distinguish between a few lawbreaking people from most ethnic minority members who are law-abiding residents."
According to a 2016 government by-census, there were 584,383 ethnic minority residents in Hong Kong, accounting for 8 per cent of the total population.
Between 2013 and last year, there were a total of 397 complaints lodged under the Race Discrimination Ordinance with the Equal Opportunities Commission, the city's equality watchdog.
This article was first published in South China Morning Post.