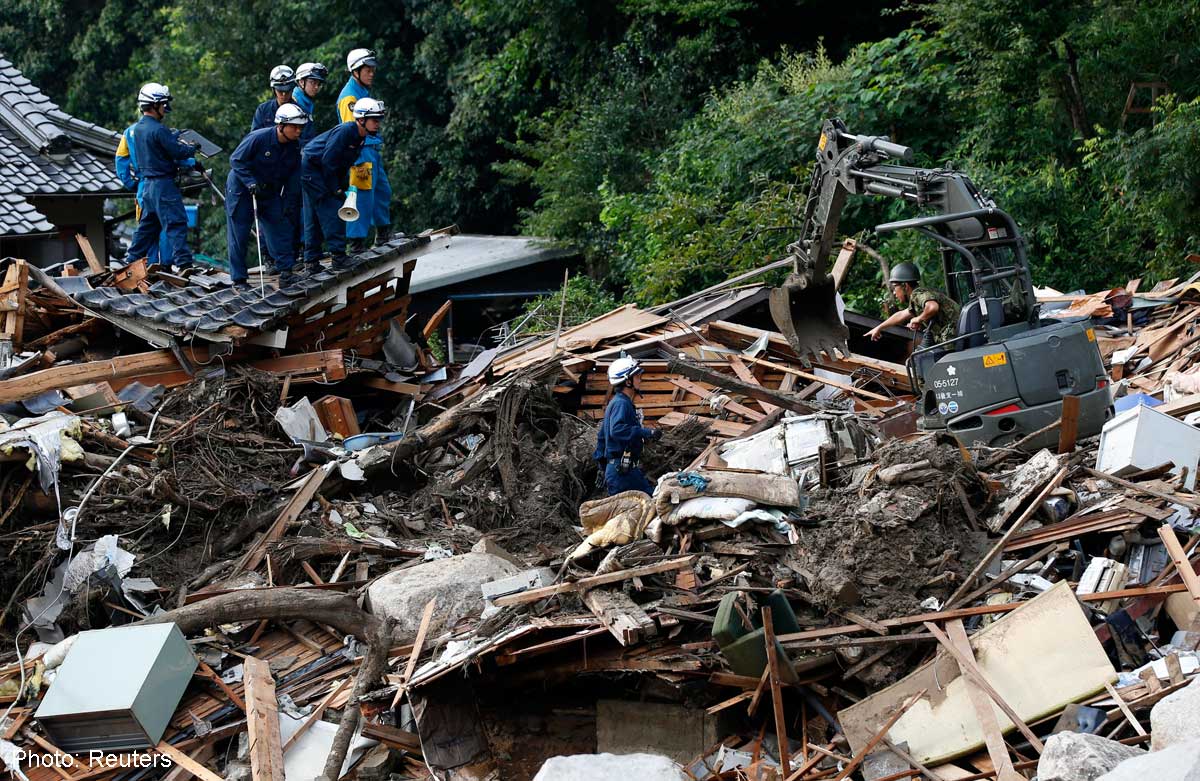 TOKYO - Details emerged Tuesday of a newly-wed couple who had been expecting their first baby when huge mudslides engulfed their home in western Japan, as the number of confirmed deaths from the disaster hit 60.
Desperate family members were praying for the almost impossible rescue of 28-year-old Minami Yuasa, who was expecting a baby boy in November, and her husband, Yasuhiro.
The couple, who were married in October last year, lived in an apartment block that was swept away six days ago when tons of earth, rocks and trees thundered down the mountainside in Hiroshima at a reported 40 kilometres (25 miles) an hour.
"I want them to come out, breathing," Minami's mother told reporters. "'Hold on', I want to tell them." "We are hoping for a miracle," her father, Junji Wakamatsu, said. "Our best hope is that they are in a space made by a piece of wood and a big rock." More than a month's rain fell in just three hours last Wednesday morning triggering huge mudslides that smashed into hillside communities on the outskirts of the city.
Dozens of homes were buried or crushed by boulders, leaving a scene of destruction for up to 3,000 rescuers, who continued to pick through the wreckage on Tuesday.
Heavy rain has continued on and off since the disaster, stopping search operations amid fears of secondary landslips as waterlogged hillsides bulged and shifted overhead.
Last week, a 53-year-old rescuer was swept to his death as he tried to carry a young boy to safety when a fresh collapse buried the area he was working.
Of the 60 confirmed dead, 12 are yet to be identified.
Local media said the young married couple were among the 26 people still officially listed as missing.
Reports said they had only moved into their new home a month before tragedy struck, with 29-year-old Yasuhiro following his dream of doing massage therapy in the town where he had grown up.
The young woman's parents have watched helplessly for days as rescuers have dug through the mud and debris.
Her mother spoke of her frustration at having to watch bodies being pulled from the mud and then carried away in plastic sheeting for later identification.
"Every time it occurs to me that it might be my daughter or her husband. I can't help being emotional," the mother told the private NTV network.