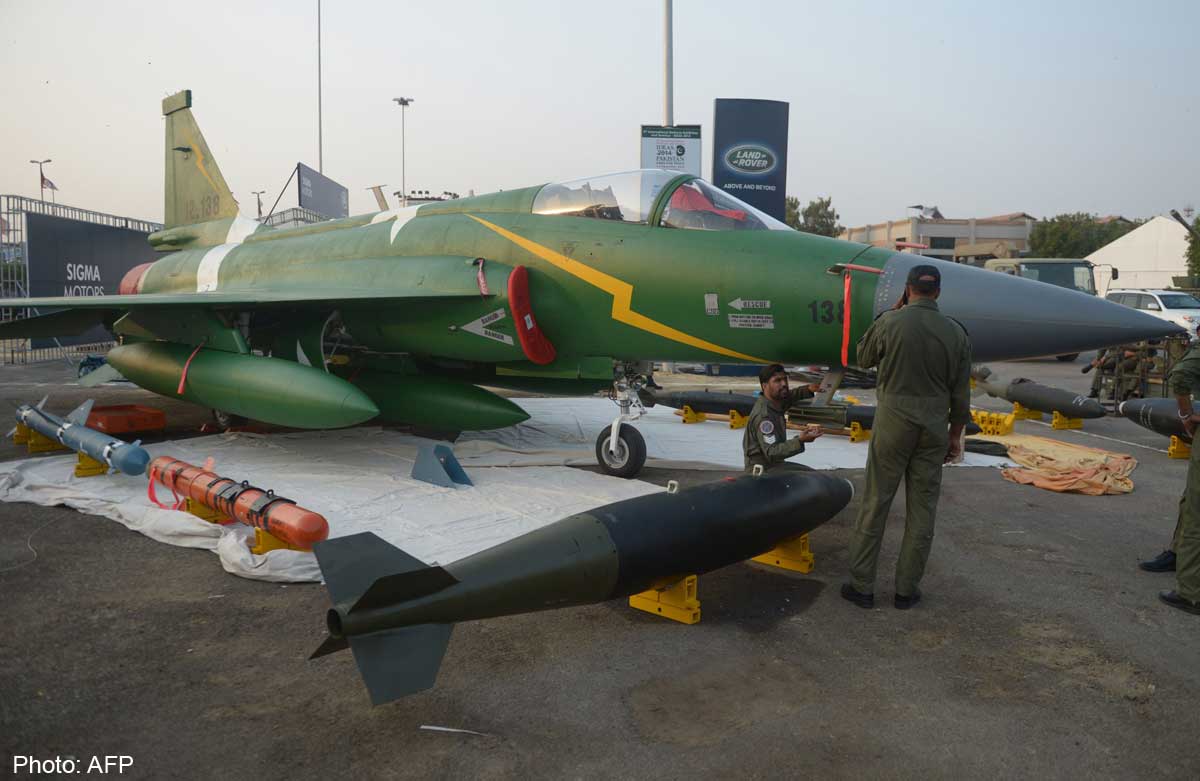 China could export a modern fighter jet to developing countries to take a bigger share of the international military aircraft market and boost its aviation industry, experts have suggested.
"The FC-1 Fierce Dragon can meet the air defence tasks of most developing nations that can't afford more advanced, fifth-generation fighter jets," said Wang Ya'nan, deputy editor-in-chief of Aerospace Knowledge magazine.
"A lot of developing nations' air forces have neither menace from stealth aircraft nor requirements to launch long-distance airstrikes. For them, the FC-1 is a very sensible choice because it is reasonably priced and has a relatively strong capability," he told China Daily.
The FC-1 Fierce Dragon is a fourth-generation, lightweight multirole fighter jet developed by Aviation Industry Corp of China with assistance from Pakistan Aeronautical Complex, the leading aviation company in Pakistan. The aircraft is called the JF-17 Thunder in Pakistan.
Wang said the aircraft has huge potential to be improved and upgraded, as China has gained rich expertise and experience in the fields of composite materials, engines and avionics that can be adopted on the FC-1.
"Using cutting-edge composite materials to upgrade the aircraft will reduce the fuselage's weight, enabling designers to adopt a stealth airframe," Wang said. "In addition, AVIC can replace the plane's Russian-made RD-93 turbofan with China's latest engine."
Extensive upgrading has been effective in reattracting potential buyers. It also allows a manufacturer to diversify its product portfolio and present multiple variants of a plane to the market, according to Wang.
"China should also consider leasing the FC-1 to nations that are unable to afford the full price or are not familiar with Chinese weapons," he said.
Du Wenlong, a senior researcher at the People's Liberation Army's Academy of Military Science, said the FC-1 boasts a high price-performance ratio and can be ranked among the top lightweight fighter jets of its kind.
He said that in addition to aerial combat, it can perform airstrikes on ships or ground targets at a low operational cost, suggesting "it is the best choice for small and medium-sized countries."
The experts' comments come amid speculation in Western media that the aircraft will soon have new buyers. According to Air Commodore Khalid Mahmood from the Pakistan Air Force, who heads sales and marketing for the fighter jet, the joint sales team from China and Pakistan is "in advanced negotiations with a Middle Eastern country (over sales of the FC-1), but the political situation there has delayed the deal".
Mahmood was speaking to Bloomberg last month in Zhuhai, Guangdong province, at the 10th China International Aviation and Aerospace Exhibition.
According to a Burma Times report in June, Myanmar is looking to obtain a license to produce the FC-1 domestically.
Last year, managers of Argentine aerospace company Fabrica Argentina de Aviones told reporters at the 50th International Paris Air Show that they had had multiple discussions with Chinese officials over potential coproduction of the FC-1 combat aircraft.
Fabrica Argentina de Aviones is the South American country's main aircraft manufacturer.
According to Defence Industry Daily, an online trade publication, Argentina is interested in the plane because it can carry C-802 subsonic and CM-400AKG supersonic anti-ship missiles,
A report in World Tribune, an online newspaper based in the United States, said Saudi Arabian officials have begun to review the FC-1 project and are considering becoming a partner in it.
Other prospective operators are reported to include Algeria, Malaysia, Nigeria and Sudan.
While courting potential clients, AVIC has also started to develop the two-seat version of the FC-1 and plans to introduce it to the international market in three to four years, according to Ma Zhi-ping, general manager of China National Aero-Technology Import and Export Corp.
"Many potential buyers have told us they hope we can produce a two-seater variant of the FC-1, and we are in the middle of purchasing negotiations with several countries," Ma said.
Yang Wei, chief designer of the FC-1 at AVIC, told China Daily earlier his team will gradually upgrade the aircraft to give it partial stealth capability and aerial refueling equipment.
However, Wang from Aerospace Knowledge said that having advanced capability is far from sufficient to secure a contract.
"The export of military aircraft, especially fighter jets, is often influenced by a host of geopolitical factors," he explained.