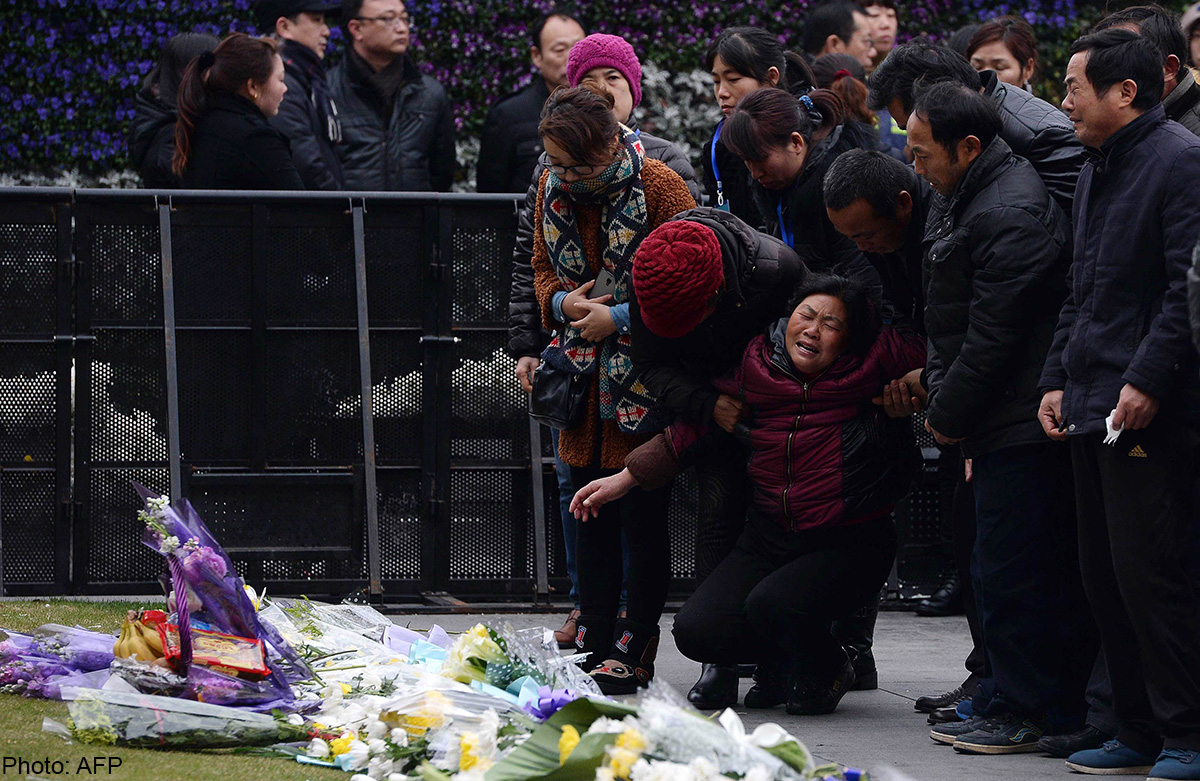 SHANGHAI - Relatives of the 36 people killed in a New Year's Eve crush in Shanghai criticised official compensation plans on Thursday, as a newspaper called for greater accountability by the Chinese city's government.
Authorities in Huangpu district, which includes the historic waterfront Bund area where the accident took place, said late Wednesday that each family would receive 800,000 yuan (S$171,740).
"Do you think a life is worth that much?" one relative told AFP. "I am not in it for the money. I demand an accounting (from the government)."
The compensation announcement came on the same day the city government said it would punish 11 district and police officials, removing four from their posts, over the accident, which was caused by massive overcrowding and inadequate safety measures.
The English-language China Daily newspaper on Thursday urged Shanghai mayor Yang Xiong to make a public apology.
"No municipal-level officials have been punished so far as the investigators concluded that only 'those directly responsible' for the disaster should be held accountable," the government-published newspaper said in an editorial.
"There is more than enough reason for the mayor to give a public apology on behalf of the municipal government," it said.
Huangpu district authorities did not reveal how the compensation was calculated, saying only that the level was based on the law.
The relative of another victim said the amount was too low.
"This level of compensation is not even close to enough. With the cost of living so high in Shanghai, what can this little bit of money do?"
In comparison, families of the victims of a 2011 train crash near the Chinese city of Wenzhou received 915,000 yuan, according to state media, based on 20 years' average salary in Zhejiang province, where the accident occurred.
The high-speed rail accident, which killed 40 people, was blamed on design flaws and poor management.
The official investigation report for the stampede laid the blame on Huangpu district authorities and said they only planned to post 350 police on the Bund and a nearby road.
Police numbers rose to 510 minutes before the crash occurred, the report said, but with the crowd reaching at least 310,000 that evening, that was equivalent to fewer than one officer for every 600 people.