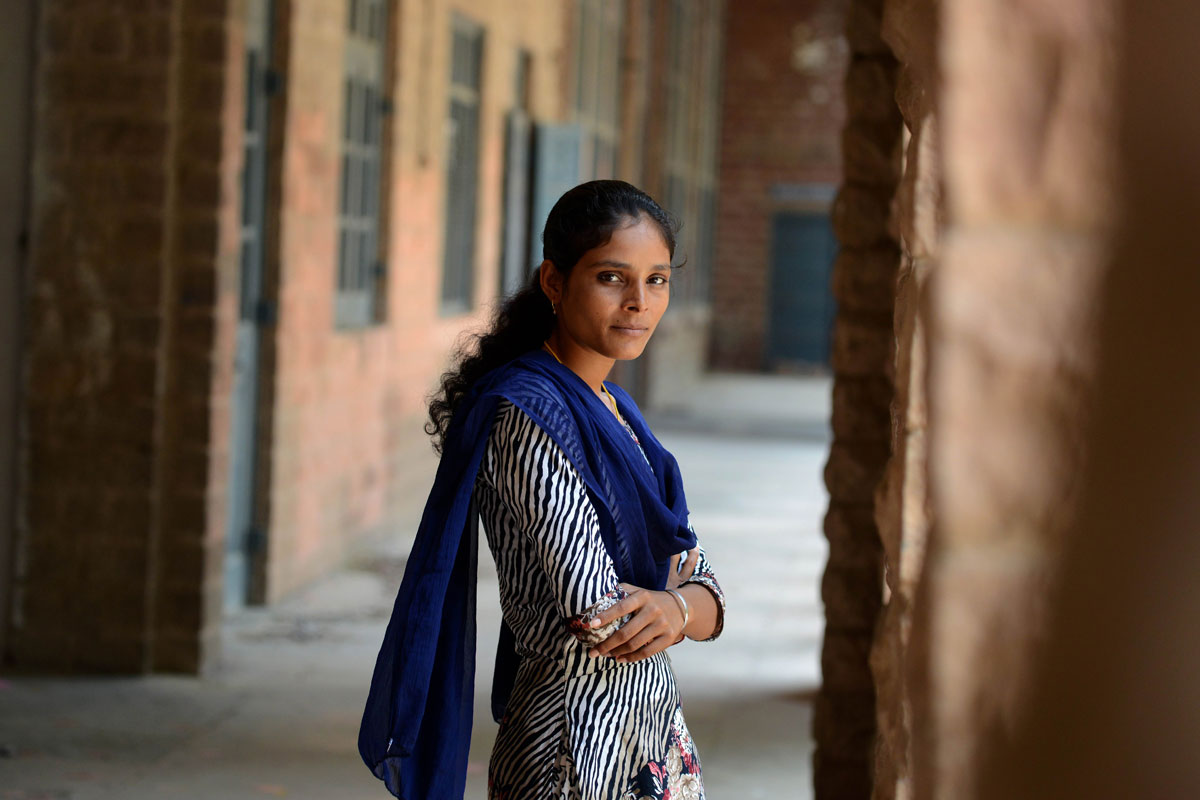 UNIVERSITY student Santadevi Meghwal has been threatened, harassed, ostracised and even fined by a council of male elders in her village in India.
But the 20-year-old is determined to push ahead with annulling her child marriage, and join a small but growing number of youngsters in northern India in rejecting the ancient tradition.
Ms Meghwal was only 11 months old when her elders married her to a nine-year-old boy from a neighbouring village in the desert state of Rajasthan, where rates of child marriages have long been high.
Ms Meghwal recalls seeing her husband for the first time at 16, when a friend, whose family had attended her "wedding" when she was a toddler, pointed out a drunk man hurling abuse outside their school.
"My friend turned to me and said, 'look, that's your husband'," she said, describing how her heart sank as she raced home to confront her parents.
"I asked them why they had married me off like that? I was so innocent and I didn't even realise what had happened, I mean, how old was I?" she said, sitting on a bench in Jodhpur University, where she is finishing her final year of arts.
Although illegal, many in India are married as children in a deep-rooted tradition in mostly poor and rural areas. Nearly 50 per cent of women, aged 20 to 24, say they were married before the legal age of 18, government figures show.
The custom is particularly strong in Rajasthan, where politically powerful village councils comprising men of the same caste have an iron grip over social and moral life.
But a small number of youngsters there are fighting back, seeking annulments to marriages they never agreed to, with the help of a local NGO and government crackdowns.
Ms Meghwal was supposed to move in with her husband when she turned 17. Instead she has been fighting a three-year battle against her council, and turned away her in-laws when they came to take her.
Her defiance had terrible consequences, with the enraged council barring her and her family from taking part in village life in Jodphur district. It also slapped her father with a Rs16 lakh fine which, as a mason, he could not afford to pay.
In May, Ms Meghwal turned to Sarathi Trust which says it is the only charity working to annul child marriages after winning its first case three years ago.
Trust head Kriti Bharti recalled stumbling on the little-known provision in India's anti-child marriage legislation that permitted annulments.
"Child marriage was like a huge, dark room. And in it, we found a ray of hope in a small law," said Ms Bharti, sitting behind her desk in a room decorated with awards and certificates for her work.
Ms Bharti, whose charity has helped annul 27 marriages in Rajasthan, said annulments were favoured over divorce, as they were generally quicker and required less paperwork.
Ms Meghwal is hopeful of eventually winning an annulment despite the fact her husband, with whom she has never lived, staunchly opposes one and has threatened to abduct her.
Every year, on the holy day of Akshaya Tritiya, the authorities crack down on underage marriages. The festival, usually in April or May, is an auspicious time across India for weddings, including those between children.
The police in Rajasthan, together with social workers, often conduct raids on villages to break up ceremonies and pressure priests, wedding-card printers, caterers and tent operators to say no to families wanting to hire them.
Such campaigns, along with government cash incentives for families who defer marrying their daughters until they are older, have helped lower the overall numbers.
But Mr Joachim Theis, UNICEF's chief of child protection in India, warned that the challenge was still huge and needed a national approach given the enormous population.

Get a copy of tabla! for more stories.