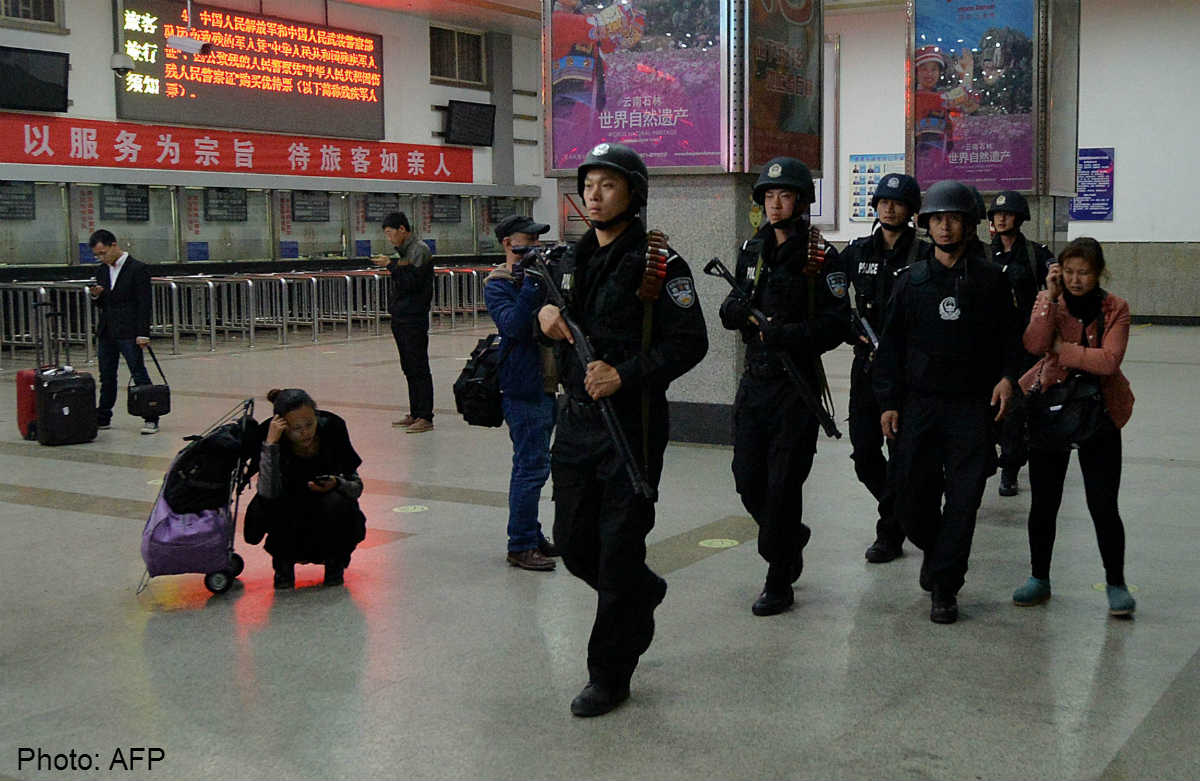 CHINA - Travel agency owner Chen Yugui, 50, was chatting with friends outside the Kunming Railway Building on Saturday night when he heard a loud commotion from the train station located in an adjacent building.
Soon after, he saw people fleeing from the station and heard them shouting that many commuters at a temporary waiting area had been attacked by a group of about 10 knife-wielding attackers.
And as five suspected assailants tried to flee the scene, Mr Chen said he and another male passer-by grabbed wooden sticks and joined two police officers in giving chase.
He said three of the suspects were men. The other two were mask-clad women, judging from their body shapes.
"At one point, the police officers caught up and struggled with some of the attackers. One officer had one of his fingers chopped off," recounted Mr Chen.
He said the five suspects got stuck at a traffic junction and were surrounded by policemen, who fired at their feet and ordered them to surrender.
"But they refused and threatened in a foreign language to kill more people. In the end, four of them were killed and one female attacker was shot in the shoulder," Mr Chen told The Straits Times, pointing to bloodstains still visible on the road and a blood spot on his brown-coloured shoes.
"I didn't even think of my own safety at that point because I was just so angry that they could attack innocent people, including children and the elderly."
Migrant workers and residents like Mr Chen seethed with a mixture of anger, shock and grief when approached on Sunday, barely 24 hours after the unprecedented attack left 29 people dead and at least 140 people injured.
The Chinese government labelled the incident a "terror attack", and identified the assailants as Muslim Uighurs from the restive Xinjiang region.
It was unclear whether police had managed to arrest the other five assailants, or whether they had accomplices.
According to the official Xinhua news agency, the group targeted commuters who were waiting for their train rides or had just arrived at the station on Saturday night.
Recounting her narrow escape, farmer Zhang Fenhua, 51, said she was coming out of a toilet when she stumbled upon an injured man clutching his bloodied left ear.
"The man said he was attacked by someone and others were being slashed too. I quickly ran for my life away from the station," she told The Straits Times.
Many were not as lucky. The high death toll was poignantly illustrated by a powerful photograph from the scene showing more than 30 pieces of luggage lying unclaimed on the floor of the station's temporary waiting area.
In the aftermath of the attack, the authorities took no chances with security in Kunming, and blanketed the railway station and the nearby areas with a heavy police presence. Many of the officers were seen carrying assault rifles during their patrols.
On Internet forums and in interviews in Kunming, many Chinese are calling for a tough response from the Chinese government.
"How could the terrorists target the innocent just to achieve their aims? Many of the victims were poor migrant workers struggling to make a living. The government has to take tough action against them," said Mr Li Zheng, 40.
Other residents tried to rally behind the victims and their shell-shocked city. Many laid flowers, wreaths and condolence cards at the feet of a gold-coloured ox statue located just outside the station's main entrance.
A group of 10 martial arts students bowed together in front of the ox statue as they let out a rousing "Kunming jiayou!", which means to keep going.
Still, Kunming taxi driver Li Jing, 42, said he was concerned about how this incident would shape and change the city, which has not seen any form of public violence, let alone an attack on such a scale. But life has to go on, and residents cannot let fear take over, he said.
"If that happens, then the terrorists have won," he told The Straits Times.
kianbeng@sph.com.sg
Get a copy of The Straits Times or go to straitstimes.com for more stories.