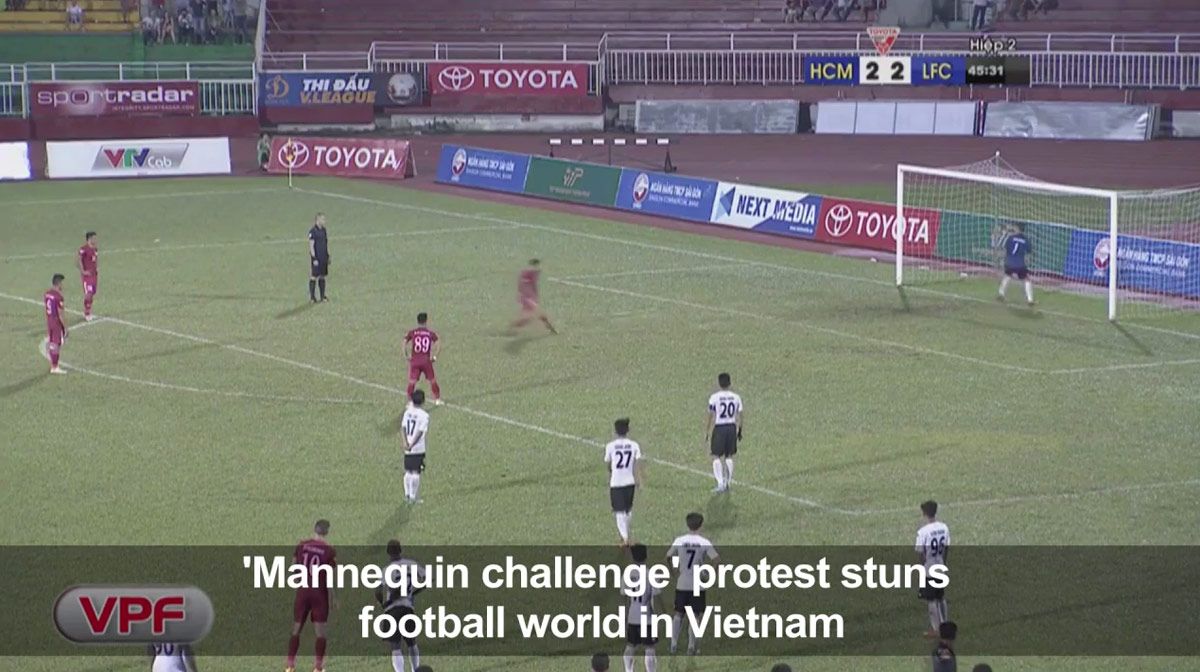 A Vietnamese goalkeeper has been banned for two years for leading an extraordinary mannequin-style protest when his team stood still and let in three late goals to complain about a disputed penalty.
Long An goalkeeper Nguyen Minh Nhut and Huynh Quang Thanh both received two-year playing bans, while the team's coach and chairman were barred for three years, the Vietnam Football Federation said on its website.
In footage which has gone viral, Nguyen turned his back to let in the penalty, which was given in the dying moments with the scores at 2-2, and then somersaulted over the ball to concede again from the restart.
With Long An's players standing still and refusing to tackle their opponents, in a football version of the online "Mannequin Challenge" craze, Ho Chi Minh walked in another late goal to win the match 5-2.
Fines totalling 160 million dong (S$ 9,950) were handed out over the protest, which the federation slammed as "disrespectful" to the referee and damaging to the "prestige and honour of the Vietnam Football Federation".
The V-league is Vietnam's leading professional competition but has endured a series of alleged corruption and match-fixing scandals over the years.
Footballers and fans are also notorious for their extreme reactions to disputed refereeing decisions.
Sunday's protest came after a penalty was awarded against Long An for a soft-looking foul on an opposition striker with the game poised at 2-2 and minutes to play.
It was the third disputed refereeing decision of the game which led to goals for Ho Chi Minh City.