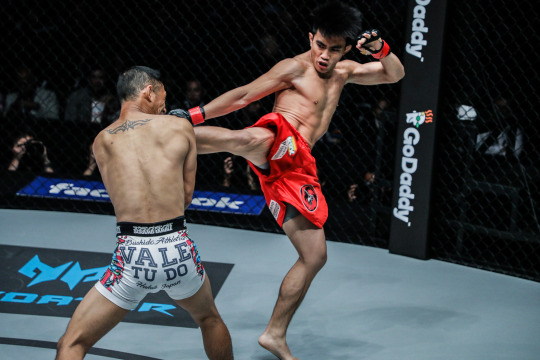 It was another thrilling preliminary card at ONE: LEGENDS OF THE WORLD on Friday, 10 November, as both newcomers and recognized names took to the cage in Manila, Philippines, in front of a passionate crowd at the Mall Of Asia Arena.
With all to battle for, the athletes in the opening four contests were determined not to be forgotten, and provided the world with some memorable moments. Every bout ended via stoppage, and it left the crowd suitably excited for an epic main card.
Gina Iniong Scores Second-Round TKO
It was wushu versus wushu, as Gina "Conviction" Iniong met Priscilla "Thathie" Lumbangaol in the final preliminary bout in Manila.
However, instead of standing in front of her Indonesian opponent and going shot for shot, the Philippines' Iniong decided to employ a different tactic, using her clinch game to outwork Lumbangaol on the fence.
For the majority of the first round, she pressured "Thathie" to the fence and chipped away with knees, even managing to secure a trip takedown in the early running.
Although Gaol started the second round with a perfectly-timed right hand on the advancing Team Lakay warrior, it just seemed to spur Iniong on, as she secured another takedown and upped the pressure.
Trapping the Siam Tigershark product's arm in a crucifix position from side control, "Conviction" pounded away until the referee stepped in, as Gaol had no escape and was taking too many punches.
Iniong went through the gears, scoring a definitive finish at 2:12 of the second round. She moves her record to 6-2. 
Joshua Pacio Spins To Knockout Win Over Roy Doliguez
The all-Philippines strawweight battle was very much a ground contest in the first round, despite both men being well-versed in the striking arts.
Joshua "The Passion" Pacio initiated the takedown after some hard kicks, and from there, he and Roy "The Dominator" Doliguez jockeyed for position in a back-and-forth grappling battle. 
Pacio had the better share of dominant positions, but Doliguez would not just go quietly, bridging and sweeping from the bottom several times. The former pro boxer would get a yellow card for fingers in the eyes as he escaped a guillotine choke, but Team Lakay's Pacio returned with more pressure from the top when the fight resumed.
Pacio came out kicking once again in round two, as "The Dominator" tried to reply with his hands. Spinning kicks flashed by Doliguez's head several times, but then as "The Passion" stepped in with a low kick, he continued his momentum and landed a powerful spinning back fist straight to the jaw. The powerful blow sent Doliguez crashing face first to the mat, and Referee Olivier Coste dived in right away to stop the contest at 0:38 of round two.
The young Filipino returns to his winning ways with a huge knockout victory, advancing his record to 10-2 and once again showing that he is one of the strawweight division's best talents. 
Xie Chao TKOs Kelvin Ong In First Round
China's Xie Chao was described as a grappling-focused athlete in the introductions, but it was his pinpoint striking which led to a finish early in the first round.
Malaysian kickboxer Kelvin "Ice Man" Ong threw with aggression in the opening stages, but in doing so, he left himself open for a huge knee that sent him stumbling to the mat.
Xie, clearly a well-versed competitor, followed his opponent to the floor and chipped away with punches and knees from side control. A cut above Ong's right eye, courtesy of the earlier knee, opened up even more with some ground strikes, which caused referee Kemp Cheng to call in the doctors to take a look. 
They ruled "Ice Man" unable to continue, awarding Xie a TKO victory after 1:48 of action. The Chinese athlete, who gets his second promotional win in two months, pushes his record to 4-1. 
Phat Soda Sent Crashing To The Mat Peng Xue Wen
It was billed as a striker versus wrestler matchup, as Cambodian Kun Khmer specialist Phat Soda met Chinese Greco-Roman Wrestling Champion Peng Xue Wen. From the opening bell, it was clear that Peng had a firm plan and intended to stick to it.
He shot in for a takedown straight away, and managed some success from side control and mount. Soda, to his credit, managed to sweep and get to the top position, but he was not able to keep his opponent pinned.
As Peng worked back to his feet, he used the scramble to get to his opponent's back and unleashed a massive belly-to-back suplex, which sent Soda crashing down into the canvas. The impact knocked the Cambodian out after just 2:17 of the first round, showing wrestling can finish bouts in emphatic fashion.
Impressive in his ONE Championship debut, the Chinese athlete's skill set will be a big threat in the bustling strawweight division.