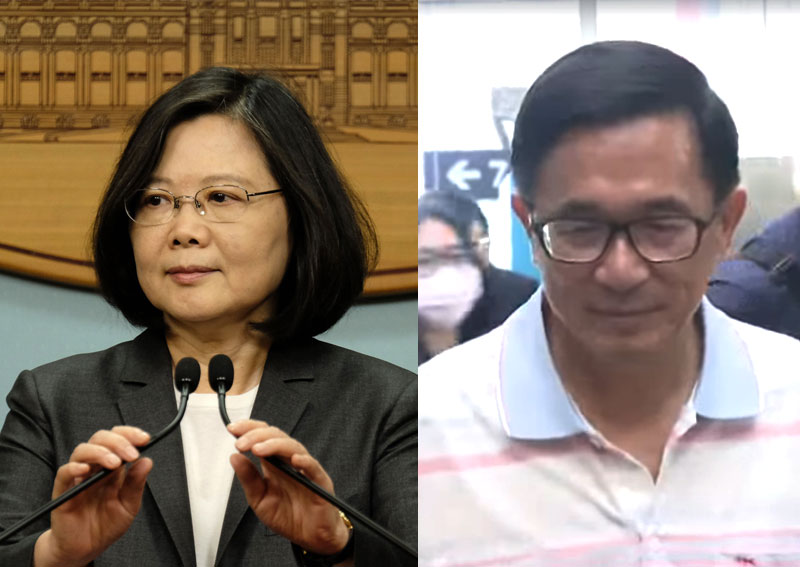 Former President Chen Shui-bian, on medical parole from a 20-year jail sentence for corruption, is challenging his ex-protege Tsai Ing-wen, who has refused to give him a presidential pardon.
Chen attended a fundraising dinner for his Ketagalan Foundation despite Taichung Prison warning him not to make any public appearance of a political nature.
A consummate defence lawyer, Chen, who groomed his "kohai" President Tsai, said in a canned speech released at the party in Taipei: "I want to ask if our government will fall just because it allows me to speak in public? Is it that serious?"
He then blasted Tsai for her poor treatment of the men and women of the armed forces, as well as public servants and teachers.
Tsai is planning to reduce the pensions for such workers even in the face of increasingly strong public opposition.
Chen made an end run to appear at the venue of the gathering from where he spoke in violation of the rules the Taichung Prison authorities had laid down for his attendance. They are now at a loss at what to do with their prisoner on parole.
By law, they must cancel his parole to get him back behind bars. However, they need the nod from Tsai, who is reluctant to say the least, to pardon him lest he become a wirepuller.
It's Chen who started a Taiwan independence campaign to plunge relations across the Taiwan Strait into a confrontation and compel Beijing to adopt an anti-secession law codifying an automatic invasion of Taiwan if independence is declared or a move toward independence is taken.
Chen tried to have a new constitution written, under which a republic of Taiwan would have come into being in 2008. Critics claim Tsai has inherited his anti-China policy.
As a result, the hot potato in the hand of the prison authorities is one now in President Tsai's hands.
On the other hand, Tsai dare not offend Chen's supporters, who still dominate the Democratic Progressive Party.
Her approval ratings have plummeted since her inauguration on May 20 last year and are likely to continue falling, while she also has to face her mid-term test toward the end of next year.
Without the support of Chen loyalists, the ruling party is more than certain to lose the nationwide mid-term elections for mayors, councils and magistrates.
Should she decide to keep her ex-mentor free on parole, she would offend swing voters, who are numerous enough to give the opposition Kuomintang a landslide win.
To keep him free or behind bars - that is the question. She has plunged into a no-win situation
Can Tsai get out of this desperate predicament? Hardly. At best, her only way out is a godsend of a prompt economic recovery.
If it ever occurred out of the blue within the next year, she would be forgiven for everything she has done wrong, would pass her mid-term test, and ensure her re-election in 2020.
It would be a one-in-a-million chance. Judging by the way Taiwan's relations with China -- on which it relies ever more heavily for economic growth - such a miracle is unlikely. Indeed, the economic situation looks set to go from bad to worse and then from worse to the worst.
What bad luck befalls Tsai as she finds herself challenged by her predecessor at this junction. She has turned Chen from a benefactor into a nemesis. And Chen will do anything to exact his revenge should he be denied a pardon.