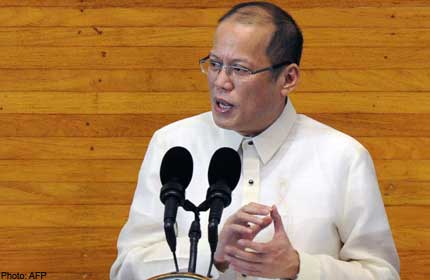 PHILIPPINE - It would seem that the administration of Philippine President Benigno (above) "NoyNoy" Aquino had done all the right things in the past three years. Economic growth in 2013 is expected to buck the slowing trend in South-east Asia. The International Monetary Fund has raised its economic growth expectations this year to 7 per cent.
First-quarter growth of 7.8 per cent exceeded China's pace, thanks to strong domestic consumption and government spending. Its stock market has been on a tear, chalking up gains of over 21 per cent on a 12-month basis.
The optimism is undoubtedly helped by Standard & Poor's recent upgrade of its debt to investment grade, a development that is expected to further boost investment flows and lower debt costs.
But Mr Aquino, who swept into power on promises to eradicate poverty and corruption, now faces what may be the biggest test yet of his presidency.
Just last week, the government's Commission on Audit (COA) released a damning report on the alleged misuse of "pork barrel" funds through an agency set up ostensibly for livelihood and assistance projects, the PDAF (Priority Development Assistance Fund).
"Pork barrel" refers to budget allocations to public projects. Based on the COA report of allocations between 2007 and 2009, over six billion pesos (S$174 million) in funds from 12 senators and 180 legislators were released to 82 dubious non-governmental organisations (NGOs). The NGOs were non-existent, of questionable background or failed to perform proper procedures.
Over a third of allocations were channelled through businesswoman Janet Lim-Napoles's network of companies, where beneficiary NGOs were bogus as were the projects they were supposed to fund.
She is currently in hiding. The list of lawmakers with dealings with Ms Napoles are a veritable who's who in Philippine government and society, raising suspicion that the COA findings so far are just the tip of the proverbial iceberg.
Earlier this week, Mr Aquino suspended the distribution of PDAF funds. While that is a step in the right direction, many voices, including that of the Catholic Church, are calling for much tougher action.
A march at the national park in Manila on Monday is expected to draw thousands, in what is set to be another display of people power. The scandal epitomises all that is wrong with Philippine politics - corruption, the dearth of good governance and ultimately the plundering of its people.
Mr Aquino is reportedly cautious about scrapping the practice of pork barrel funding altogether as it hurts legitimate NGOs. He treads a fine line.
While the practice of pork barrel is theoretically aimed at the noble goal of reducing poverty, the COA report shows that it is, in reality, a patronage scheme that has become horribly subverted, ironically deepening poverty instead.
Mr Aquino must take a tough stance, harking to his election platform to stamp out corruption. Failure to do so would hurt investor confidence and confirm the notion that the Philippines remains the "sick man" of Asia. It is something the country can ill afford.

Get The Business Times for more stories.