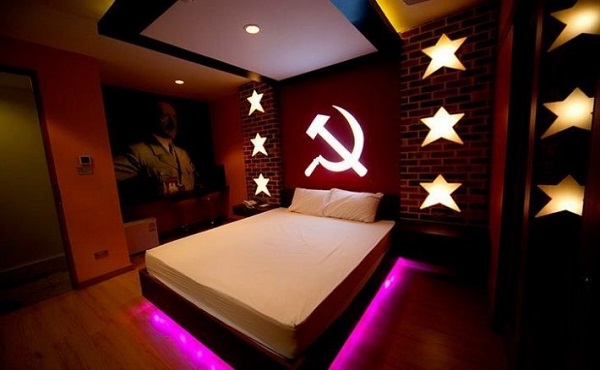 An international Jewish human rights organisation has urged Prime Minister Gen Prayut Chan-o-cha to take action against a hotel in Nonthaburi to change its Nazi-themed room immediately.
The Simon Wiesenthal Center on Thursday issued a press release calling on Prayut to sanction the Love Villa Hotel for creating a "Communist" room, complete with a large mural of Adolf Hitler.
The news of the room went viral this past week and sparked outrage from Jewish groups worldwide.
In a letter to Prayut, Rabbi Abraham Cooper, the Center's associate dean and director of Global Social Action, denounced the hotel's room as "a profound desecration of the memory of six million Jews murdered by Hitler's Nazi Third Reich and millions of other victims who perished at the hands of the Nazis...
"Simply put, there is no excuse in 2018, for such a "tourist" hotel room anywhere in the world to exist. That it exists in Thailand is a stain on your nation and its tourism industry," said Cooper.
Cooper has visited Thailand on a number of occasions, bringing the Wiesenthal Center's "Courage To Remember" Holocaust exhibit to Bangkok and to participate in UN-sponsored programs on International Holocaust Memorial Day.
He urged Prayut to directly intervene "to have this hotel sanctioned and its owner instructed to change the ugly and insulting room immediately".
The Simon Wiesenthal Center is one of the largest international Jewish human rights organisations in the world with over 400,000 member families in the United States.