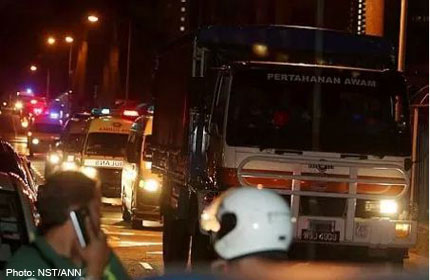 BANGKOK - Deputy Prime Minister Tan Sri Muhyiddin Yassin tonight ordered the immediate set up of a joint task force to probe into the Genting bus crash which killed 37 people.
Muhyiddin, who arrived in Bangkok for his two-day official visit in Thailand this evening, said he was shocked by the crash, the nation's worst to date, and offered his condolences to the victims' families and the survivors.
"I am extending my deepest condolence to the victims' families and my prayers are with them during this difficult time," he told Malaysia Pressmen here.
He said the task force comprised the Land Public Transport Commission (SPAD), the Road and Transport Department, the police and other relevant agencies.
"We need to establish the cause of the fatal crash, whether it was human error or mechanical failure."