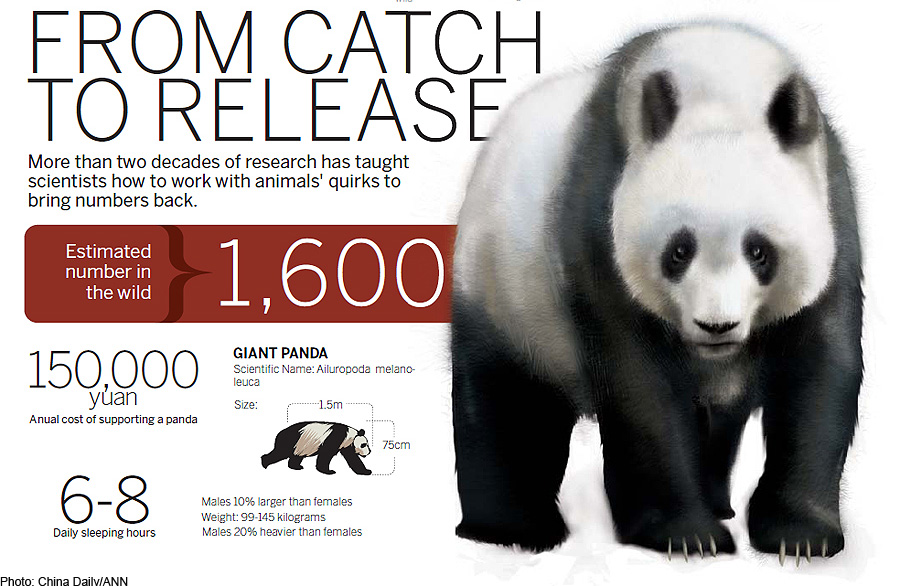 Wan Yongqing, a panda lover from Beijing, made a special trip to the China Conservation and Research Center for the Giant Panda in Ya'an, Sichuan, in early April to see the cuddly bears.
"Since my childhood, I have been told that pandas are an endangered species. I did not expect to see lots and lots of pandas," the sturdy middle-aged man said.
Wan owes his joy to the painstaking work of the centre's researchers over 15 years to solve the three main problems in breeding pandas in captivity - estrus, mating and nursing. Through those efforts, the centre was able to rescue the animals from the brink of extinction and build up the number of captive pandas in the centre from a mere 10 to 187.
"It used to be difficult for captive pandas to become ruttish and mate, and for their cubs to survive. From 1992 to 2006, our researchers solved all three difficulties," said the centre's chief, Zhang Hemin, who has studied the bears since 1983.
In 1980, an agreement between the World Wide Fund and the Chinese government led to the establishment of the centre in the Wolong National Natural Reserve in Wenchuan county, Sichuan. Completed in 1983, the centre - now the world's largest panda conservation and research organisation - is committed to the breeding and rearing of captive pandas as well as to disease control, scientific research, wild panda rescue, the reintroduction of captive pandas to the wild, international cooperation and public education.
At the beginning, researchers did not have a correct understanding of the habits of pandas. Thinking the animals preferred a solitary life, researchers kept each panda isolated in a tiny den and fed it only bamboo. "Pandas in that environment felt depressed and had difficulty in becoming ruttish," Zhang said.
In the course of studies initiated in 1992, researchers provided captive pandas with more opportunities to communicate socially with each other and to play. For example, male and female pandas were swapped into the dens of the opposite sex so that each would know the smell of the other.
"We also showed sexually mature pandas videos of their peers having sex, which they could learn in the wild but not in captivity," Zhang said.
In the wild, pandas eat bamboo. They seek out the best plants - the ones that receive adequate sunshine and which provide the best nutrition. The centre needed a way to encourage the daily hunt, as well to provide the required nutritional value.