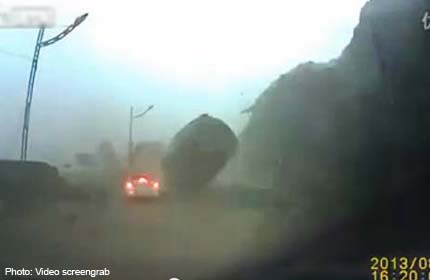 KEELUNG CITY, Taiwan - A giant rock rolled off a mountain in Taiwan out of nowhere, almost killing passengers in a car traveling on the road nearby.
According to an article in Stomp, the video was captured in Keelung Badouzi, Taiwan.
The rock, more than double the size of a car, was seen rolling down the mountain at high speed, narrowly missing a white Toyota as it halted.
Reports say the incident was a mudslide, which miraculously claimed no lives, but left two injured.

Visit STOMP for more stories.