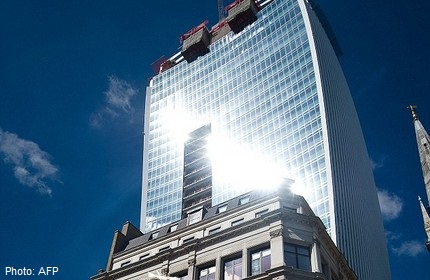 LONDON, England - A British property developer said Tuesday it was investigating after rays deflected by a skycraper melted the side of a businessman's luxury Jaguar car.
Londoners have been shielding their eyes from the blinding glare reflected from the glass facade of 20 Fenchurch Street - nicknamed the Walkie Talkie because of its flared shape - while several drivers have complained that the beam has melted parts of their vehicles.
Local businessman Martin Lindsay said he was distraught when he returned to his parked Jaguar XJ near the tower in London's financial district to find the car's panels had warped along one side, while the wing mirror and Jaguar emblem on the front of the car had melted.
"On the windscreen, there was a note from the construction company saying 'your car's buckled, could you give us a call?'" Lindsay told the BBC.
He "could not believe" the extent of the damage, he added.
Developers Land Securities and Canary Wharf Group have apologised and paid for the damage, while three car parking spaces near the tower have been taken out of use.
Eddie Cannon, a heating and air conditioning engineer, said the so-called "death ray" had melted parts of his van.
"The van looks a total mess - every bit of plastic on the left hand side and everything on the dashboard has melted, including a bottle of Lucozade that looks like it has been baked," he told the City A.M. newspaper.
The developers said in a statement: "We are taking the issue of light reflecting from 20 Fenchurch Street seriously, and are looking into the matter as a priority."
The companies are "evaluating longer-term solutions" while consulting with local businesses to address the issue in the meantime, they added.
Physicists have suggested that the concave shape of the "walkie-talkie" is responsible for the problem, focusing sunlight into a concentrated beam.
The Times newspaper said that temperatures near the tower exceeded 45 degrees Celsius (113 Fahrenheit) on Monday.
The developers said the phenomenon was caused by "the current elevation of the sun in the sky", and that as temperatures cool when autumn begins the problem should disappear.
"It currently lasts for approximately 2 hours per day, with initial modelling suggesting that it will be present for approximately 2-3 weeks," they said.
The 37-floor office block is due to be completed in March 2014.
The design has met with mixed reactions in London, with some complaining that its squat shape is a blot on the city skyline.