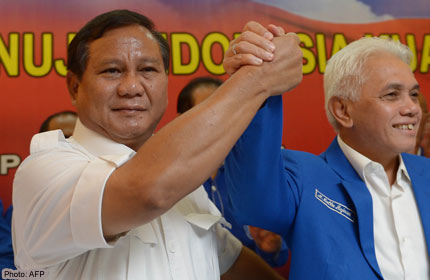 JAKARTA - Indonesia's presidential race unexpectedly tightened Monday when the country's second-biggest party shifted its support from frontrunner Joko Widodo and backed a former general competing against him.
The decision by the Golkar party, the former political vehicle of long-serving dictator Suharto, means that ex-general Prabowo Subianto now has a bigger coalition backing him than Widodo has.
Analysts said it was a shock move after Golkar -- which received almost 15 per cent of the vote at legislative elections in April -- previously signalled it would support Widodo's Indonesian Democratic Party of Struggle (PDI-P) at the July 9 presidential election.
But while observers said it would close the gap, they added it will still be hard for the general to catch up as he remains far behind the popular Widodo, who is known by his nickname Jokowi and won legions of followers during his time as Jakarta governor.
While Widodo is seen as a fresh face, Subianto in contrast has deep roots in the era of dictator Suharto and has been accused of committing human rights abuses.
"I am certain this match will change Indonesia for the better," said Golkar's chairman, tycoon Aburizal Bakrie, after his party's support for Prabowo's Gerindra party was announced.
Subianto "is a firm figure and will ensure stability of this nation", he added.
Subianto said that Bakrie would be considered for a key ministerial position related to the economy in exchange for the party's support.
Parties have been scrambling to form coalitions following April's legislative elections, which set the stage for the presidential polls.
Golkar's move means Gerindra's coalition is now made up of five parties and has almost 50 per cent of the popular vote.
Widodo's PDI-P, the biggest party, has formed a coalition of four parties and has around 40 per cent of the vote.
A party, or coalition, needs 25 per cent of the national vote to put a presidential candidate forward.
Tobias Basuki, an analyst from the Centre for Strategic and International Studies in Jakarta, said Golkar's move was "certainly closing the gap".
But he added that this would not necessarily hurt Widodo's chances too much, saying: "Indonesian politics is very personality-based."
The development came after Widodo's campaign received a boost earlier in the day when he announced his running mate would be Jusuf Kalla, a popular former vice president seen as a formidable political operator.
A wealthy businessman and chairman of the Indonesian Red Cross, Kalla was vice president during current President Susilo Bambang Yudhoyono's first term in office, from 2004 to 2009.
Kalla is also a Golkar member. Analysts say the party appears to want a foot in both the PDI-P and Gerindra camps to maintain influence whatever the outcome of the election.
Presidential candidates must officially register to contest the elections by Tuesday.