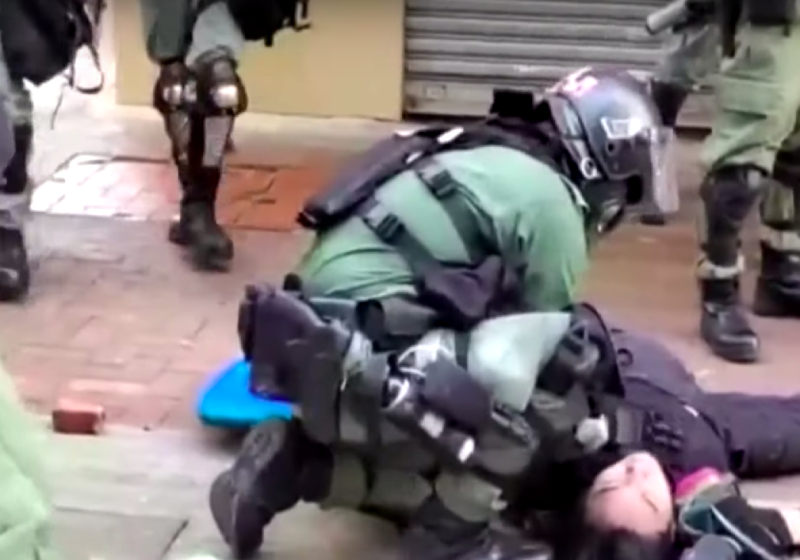 Peaceful and violent protesters alike vowed to be even more resolute in escalating their anti-government campaign in Hong Kong as they entered uncharted territory on Tuesday when a high-school student was hit by a live round fired by a policeman under attack.
The use of potentially lethal force came after a spate of police officers have drawn their service revolvers and either pointed them at their attackers or fired warning shots in the air over the past weeks of escalating clashes, threatening to take the chaos to a deadly new level.
Protesters called the shooting on Tuesday "a debt of blood" that would have to be paid, capping a day of all-out street violence across the city as they marked the 70th anniversary of Communist Party rule in China by attacking police, hurling petrol bombs, setting fires, vandalising government offices, trashing MTR stations and targeting businesses linked to the mainland.
"Don't grumble when protesters escalate their use of force. It is the police who resorted to using real bullets," said a frontline protester who gave his name only as Lam.
Another protester in his 20s, identifying himself by the surname Tsang, said it was time to ramp up the violence, noting that previous attempts had been stopped by peaceful peers.
"We are scared but there is no way out," he said.
Calling it a "day of grief", radical protesters rampaged across more than a dozen districts, forcing the closure of nearly half the city's 91 MTR stations, as well as shopping centres and businesses on an unprecedented scale.
The scale and intensity of the vandalism and violence was the worst in nearly four months of anti-government protests, according to police sources.
One of the first major confrontations of the day broke out in Tuen Mun, when about a dozen riot police were outnumbered by protesters who beat them with umbrellas and sticks as they tried to free two demonstrators being detained by the officers.
Under a barrage of projectiles hurled by a mob, officers and reporters at the scene were burned by corrosive fluid that was flung at them. Photos released by police showed their uniforms had been burned through.
Buildings and banks linked to the mainland were spray-painted with anti-Beijing slogans, while a Bank of China branch came under a petrol bomb attack in Tin Hau.
In Yau Ma Tei, two live rounds were fired in the air by two officers who were seen with blood pouring from head wounds as they pointed their service revolvers at a mob of protesters who had attacked them in their vehicle.
"Rioters have damaged government offices in various districts, smashing glass panes and facilities," police said in an official statement.
"Rioters even hurled numerous petrol bombs into train compartments in Tsuen Wan MTR station, and onto platforms in Tai Wai MTR station."
Police said protesters had also "beat up bystanders in different districts, taking the law into their own hands".
As of midnight, according to the government, 74 people, aged 11 to 75, had been injured during the day's mayhem.
Two were critically injured, two were in a serious condition, and 21 were stable. The condition of three was unknown while 46 were discharged. Of the injured, 61 are male and 13 female.
The showdown had been expected on National Day, with protesters going all out to embarrass Beijing in a planned escalation of social unrest first triggered in June by the now-withdrawn extradition bill.
"No National Day, only national grief!" they chanted, punctuated with sarcastic "Happy Birthday" greetings as they set fire to an altered national flag in Sheung Wan.
But they also made it clear there was no October 1 deadline to their campaign, and spoke of the need for new strategies and ideas to press ahead with it.
"It's the authorities who wish it's our end game," said a 23-year-old protester holding a wooden stick.
"Not a single region would have most shops closed during National Day, right? We will hammer the authorities from all sides."
This article was first published in South China Morning Post.