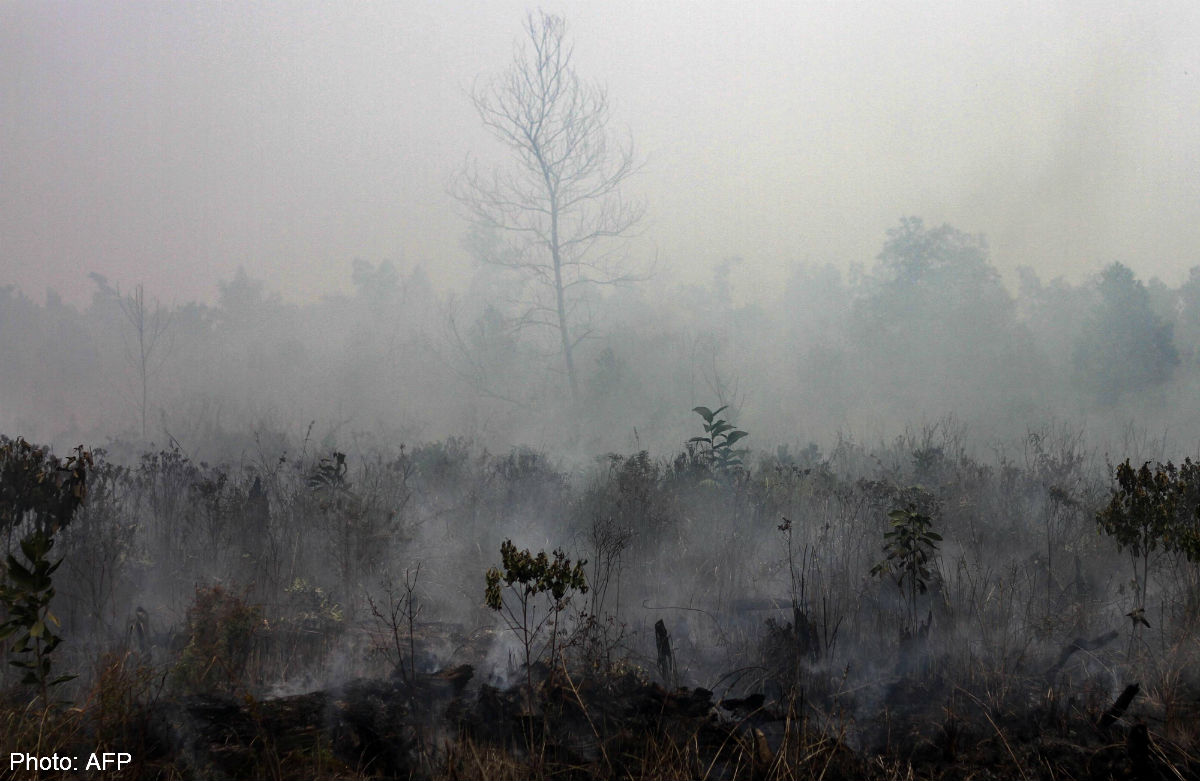 KUALA LUMPUR - Thick haze blanketing parts of Riau continued to ground helicopters and obstruct water bombing efforts, while Malaysia saw a return to hazy conditions on Sunday.
The Pollutant Standards Index (PSI) reading for Riau's capital Pekanbaru remained at very unhealthy levels, hitting 271 on Sunday afternoon, while the reading for Siak and some other locations crossed 500, a spokesman for Indonesia's National Disaster Management Agency said.
Dr Sutopo Purwo Nugroho told The Straits Times that officials hope to start seeding clouds to induce rain today using Casa 212 aircraft, if the haze thins and visibility is above 500m.
If the effort succeeds, it would be the first time in a month that residents experience rain amid an unusually long spell of dry weather affecting the region that has also seen a spike in forest fires over the past two weeks.
Across the Malacca Strait, air pollutant index readings on Sunday morning reached an unhealthy level of 121 for Port Klang and remained in this range all evening. Other areas in Selangor displayed moderate air pollution.
Singapore's National Environment Agency said prevailing north-easterly winds will keep the haze away from Singapore for the next few days. But there might be slight haze in the mornings, it added. The three-hour PSI reading as of 9pm on Sunday remained in the good range, at 30.
Mr Ardhitama of Indonesia's meteorology, climatology and geophysics agency station in Pekanbaru, said a change in wind direction in the upper atmosphere meant haze from Riau has reached Singapore at that level, but at an altitude of about 3,000m, it would not have much of an impact on the ground. However, changing wind conditions at the month's end could see the haze cross the Malacca Strait, he said.
A spokesman for Malaysia's Meteorology Services Department told The Straits Times the haze on the peninsula was from local conditions."If you look at the dry situation and the parched areas in central Malaysia, you can find quite a lot of local burning."
The spokesman said the weather over the next few days is expected to remain dry, with afternoon rain forecast in central Malaysia. A similar forecast is in place for Sumatra, where the haze has spread to Medan in North Sumatra and Padang in West Sumatra.
In Pekanbaru, the commander of Riau's haze task force said the extent of fires had reached close to 8,000ha. The meteorology agency said satellite data showed 98 hot spots in Sumatra on Sunday morning, all of them in Riau.
Today, Indonesian MPs are scheduled to meet their environment officials to discuss ratification of the ASEAN Agreement on Transboundary Haze Pollution.
Parliament's delay in ratifying the pact, which Indonesia signed in 2002 alongside all ASEAN members, became a sticking point during last year's haze, which saw pollutant levels reach record highs in Malaysia and Singapore.
zakirh@sph.com.sg
carolynh@sph.com.sg

Get a copy of The Straits Times or go to straitstimes.com for more stories.