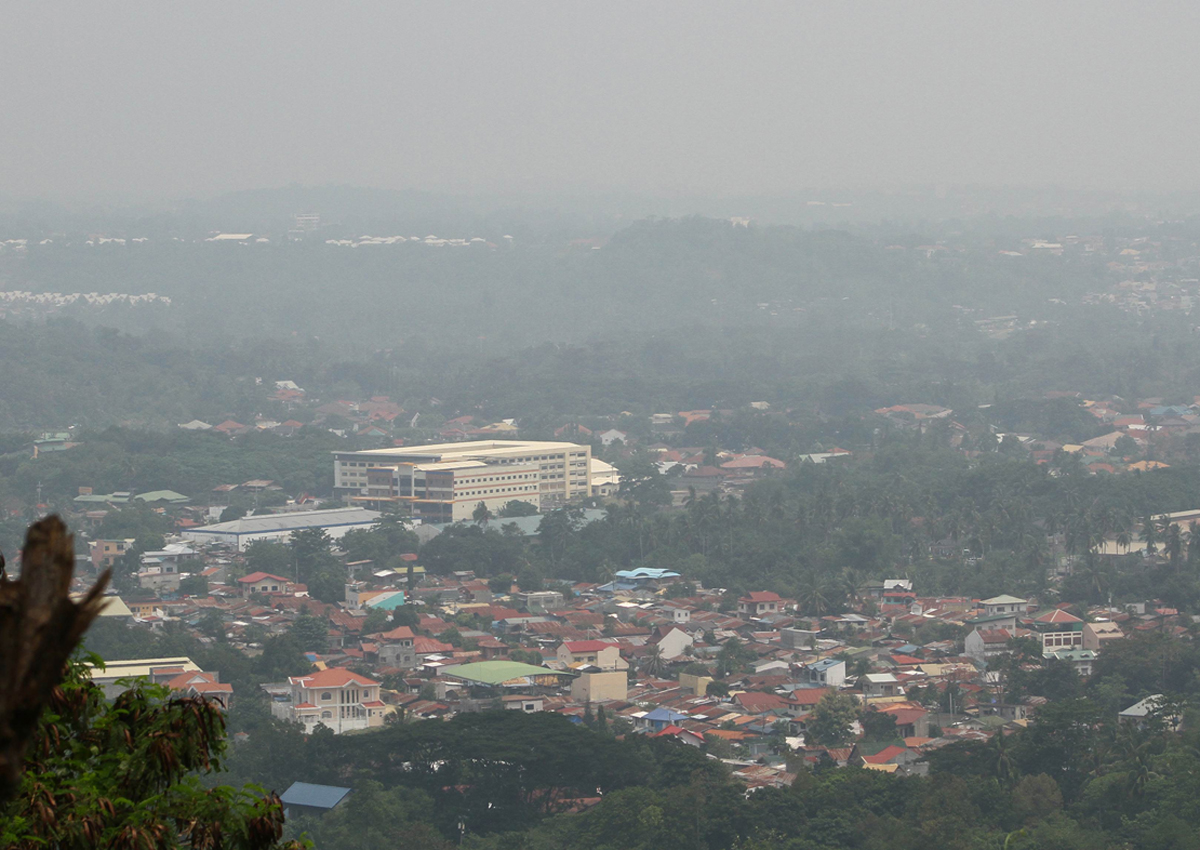 DAVAO CITY - Health authorities in Mindanao have cautioned people suffering from lung illnesses, or those with weak immune systems, from venturing outdoors as the haze, caused by the Indonesian forest fires that has blanketed many areas since Oct. 17, persists.
The warning was issued as environment officials from different regions reported that the air in areas covered by the haze, from General Santos City to Iligan City, remains contaminated with particulate matter.
While the presence of particulate matter in the air, or microscopic solids or liquid matter suspended in the earth's atmosphere, has briefly diminished to about 54 micrograms per cubic meter from last week's high of 95 micrograms per cubic meter in most areas, the quality of air in many Mindanao areas today-about 76 micrograms per cubic meter-still exceeds the government's standard of 75 micrograms per cubic meter.
Gloria Raut, senior health officer at the Department of Health in Southern Mindanao, told reporters here that people with respiratory illnesses should stay indoors.
If they need to be outdoors, they should wear masks, she said.
Raut said the haze could cause coughing, nose and throat irritation, and trigger asthma attacks.
She said the haze is known to contain hazardous chemicals and compounds, including sulfur dioxide, carbon monoxide and nitrogen dioxide.
But Raut said that so far, they have not received reports of people suffering from respiratory problems in connection with the haze.
Kadil Sinolinding, the health secretary for the Autonomous Region in Muslim Mindanao, said people in areas blanketed by the haze should increase their liquid intake.
"Drink cough preparations if cough is manifested (or over the counter) antihistamines for allergic reactions," he said.
Sinolinding also advised joggers to wear masks or avoid outdoor activities until the air clears.
The Philippine Atmospheric, Geophysical and Astronomical Services Administration (Pagasa) in Southern Mindanao is unsure until when the haze would last.
Gerry Pedrico, Pagasa regional chair, said the weather bureau hopes the coming of the northeast monsoon, which Pagasa can't say when, to ease the effect of the haze.
In Cagayan de Oro City, Sabdullah Abubacar, the chief of the Environmental Management Bureau for Northern Mindanao, said they were hoping the haze would not worsen.
Abubacar said particulate matter levels in the city has also risen to 95 micrograms per cubic meter on Oct. 18 and fell to 72 micrograms per cubic meter on Oct. 19. On Oct. 20, it went down to 55 micrograms per cubic meter but went up to 63 micrograms per cubic meter on Oct. 21.
The Department of Agriculture (DA) in Southern Mindanao said the haze might affect the growth of crops.
"Pollutants like dust, soot, ash, which can settle on plant leaves, may interfere with photosynthesis as they block sunlight," said Maria Febe Orbe, DA assistant director for Southern Mindanao, in an interview with a local paper.
Orbe was also quoted as saying agriculture officials were expecting the haze to also bring light rain as it contains droplets of water.
"This early, we are considering the possibility of a decrease in production levels," she was quoted as saying.