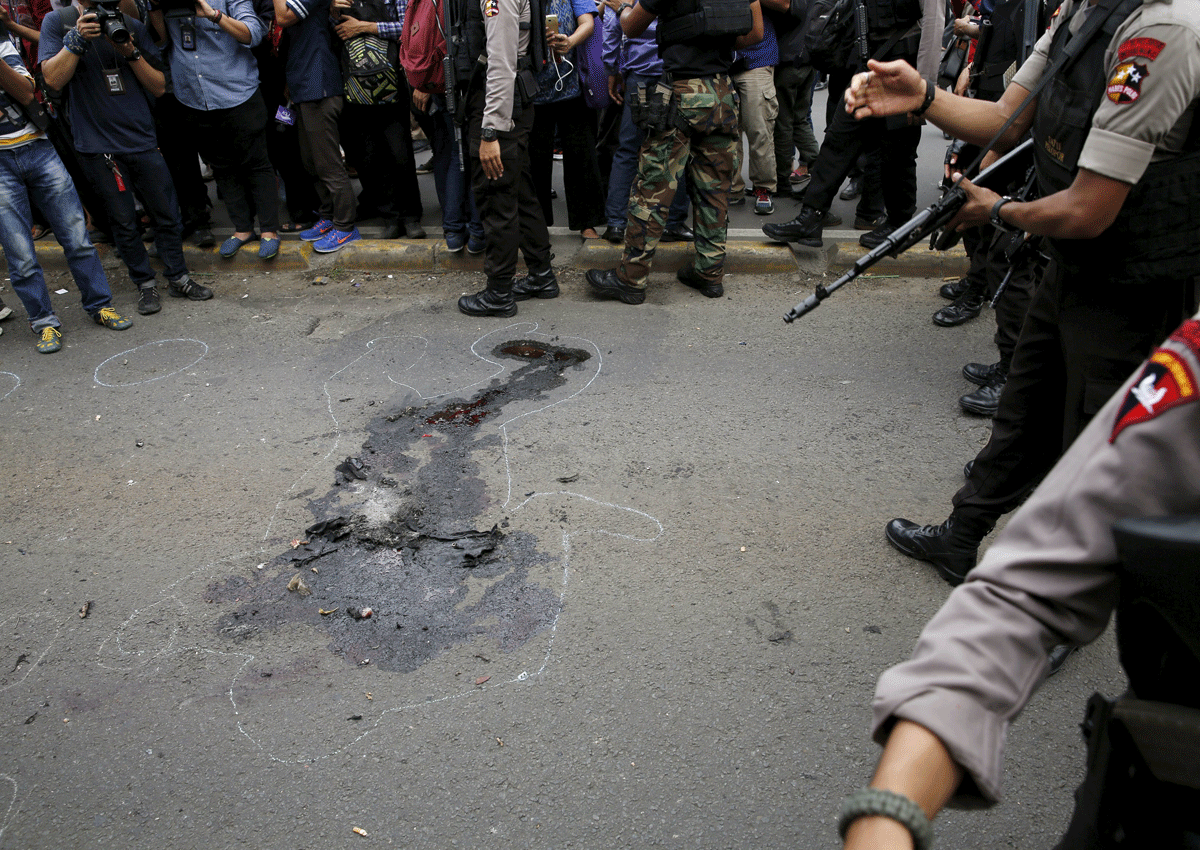 He was in a taxi nearing his hotel when pedestrians told him to turn back.
Singaporean Audi Khalid, 28, soon realised why: He was just 200m away from a series of bomb and gun attacks in the city centre of Jakarta, Indonesia.
At least seven people were killed in the blasts.
Mr Audi, a photographer, was in Indonesia for an assignment and had just touched down yesterday afternoon - hours after explosions and gunfire were heard near the well-known Sarinah shopping mall.
He was heading to Kosenda Hotel, which is a four-minute walk from the mall.
As it was his first time witnessing the aftermath of a terror attack, Mr Audi wanted to get to the rooftop of his hotel - a seven-storey building - to get a better picture of what was going on.
He was turned away.
"The hotel staff told me that there could be snipers so they were closing the rooftop," he explained.
Undeterred, he ventured out into the streets with his camera.
"I saw armoured tanks and news trucks. The situation now is calm and the crowd seems to be dispersing," he told The New Paper over the phone while standing behind a road block.
"I've been travelling in the region for the past two years and I thought that it was a matter of time before an attack like this happened.
"I was mentally prepared and have always kept others updated on my location on social media."
Another Singaporean, Mr Rahim Othman, 49, who works in the refrigeration industry, said he saw no signs of the bombings even though he was just a 10-minute drive away from the attacks.
'AWARE AND ALERT'
Still, the incident shocked him and other Indonesians.
"From previous explosion experiences, people here are more aware and alert," said Mr Rahim, who has been living in Indonesia for 13 years for work.
The last time Indonesia saw a major attack was in 2009, when JW Marriott and Ritz-Carlton Hotels were bombed separately, just five minutes apart. The two Singaporeans' accounts are a stark contrast from the chaos that hit Jakarta's city centre at about 10.30am (11.30am Singapore time), according to other witnesses.
Mr Tri Seranto, a bank security guard, told AP he was out on the street when he saw three men entering a Starbucks cafe.
They then blew themselves up one by one.
Two other armed attackers, he said, entered a police post, where he heard gunfire.
Expert: Sign that ISIS has expanded
While it is unclear who is responsible for the attacks in Jakarta yesterday morning, terrorism experts said the Islamic State in Iraq and Syria (ISIS) are the likely culprits behind the Jakarta bombings.
Assistant Professor Mohamed Nawab Mohamed Osman of the S. Rajaratnam School of International Studies (RSIS), who specialises in counter-radicalisation in the region, said: "There were reports that fighters trained by ISIS have returned to Indonesia and were planning to attack."
Dr Rohan Gunaratna agreed: "It is a sign that ISIS has expanded in South-east Asia and presents an imminent threat to Singapore."
EARLY STAGE
The head of the International Centre for Political Violence and Terrorism Research at RSIS added: "(The attacks) are now in the early stage, but over time, the militants will develop greater capabilities to attack (in Indonesia). This is only the beginning."
Yesterday's attacks come after a series of lesser-known terror incidents in Indonesia over the years.
Prof Mohamed added that although the number of casualties was low, yesterday's blasts were significant because of their location.
"The blasts happened near Sarinah shopping mall, an icon in the 1980s. It is a busy area with heavy traffic and tourists.
"It was a successful terror attack in terms of the attention it managed to garner."
With the bomb blasts hitting so close to home, Dr Rohan said it is a reminder for Singaporeans to continue to stay alert and vigilant.
Singaporeans who require consular assistance while in Jakarta can contact the Singapore Embassy in Jakarta or the 24-hour MFA Duty Office at:
Embassy of the Republic of Singapore in Jakarta Tel: +62-21 299 504 00
Duty officer mobile phone: +62-811 863 348
E-mail: singemb_jkt@mfa.sg
MFA Duty Office
Tel: +65 6379-8800 / 8855 (24-hour hotline)
E-mail: mfa_duty_officer@mfa.gov.sg

This article was first published on January 15, 2016.
Get The New Paper for more stories.
#ISIS launches another coordinated attack in a major city https://t.co/dufdVmLvCq - @IvanCNN reports from #Jakarta pic.twitter.com/ok1pYOo98m

— The Lead CNN (@TheLeadCNN) January 14, 2016