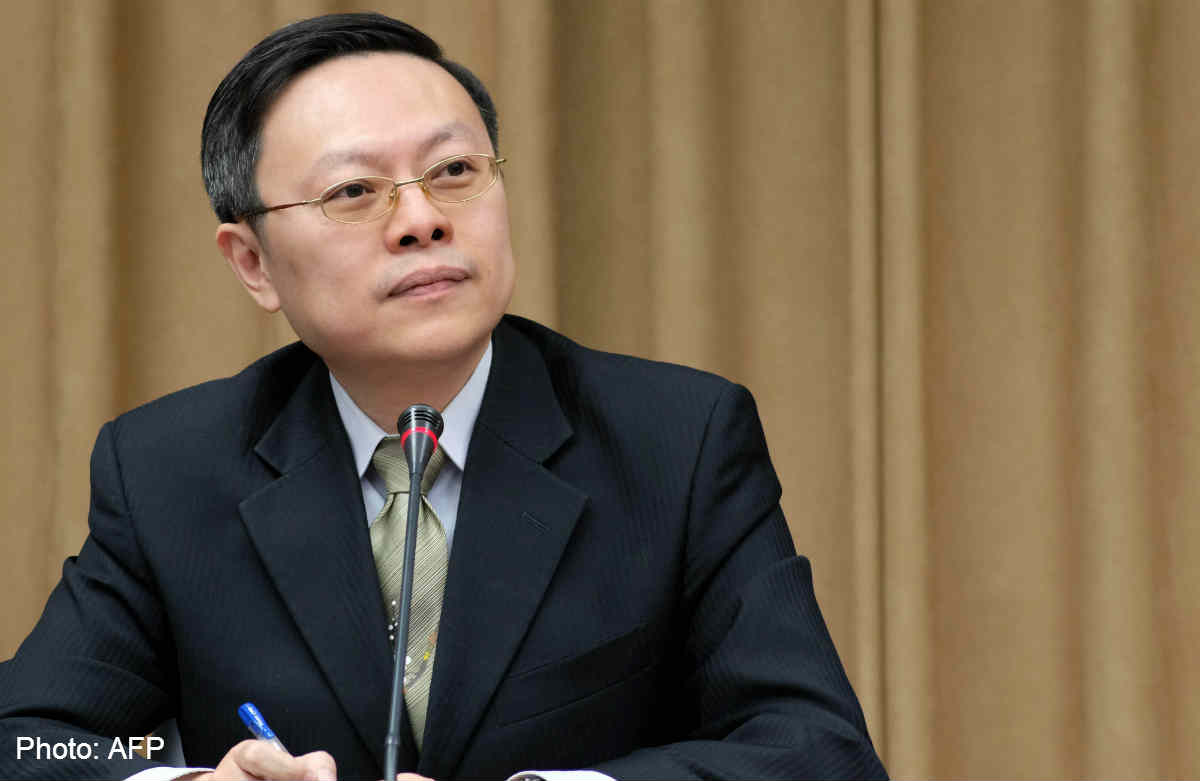 TAIWAN - In 1990, a skinny bespectacled third-year law student from Taiwan travelled to Singapore for the finals of the annual Asian varsities debate, hosted by the then-Singapore Broadcasting Corporation.
Mr Wang Yu-chi, as part of the team from National Taiwan University, argued persuasively against opponents from Nanjing University that "mankind co-existing in peace is an impossible ideal".
Instead of indulging in pie-in-the-sky dreams, he said: "We need to pursue survival, be realistic and have our feet planted firmly on the ground."
His team won.
Twenty-four years on, Mr Wang, now 45, led another delegation - this time as Taiwan's point man on cross-strait affairs, to Nanjing, where he met his mainland counterpart, Mr Zhang Zhijun, 61, on Tuesday.
It is not quite "peace", but it marks the first official contact between the two estranged governments on both sides of the strait since Chiang Kai Shek's Kuomintang (KMT) fled to Taiwan in 1949 following its defeat by Mao Zedong's Communists in a bitter civil war. Both sides maintain that they are the sole legitimate government of the Chinese state, within the context of the "One China" principle stating that Taiwan is part of China.
Mr Wang will be travelling through Nanjing - KMT's old seat of government before the civil war - and Shanghai, meeting Mr Zhang and his aides, mainland academics, students and the media.
As he does so, the diplomat will need his quick-thinking and pragmatic acumen about him.
The trip is a first step towards breaking the political limbo in a relationship that has seen mainland missiles lobbed into the waters of the Taiwan Strait. Beijing has not renounced the use of force should the island declare independence, or to bring about re-unification, even as economic and cultural links have increased since Taiwanese President Ma Ying-jeou came to power in 2008, seeking to invigorate Taiwan's faltering economy.
"The meeting has crucial implications for further institutionalisation of the ties between the two sides of the Strait," said Mr Wang at a press briefing on the trip two weeks ago. Both sides have hitherto maintained "white-gloved" contact through quasi-official organisations to avoid any official recognition of each other.
Tuesday's meeting will thus usher in a new era in cross-strait relations where "politics and the economy will walk side by side" instead of President Ma's formula of "economics first, politics later", wrote the Taiwan-based China Times newspaper.
Said analyst Raymond Wu, managing director of political risk consultancy e-telligence in Taipei: "It is an important step in terms of confidence building; there needs to be mutual trust before we can get moving on some of the more sensitive issues."
China, however, has been low key in its approach to the meeting, given the sensitivity of the cross-strait issue in Taiwan. "China's leadership doesn't want the media spotlight to raise expectations of the meeting or give the opposition in Taiwan fodder to thwart progress in cross-strait relations," said cross-strait expert Chu Jingtao of the Chinese Academy of Social Sciences.
Beijing has been keen on such a meeting, with an eye on the eventual goal of reunification.
Chinese President Xi Jinping, who took over the reins in 2012, is notably more impatient than his predecessors in wanting to see concrete steps taken to kick-start political dialogue. The divide "cannot be passed from generation to generation", he had told former Taiwanese vice-president Vincent Siew last October on the sidelines of the Apec summit in Bali.
But the majority of Taiwanese are in favour of the status quo, opposing either hasty reunification or hasty independence, as they reap the benefits of closer economic ties - the mainland today is Taiwan's largest export market, accounting for almost half of its exports.
And so, while Mr Ma, whose popularity has slumped to a low with just two years of his term to go, may want to build his legacy by starting the process towards a peace accord and to pacify pro-reunification supporters, he has to tread carefully.
Taipei wants specific things achieved: Its agenda includes the establishment of representative offices on both sides which will allow visits to Taiwanese prisoners on the mainland, discussing economic collaboration and earthquake-monitoring pacts.
And given how cross-strait equilibrium has long hinged on a careful negotiation of semantics and symbolism, what is important to Taipei is the issue of "dignity" - eyes will be on whether Beijing accords Mr Wang the title of "minister" in an acknowledgement of cross-strait parity.
Taipei also hopes to broker a Xi-Ma meeting at the Apec leaders' summit in November in Beijing. Mr Ma is eager for such a meeting, saying the summit presents the only feasible opportunity during his term. He and his predecessors have been barred from attending Apec summits due to objections from Beijing.
Whether this materialises will depend on how the meeting went, said analysts. At any rate, there is no such thing as a "free lunch" with Beijing, as Mr Parris Chang, an ex-legislator of the pro-independence Democratic Progressive Party, wrote in China Brief, a Washington-based journal.
With this in mind, Mr Wang may well remember his own call in Singapore 24 years ago to keep one's feet on the ground.
xueying@sph.com.sg
Additional reporting by Kor Kian Beng in Beijing
Milestones in cross-strait ties
Cross-strait ties warmed under the China-friendly Taiwanese President Ma Ying-jeou of the Kuomintang, who came to power in May 2008. Here is a look back at other historic breakthroughs in ties between the two sides.
June 2008: Semi-official talks restart in Beijing after a nine-year hiatus. Negotiators agree to regular direct flights across the Taiwan Strait, ending forced stopovers in a third place, usually Hong Kong. Direct charter flights were first introduced in 2005, but took place only four times a year during major holidays.
July 2008: Direct weekend charter flights launched as a result of the June agreement.
Up to 3,000 mainlanders a day are allowed to travel directly to Taiwan in tour groups.
December 2008: Direct air, shipping and postal links - stopped since 1949 - officially restored.
June 2010: Landmark trade pact Economic Cooperation Framework Agreement (Ecfa) signed.
The pact reduces Chinese tariffs and allows Taiwanese firms to enter banking and insurance markets in China, among other things.
June 2011: First wave of some 200 independent Chinese travellers touch down in Taiwan.
August 2012: Taipei and Beijing ink an agreement to protect vast Taiwanese investments on the mainland, as part of Ecfa.
September 2013: Taiwan attends International Civil Aeronautics Organisation (ICAO) meeting in Canada, in a sign of China's willingness to give the island more global space.
Taiwan has been excluded from activities of the ICAO, a United Nations agency, since losing its UN membership in October 1971.
January 2014: Beijing appoints a Taiwanese as deputy chief of an experimental "common homeland" on Pingtan island, which is physically China's closest spot to Taiwan.
But with Beijing setting the rules, its efforts at political integration may be rebuffed by the Taiwanese.

Get a copy of The Straits Times or go to straitstimes.com for more stories.