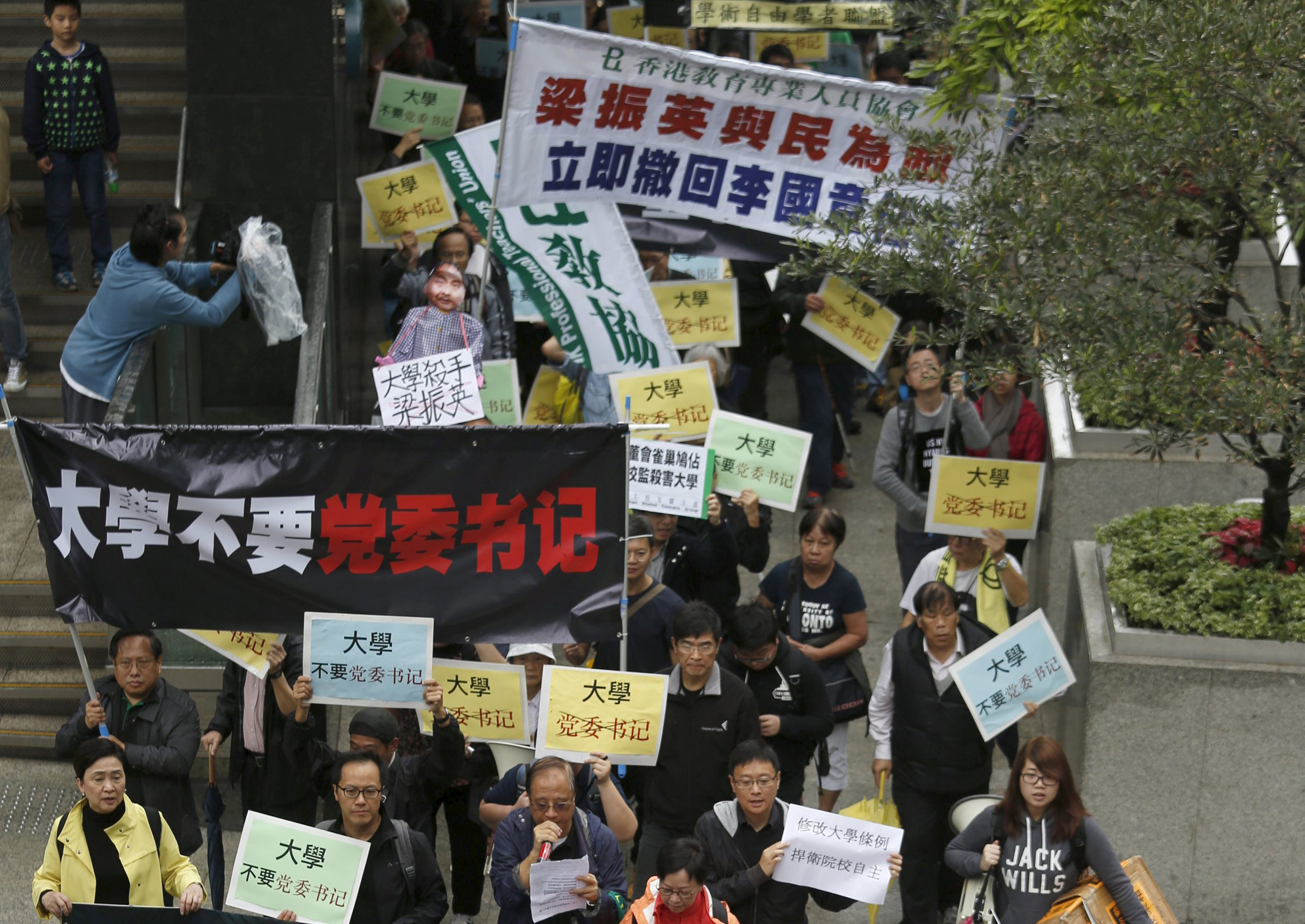 The big question in Hong Kong used to be: What will happen in 2047 when Beijing's promise of "50 years no change" after the 1997 handover expires?
But the time frame has shortened dramatically, with people now pondering what the city could look like in the coming decade, if not the next few years.
Just a month has passed, but 2016 has already witnessed events that deepened the city's existential angst. The disappearance of bookseller Lee Bo - widely believed to have been abducted by Chinese agents - raises unprecedented anxieties over the "one country, two systems" framework meant to underpin Hong Kong's relations with the mainland.
Meanwhile, the 105-year-old University of Hong Kong (HKU) has become the latest proxy battleground between the pro-Beijing establishment and pro-democracy students, with unseemly tussles and trading of insults between both sides.
Skilfully tapping into the disquiet, a band of film-makers put out Ten Years, an apocalyptic vision of a Hong Kong losing its identity under the grip of the Chinese Communist Party (CCP) come 2025.
It is not just creatives trying to do a spot of forecasting. Policy research organisations are conducting surveys to suss out sentiments about the future. People are making calculations as well, with local media reporting that many are weighing emigration prospects.
The Straits Times asks observers, particularly those from the establishment, about Hong Kong's prospects for the next decade. What emerges is a sense of gloom. Predictions include Hong Kong remaining as an important node in the region, but becoming less competitive as an economy and less popular as a place to live.
Mandarin could surpass Cantonese as the lingua franca as the city struggles between its cultural identity and its inexorable integration into the mainland Chinese economy.
The controversial national security legislation Article 23 would have been passed as mainstream public opinion turns against an increasingly "violent" pro-democracy movement led by the young.
Simply put, more and more, Hong Kong will look like mainland China rather than the other way round.
Before 1997, says Mr Bernard Chan, an executive councillor who advises Chief Executive Leung Chun Ying, people thought that perhaps by 2047, "China would become more like Hong Kong" .
"Today, I think, the chance of that is slimmer than the other way round," he says, citing how the very fabric of Hong Kong is being changed - and will continue to be changed - by China. Over 100,000 school-going children cross the border each day, 40 million Chinese tourists enter the territory a year and 70 per cent of stock market turnover is due to Chinese companies.
Faced with this tidal wave, there will be a greater sense of disconnect among Hong Kongers, who will feel that not just their way of life is under threat but also their economic prospects.
"I do feel sorry for our youth and even for myself - I question, can my business remain competitive?" says the businessman, whose family used to own Bangkok Bank and who now helms Asia Financial Holding.
The politically toxic situation has made things worse and led to governance paralysis, says Mr Edmund Leung, chief officer at Kowloon- Canton Railway Corporation.
"If allowed to continue, it will make us far less competitive than before, though it will not wipe us out."
But the biggest uncertainty in the mix is China's own development trajectory - namely, whether President Xi Jinping succeeds in pushing his reforms and how the CCP power struggle unfolds, says HKU political scientist Peter Cheung.
"This will set the tone for its policy towards Hong Kong in the future," he says, adding that the next decade "will witness even more twists and turns in Hong Kong's relations with Beijing".
Such forces clash with those within the city. Mr Chan worries about a "self-fulfilling prophecy", where Hong Kongers' agitation for greater autonomy will lead Beijing to further tighten its grip. "It could spiral out of control," he says.
This does not mean Hong Kong will see Youth Guards policing its society - a grim scenario offered in Ten Years.
"We're not going back to Cultural Revolution days - that is definitely exaggerated. But this doesn't mean we don't have a problem."
Hong Kong will reach a state more to Beijing's liking, believes sociologist Lau Siu Kai, who used to helm the government's central policy unit and now expounds Beijing's thinking as vice-chair of the semi-official National Association of Study on Hong Kong and Macau.
This includes the passage of Article 23, which Hong Kongers strongly opposed in 2003 and remains controversial today. In Ten Years, it was implemented after an assassination bid on politicians was engineered to justify the move.
This won't be necessary in real- life Hong Kong, says Professor Lau.
"It seems to me that in 10 years, there will be a backlash from the conservatives. People are intolerant of conflict and want general peace - except for a few."
He predicts that with the opposition "now dominated by the violent elements, especially the young people", Hong Kong will witness "the last leg of the anti-government movement".
But the outlook that Hong Kong will become "just another Chinese city" is not one set in stone. In the coming decade, much will depend on whether it can convince the mainland of the value of its special identity, says Dr Cheung.
"It is imperative for the city to continue practising its core values, retain its economic competitiveness, improve its institutional strengths, for example, the legal system. Neither the government nor its critics have shown much effective effort on this front so far.
"If the government cannot take the lead, Hong Kong society needs to work on a consensus on how to move forward."
xueying@sph.com.sg

This article was first published on February 04, 2016.
Get a copy of The Straits Times or go to straitstimes.com for more stories.