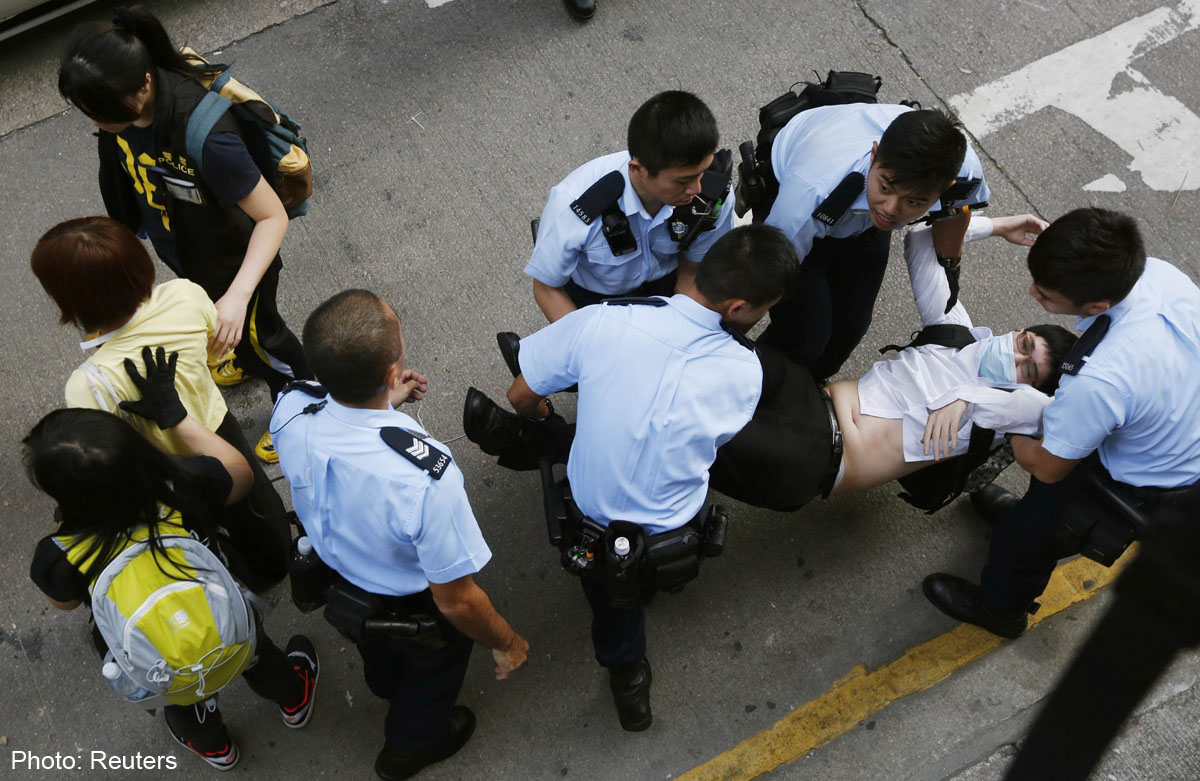 HONG KONG - Hundreds of Hong Kong police officers cleared a pro-democracy protest camp yesterday, arresting student leaders Joshua Wong and Lester Shum, and reopening a main road that had been blocked for almost two months.
Pushing back protesters, police with the help of workmen removed tents and other obstacles blocking the six-lane Nathan Road in Mongkok district.
It was seen as the most significant move so far in efforts to clear protest camps at three locations in the city, as public sympathy for the demonstrators wanes.
Scuffles broke out earlier in the day as police officers wearing helmets and brandishing batons, moved in to protect the workmen when crowds surged forward to try to stop them from tearing down road barricades.
The operation went ahead a day after more than 100 demonstrators were arrested as the authorities cleared a smaller section of the Mongkok protest camp.
Around two hours after the operation started, only a handful of protesters remained at the edge of the site.
The movement's Wong and Shum were arrested at the scene, according to a group called Scholarism and the Hong Kong Federation of Students.
It was not immediately clear why they were detained.
Tensions were running high yesterday after scuffles broke out on the previous day when the police used pepper spray on protesters at the site.
Mongkok was the scene of some of the most violent clashes since the sit-ins began in the city on Sept 28.
"If we lose here, we won't lose heart. We can go somewhere else (to occupy). It doesn't need to be here," Kelvin Ng, 21, told AFP.
Demonstrators are demanding fully-free elections for the leadership of the semi-autonomous southern Chinese city in 2017. But China has refused to budge on its arrangements for the poll.
The Hong Kong Federation of Students, which has led the protests, said it was considering the next step.
"The path of communication has run its course. If the government continues to resort to collusion with the police, unscrupulously going against the tide, then we can only take the next step of action," it said on its Facebook page without elaborating.