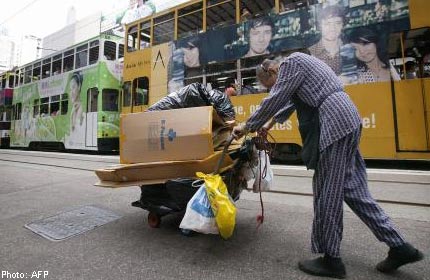 HONG KONG - Hong Kong has established its first official poverty line in a bid to formulate more effective policies to help the poor.
Under this line, which is set at half of the median household income, about one-fifth of those living in one of Asia's wealthiest - but also most unequal - cities are considered poor.
About 1.31 million in the population of 7.2 million fall into this category.
The specific income threshold differs, depending on the number of members in the household: Families with, say, four people, and earning less than HK$11,500 (S$1,860) will now be considered poor.
Speaking at a press conference yesterday, Chief Secretary Carrie Lam said that the poverty line will be a helpful analysis tool for the government in developing policies that are "more focused".
"It will (also) let us monitor the effectiveness of the programmes," she said.
But Mrs Lam also made it clear that the poverty line "is not a poverty prevention line" - not all who fall under it will be helped.
This is because the line does not take into account assets such as homes. And because the methodology measures "relative poverty", which is dependent on the median income, rather than "absolute poverty" - when one cannot afford essential goods regardless of how the rest of society fares - there will always be a pool of those deemed poor, even if their conditions improve.
Rather, the line will help the government zero in on those that need help the most.
Among them are the "working poor" families, especially those with many children, said Mrs Lam.
This is essential to restart social mobility and prevent kids from poor families being caught in a poverty cycle.
These families work long hours, she noted. "But due to the large number of dependants, the statutory minimum wage is no guarantee of meeting their household needs."
To help them, the government will focus on "employment support that will not lower their incentive to work". This is likely to take the form of low-income subsidies, which could be similar to Singapore's Workfare programme.
Mrs Lam also noted that while there is ad hoc help for poor students with textbooks, lunch and curricular activities, the challenge is to turn these into "regular policies".
Another group singled out for notice are those with special needs - the ethnic minorities, new immigrants and single mothers.
The poverty line could also be useful ammunition for Chief Executive Leung Chun Ying, who has made poverty alleviation one of his top priorities since taking office in July last year.
Businesses, for instance, baulk at having the minimum wage raised further, even though labour groups argue that the current rate is not enough for subsistence living given brisk inflation, stratospheric housing prices and an ever-widening income gap. Hong Kong set a minimum wage in 2011 at HK$28 an hour, which was later revised to HK$30.
The Gini coefficient, which measures inequality on a scale of 0 to 1, here rose to a record high of 0.537 in 2011, up from 0.525 in 2001. In recent years, tensions have flared on the streets in the form of protests and strikes, including the 40-day dispute when port workers laid down their tools.
Mr Leung said on Saturday that what is also essential is for the government to grow the economy in order to create better-paying jobs.
xueying@sph.com.sg

Get a copy of The Straits Times or go to straitstimes.com for more stories.