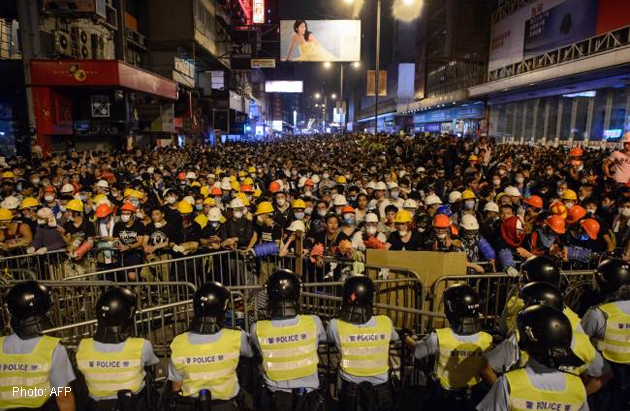 HONG KONG - Pro-democracy activists Sunday accused police of using excessive force against protesters after violent clashes in Hong Kong, as a senior politician said weeks of rallies have reached a "critical moment."
Dozens of police with shields and helmets pushed into a crowd of demonstrators gathered at barricades in the Mongkok district early Sunday, striking at them repeatedly with batons.
Twenty people were injured in a fourth night of violence after three weeks of largely peaceful pro-democracy rallies and road blockades in three busy districts.
Some demonstrators were carried away on stretchers and others treated for head wounds, fractures and bruising.
Police are trying to clear a main thoroughfare, Nathan Road, occupied by demonstrators. They said in a statement Sunday they had used "minimum force" as protesters "suddenly attempted to charge" their cordon lines.
However protesters told AFP they had done nothing to provoke officers.
"We believe police have violated the principle of using minimum force to deal with peaceful demonstration," James Hon, of protest group the League in Defence of Hong Kong's Freedom, told AFP.
He said batons used in this way could cause serious injuries or even deaths.
Hon's group was formed by professionals concerned about the erosion of civil liberties in the semi-autonomous Chinese city. Protest leaders, religious figures and lawmakers were also due to speak at the Mongkok rally site later Sunday in response to police actions.
Protesters are calling for fully free elections after Beijing insisted that candidates in a 2017 vote for the city's leader must be vetted by a committee expected to be loyal to China.
But Hong Kong's leader Leung Chun-ying has warned that Chinese authorities have no intention of backing down.
Rallies have seen tens of thousands take to the streets several times.
Although numbers are dwindling, protesters still occupy key roads in the city.
Hong Kong's government had confirmed earlier Saturday that it would open talks with student leaders on Tuesday.
The city's deputy leader Carrie Lam told reporters the talks would be focused on constitutional reform, with both sides allowed to bring five members to the meeting.
But the government is unlikely to yield to protesters' core demands ― the resignation of Chief Executive Leung Chun-Ying and free leadership elections for the city in 2017.
Finance secretary John Tsang said Sunday the protests had reached a "critical moment" and urged the demonstrators to retreat.
"I was young before and I have taken part in various student movements," he wrote on his blog.
"Retreating is not an easy decision. It takes a lot of bravery. I still believe that you can take the courage to make right decisions at this critical moment."
Increased force has been deployed in the last few days as officers attempt to clear blockaded roads.
Some protesters at Mongkok Sunday wore hard hats and makeshift protective gear fashioned out of household items including baby mats.
The government information service said 20 people involved in protest activities had been injured between 10 p.m. and 6 a.m. overnight Saturday to Sunday ― but would not specify how many were demonstrators or police, the extent of the injuries, or if they all took place in the Mongkok area.
One volunteer medic said she had seen four people with head injuries with "serious bleeding" as well as a fractured back.
Some injured protesters were taken to nearby Kwong Wah hospital, where activists told AFP at least 10 or more were treated for injuries to their legs, arms and heads, including suspected fractures.
"They hit us without any reason when we were standing behind the roadblock.
I was hit by a police stick four or five times. I protected myself with my hands and they hit my body," said Jackie, 30, sitting with his head bandaged and blood still on his T-shirt.
"Some people behind me opened out their umbrellas and then the police started hitting people. There was no aggressive action on our side."
Police said protesters had attempted to charge police cordons by pulling aside barriers and shoving officers, and confirmed three protesters and an officer were injured.
Accusations that the police are being used as a political tool have dogged the highly respected force during the rallies.
Video footage that emerged Wednesday showed plainclothes officers beating a handcuffed protester as he lay on the ground, just over a fortnight after riot officers fired tear gas at crowds.
A former British colony, Hong Kong was handed back to Chinese rule in 1997 under a "one country, two systems" deal that guarantees freedoms not seen on the mainland.
But fears have been growing that these liberties are being eroded, and the mass rallies are one of the biggest challenges to Beijing's authority since the Tiananmen pro-democracy protests of 1989.