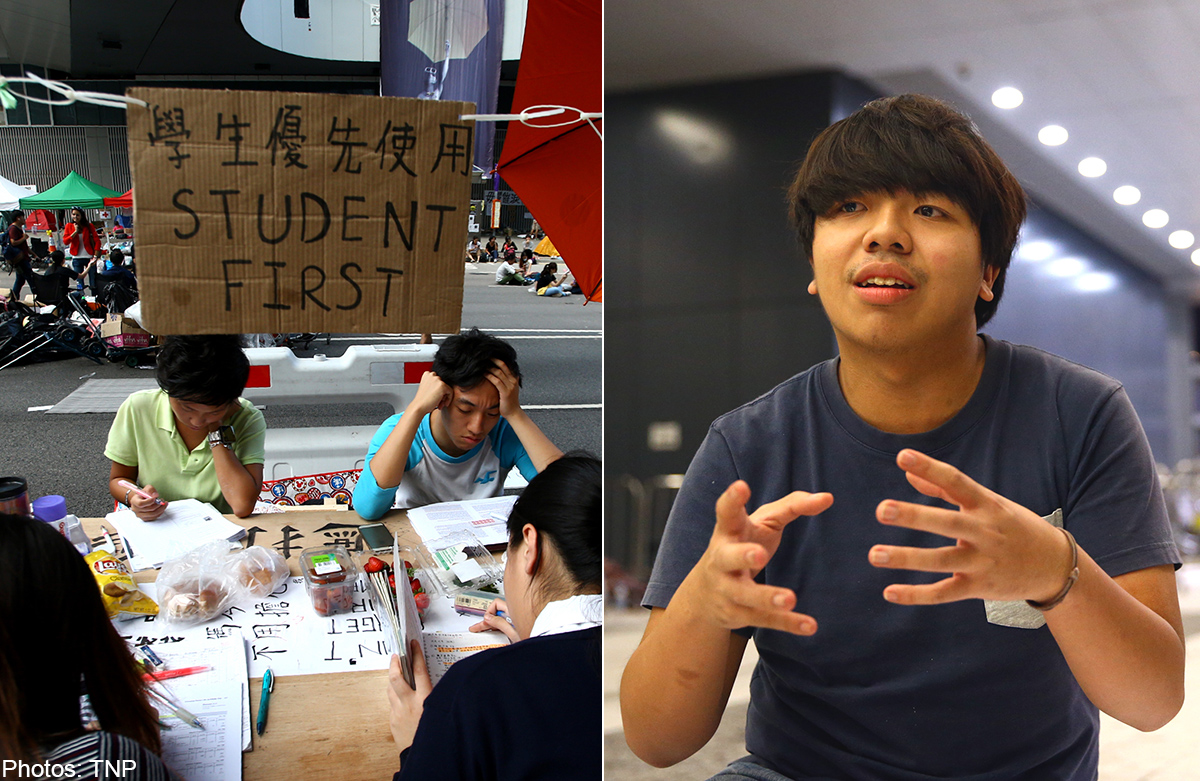 HONG KONG - As co-founder of Hong Kong protest group Scholarism, Mr Ivan Lam is no stranger to the police.
But the protest leader's links with them are closer than you think - his dad is a senior police officer.
Sometimes the 20-year-old's actions exasperate his dad.
On June 19, he was arrested at home, in front of his dad, for illegal assembly, after occupying the Legislative Council building, in a protest against funds used for the North East New Territories Development Project.
"Of course he was pissed!" Mr Lam told The New Paper last Sunday from his favourite spot at the Legco building - just outside the entrance, where he had parked himself on a plastic mat.
As his only child was being led away - to be later released on bail - the former police academy instructor, who is now in charge of a firing range, curtly told his law-enforcement colleagues in exasperation: "I don't know how I have raised my son to be like this!"
It is now three weeks into Occupy Central, the ongoing protest that challenges China's decision to vet candidates for Hong Kong's next leadership elections in 2017.
And the situation at home can sometimes be tense, said Mr Lam.
He said: "These few weeks, I have been home only once to have a quick meal with my family and pick up some clothes. My mum is more neutral than my dad, but naturally she is worried.
"But I do drop my parents a text message every now and then to let them know I'm safe."
While he describes his folks as "annoying", Lam wishes to thaw the frosty relationship he has with his dad.
"I don't want to argue with him," he said. "I understand his position. Coming from the force, naturally he will side (with) the police. And all men have egos, I can't tell him straight in the face that the police are wrong to exercise violence. But I will continue to stick to my beliefs, whatever it takes."
AS A LEADER
The poster boy of the protest, according to international media, is 18-year-old Joshua Wong, the Scholarism leader with the bowl cut and heavy black-rimmed spectacles.
Few outside Hong Kong have heard about Mr Lam, who has played an equally significant role in the culmination of Occupy Central, which has featured a sizable amount of student protesters.
Mr Lam was one of three co-founders, alongside Mr Wong and Ms Winnie Leung, when Scholarism was formed in May 2011. He has since left the group.
Back then, Mr Lam and Mr Wong were secondary schoolmates - Hong Kong students typically spend six years in secondary school before moving on to university - and became good friends when they ran for student council together.
Mr Lam laughed when he recalled the first protest they co-organised in school.
"The school canteen food was horrible," he said in a mix of Cantonese, English and Mandarin.
"We even found a cockroach in our meals. That was the last straw, and we organised a boycott.
"We had a qualified victory because the chef was replaced although the vendor remained the same. But the quality of the food did get better."
The anti-high-speed-rail campaign led by the Post-80s movement from mid 2009 to early 2010 left a deep impression on Mr Lam, Mr Wong and Ms Leung as the trio's political awareness led them to organise more protests before Occupy Central.
One high-profile episode was in 2012, when they campaigned against moral and national education, a controversial subject that praised China's communist and nationalist ideology and condemned democracy.
Along with his girlfriend, Ms Lily Wong, and another Scholarism member, Mr Kaiser, Mr Lam took part in a hunger strike for more than 50 hours. Eventually the government compromised and introduced a three-year trial run period instead.
AS A STUDENT
"We believe we are students, and also at the same time citizens of Hong Kong who have rights and responsibilities to take part in a democratic movement and fight for a better society," said Mr Lam, who is waiting to enter university in January, to study art.
In the local media, Lam has been noted for his creativity as he capitalised on popular culture to re-introduce terms like "bean-paste bun of honesty", "bread of memories" and "cake of lies" - props in Stephen Chow's old slapstick comedies - which were unleashed on the education minister.
But never in Mr Lam's wildest dreams would he have expected the student activist group he co-founded with Mr Wong and Ms Leung to be at the forefront of a movement that has mobilised possibly hundreds of thousands in a protest that has captured the imagination of the world.
Mr Lam left Scholarism in April this year, saying it had become too big and lost a common vision, but it did not stop him from leading protesters.
On the evening of Sept 28, he was in the frontline when police used pepper spray and launched tear gas in a bid to disperse crowds near Tamar Park as protests began to occupy Admiralty.
He insists there are no hard feelings and he still remains friends with Mr Wong, although it is inevitable that their relationship is not as strong as before.
"We were better friends then, but we grew distant because we did not see eye to eye on certain issues," said Mr Lam.

This article was first published on October 18, 2014.
Get The New Paper for more stories.